Barley Mushroom Risotto with Poached Egg, Toasted Walnuts and Pomegranate Seeds
Creamy, savory wild mushroom risotto is topped with a poached egg, toasted walnuts and pomegranate seeds for a burst of exciting flavors and textures.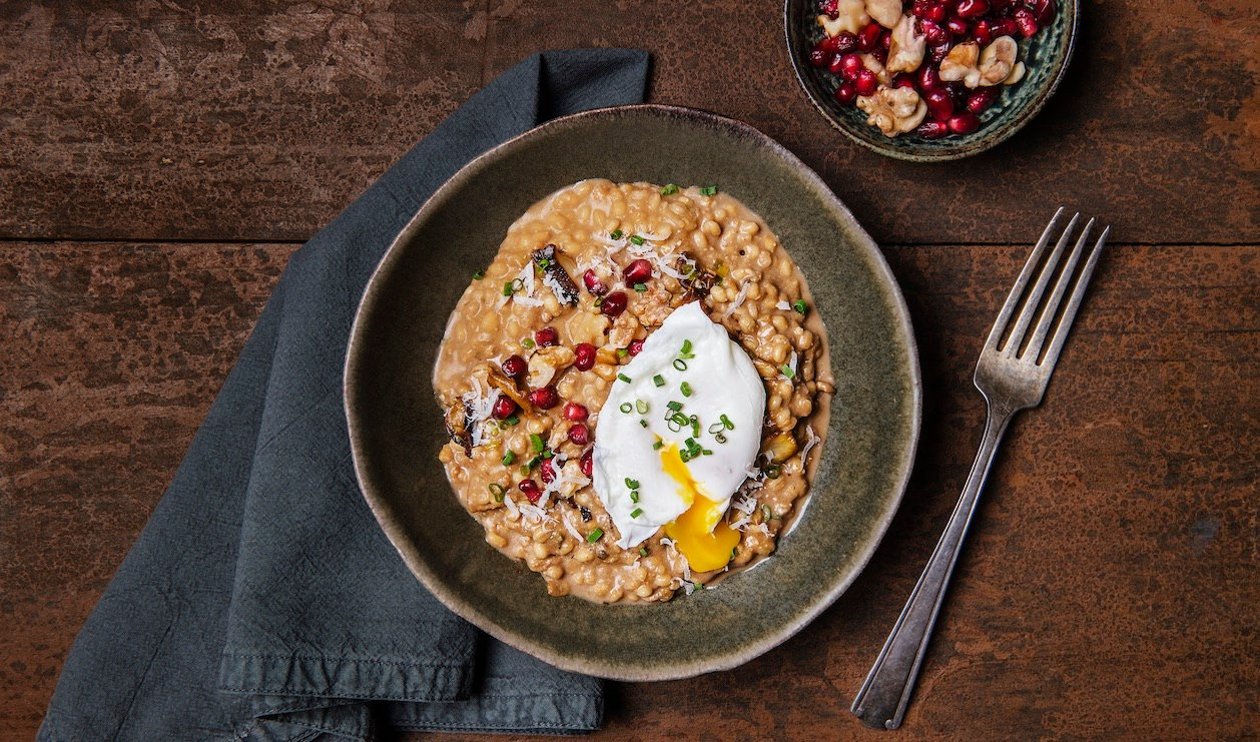 Ingredients
Prepare the Risotto
Leeks, cleaned and minced

2 each

Thyme, fresh, picked and minced

4 sprigs

Mixed mushrooms, sliced (oyster, maitake, crimini)

2 lbs

Mascarpone Cheese

0.5 cup

Salt and Pepper, to taste
Finish the Dish
Walnuts, toasted, chopped

1 cup

Parmesan cheese, fresh shaved

1 cup
Preparation
Prepare the Risotto

Bring Knorr® LiquidVegetable Base and 4 Tbsp Knorr® Ultimate Intense Flavors Wild Mushroom to a simmer in a sauce pot.
In a large skillet, melt 4 Tbsp butter over medium heat. Add half of the minced leeks, and cook until translucent (about 3 minutes) Add in thyme, bay leaves and half of the minced garlic. Cook until garlic is softened.
Add in the barley and stir to combine, toasting the barley for about 1 minute. Deglaze the skillet with the white wine and slowly start adding the warm vegetable stock 1 cup at a time, continuously stirring. Continue to add in stock in increments until none remains and the barley is tender and creamy.
Meanwhile in another skillet, heat olive oil over medium-high heat. Add in the sliced mushrooms and remaining leeks. Cook until mushrooms soften and begin to caramelize. Then add remaining garlic and cook until mushrooms and garlic are tender. Add the mushroom mixture to the barley. Stir in remaining 2 Tbsp of butter, lemon zest, parmesan cheese and mascarpone. Season with remaining 2 Tbsp of Knorr® Ultimate Intense Flavors Wild Mushroom and season with salt and pepper.

Finish the Dish

Serve each portion of risotto in a bowl with toasted chopped walnuts, pomegranate seeds, additional shaved parmesan, minced chives, and a seasoned poached egg.