Virginia Ham and Cheddar Croquettes with Grainy Mustard Aioli
Crisp on the outside and creamy on the inside, these croquettes are perfect for a small plate or shared as an appetizer. LeGout Cream Soup Base makes it quick and easy to prepare.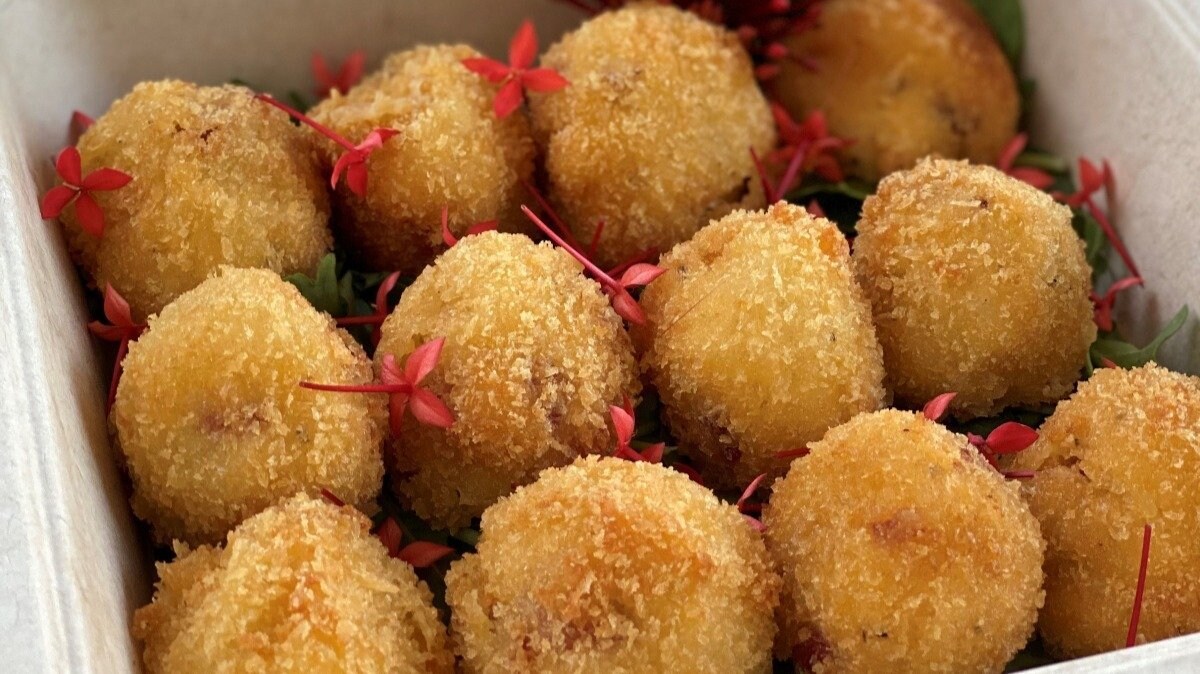 Ingredients per serving
Prepare the Croquettes
Onions, small dice

0.5 cup

Extra Virgin Olive Oil

2.0 Tbsp

Virginia ham, small diced

1.0 cup

Cheddar Cheese, shredded

1.0 cup

Panko breadcrumbs

2.0 cups

All-purpose flour

1.0 cup
Prepare the Grainy Mustard Aioli
Lemon juice, fresh

2.0 Tbsp

Garlic cloves, large, into paste

2.0 each
Preparation
Prepare the Croquettes

Sweat the onions in the oil in a pot over medium heat.Add salt, black pepper, nutmeg and cook until onions are translucent.
Add the ham and cook for 3-4 minutes,then add the Cream Soup Base powder and water. Remove the mixture from the heat, add cheese and keep mixing the filling using a wood spoon until everything is well incorporated.
Refrigerate the filling and form into 24-1.5 oz. portions, using a small ice cream scoop.
Using 3 separate mixing bowls (AP Flour/Eggs/Panko); perform the standard breading procedure and place the breaded croquettes into the freezer for at least 2 hours.
Fry the croquettes at 350F for 3-4 minutes, or until golden brown. Drain croquettes and place on a paper towel lined tray.
Cook the croquettes for an additional 5 minutes in the convection oven and set aside for plating.

Prepare the Grainy Mustard Aioli

Mix all ingredients in a large bowl and place in a squeeze bottle.

Finish the Dish

Plate the croquettes and drizzle with Grainy Mustard Aioli.

Takeout/DeliveryTip:

These can be sold in adisposable baking tray with cooking instructions. When soldalreadyfriedandrefrigerated,they should be reheatedfor 10-12 minutes, uncovered, at 350F(If sold frozen, add another 5 min.).