Octopus in Salsa Verde with Chicharron
Tender octopus is enhanced by smoky charred green onions, then topped with salsa verde and crispy pork skin chicharron.
Appetizer/Shareable
Main Course
Gluten-free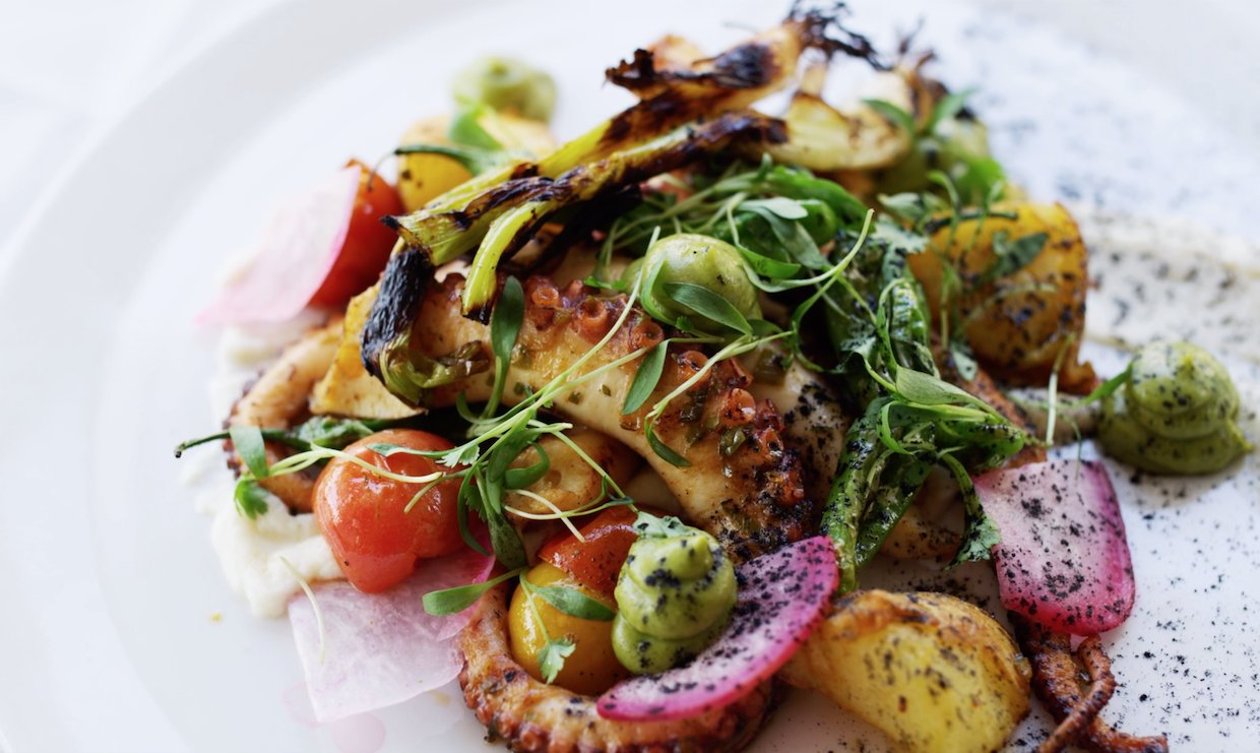 Ingredients per serving
Prepare the Charred Green Onions
Green onion, green part only

1.0 bunch
Prepare the Salsa Verde
Tomatillo, chopped

3.5 oz

Chopped cilantro

0.5 bunch

Jalapeño peppers, seeded, deveined and finely chopped

2.0 each

Red onion, finely chopped

1.5 oz
Prepare the Octopus
Garlic, finely chopped

3.0 cloves

Smoked guajillo pepper powder

1.0 oz

Green olives, pitted, sliced

1.5 oz
Finish the Dish
Pork skin chicharron

6.0 oz
To Serve
Preparation
Prepare the Charred Green Onions

Place the green onions on a sheet pan and roast in a 500°F oven until charred. Season with salt and set aside.

Prepare the Salsa Verde

In a medium bowl add red onion, tomatillo, cilantro, jalapeño, 1 oz of lemon juice, 1 oz olive oil, and a pinch of salt to taste. Reserve.

Prepare the Octopus

Slice the octopus in 1-inch slices. In a skillet heat 3 ounces of olive oil and add garlic and octopus.
Sauté for 5 minutes over medium heat, add guajillo powder and olives. Season with salt to taste and cook for 5 minutes more. Reserve.

Finish the Dish

Make a mousse like consistency with the avocados by blending them with a pinch of salt and a few drops of lemon juice. Reserve.
Fry the pork skin chicharron until crispy, place on paper towels to drain excess oil, sprinkle with salt, cut to desired size.

To Serve

Place warm octopus mixture on a plate, top with a teaspoon of tomatillo salsa, a few drops of avocado mousse, sprinkle the nori powder on top of each, and garnish with charred green onion.