Whiskey Rebellion Burgers
An all-beef patty toped with smoked cheddar cheese, crispy bacon slices, creamy mushroom sauce and bourbon mayonnaise.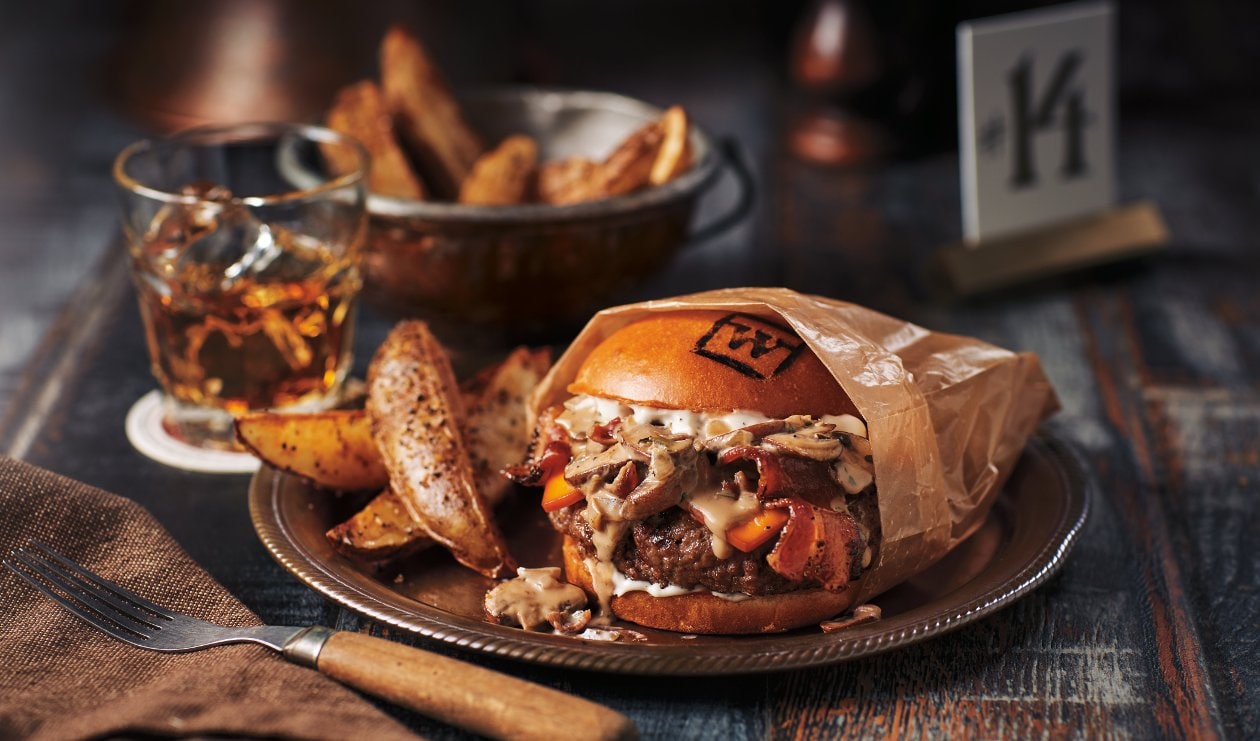 Ingredients per serving
Prepare the Bourbon Mayonnaise
Black pepper, ground

1.0 Tbsp
Prepare the Mushroom-Bourbon Sauce
Onion, large dice

1.0 each

Garlic, chopped

3.0 cloves

Rosemary, fresh, minced

2.0 Tbsp

Salt and Pepper, to taste

Mushrooms, cremini, sliced

1.0 lb
Prepare the Burgers
Smoked cheddar cheese, slice

10.0 each

Potato hamburger bun, toasted

10.0 each

Beef, ground, 80/20, formed into 6 oz. patties

3.75 lbs

Bourbon Mayonnaise, prepared

1.0 qt

Mushroom-Bourbon Sauce, prepared

15.0 oz
Preparation
Prepare the Bourbon Mayonnaise

Simmer 1.5 cups bourbon until reduced by half.
Combine Hellmann's® Real Mayonnaise, reduced bourbon and pepper; whish to incorporate.
Reserve refrigerated.

Prepare the Mushroom-Bourbon Sauce

Render bacon, set aside.
In excess bacon grease and butter, sauté onions and mushrooms until slightly softened.
Add garlic and deglaze with bourbon.
Add cream and rosemary and simmer until reduced and slightly thickened, about 5 minutes.
Season to taste with salt and pepper. Hold hot for service.

Prepare the Burgers

Cook the burgers to desired doneness, top with cheese until melted.
To assemble, spread 1 Tbsp Bourbon Mayonnaise on each side of the bun, then top with bacon, Bourbon-Mushroom Sauce and top of bun.