Squash, Quinoa and Goat Cheese Enchiladas
Flavorful, plant-based Enchiladas that are easily prepped ahead. It can be a delivered hot or sold as a "take and bake" family style meal.  This recipe is gluten-free and vegetarian, and can easily be made vegan.
Main Course
Gluten-free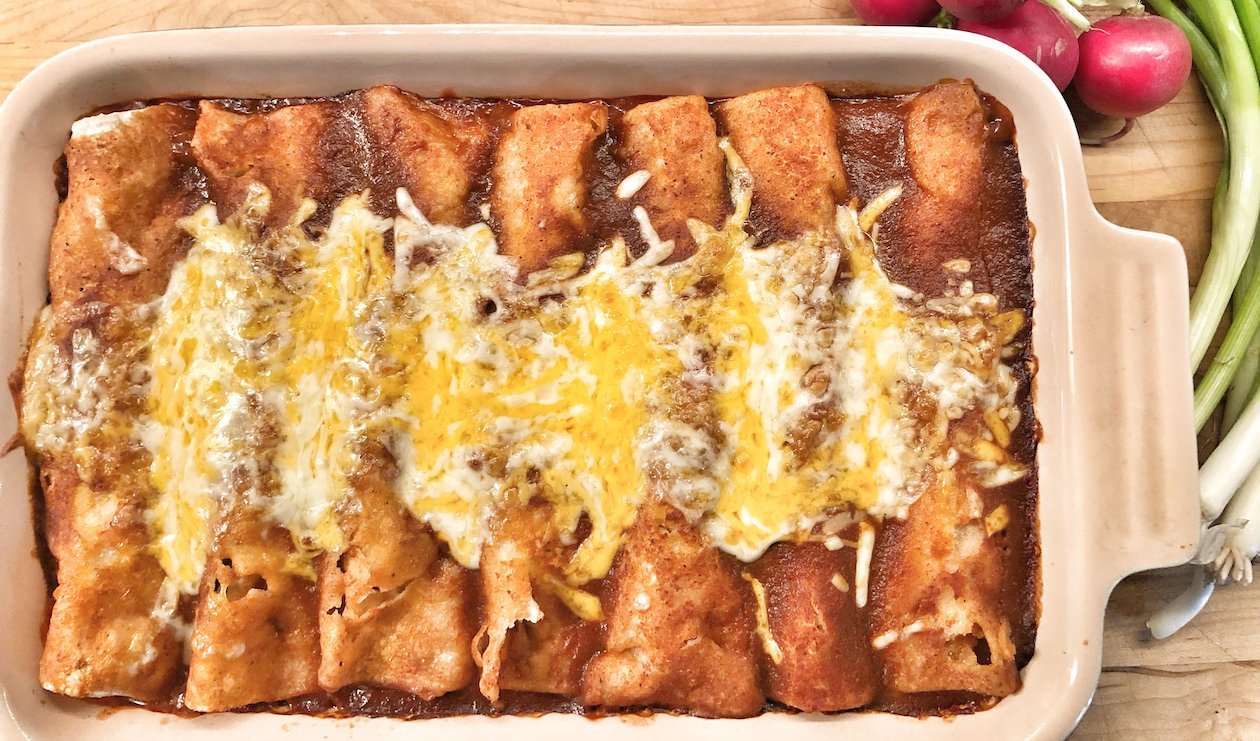 Ingredients per serving
Prepare the Filling
Onions, small dice

1.0 each

Cloves of garlic, peeled and made into a paste

2.0 each

Squash, yellow , diced

1.0 each

Red bell pepper, small dice

2.0 each

New Mexican chili powder

1.0 Tbsp

Black beans, strained

8.0 oz
Prepare the Enchiladas
6 " Corn Tortillas, warmed

24.0 each

Enchilada sauce, 28 oz each

2.0 Cans

Seasoned cheddar mix

8.0 oz

Cilantro, Radish, And Green Onions For Service
Preparation
Prepare the Filling

Sauté the onion for 5 minutes, then add the garlic, zucchini, squash and bell pepper in a large sauté pan.
Cook for 2 – 3 minutes until veggies soften, season with the chili powder, cumin, and Knorr Intense Flavors Roast Umami. Remove from heat.
Once cooled, fold in the quinoa, beans, and goat cheese (carefully) into the veggie mixture.

Prepare the Enchiladas

Quickly re-heat each tortilla, fill with ¼ C of the mixture and roll. Pour 1 cupof enchilada sauce into the bottom of each (3) casserole or foil pan. Place the enchiladas in the dish.
Pour enough enchilada sauce to cover the filled and rolled tortillas. Top with the shredded cheese. Cover and bake at 350 degrees for 25 minutes.
Allow to cool for a few minutes, uncover, and sprinkle over the radish, green onionsand cilantro leaves. Serve with the Mexican crema on the side.