Cauliflower Mole Tacos
Bursting with flavor, crispy roasted cauliflower gets tossed in a smoky, tangy version of molé sauce in these vegetarian tacos.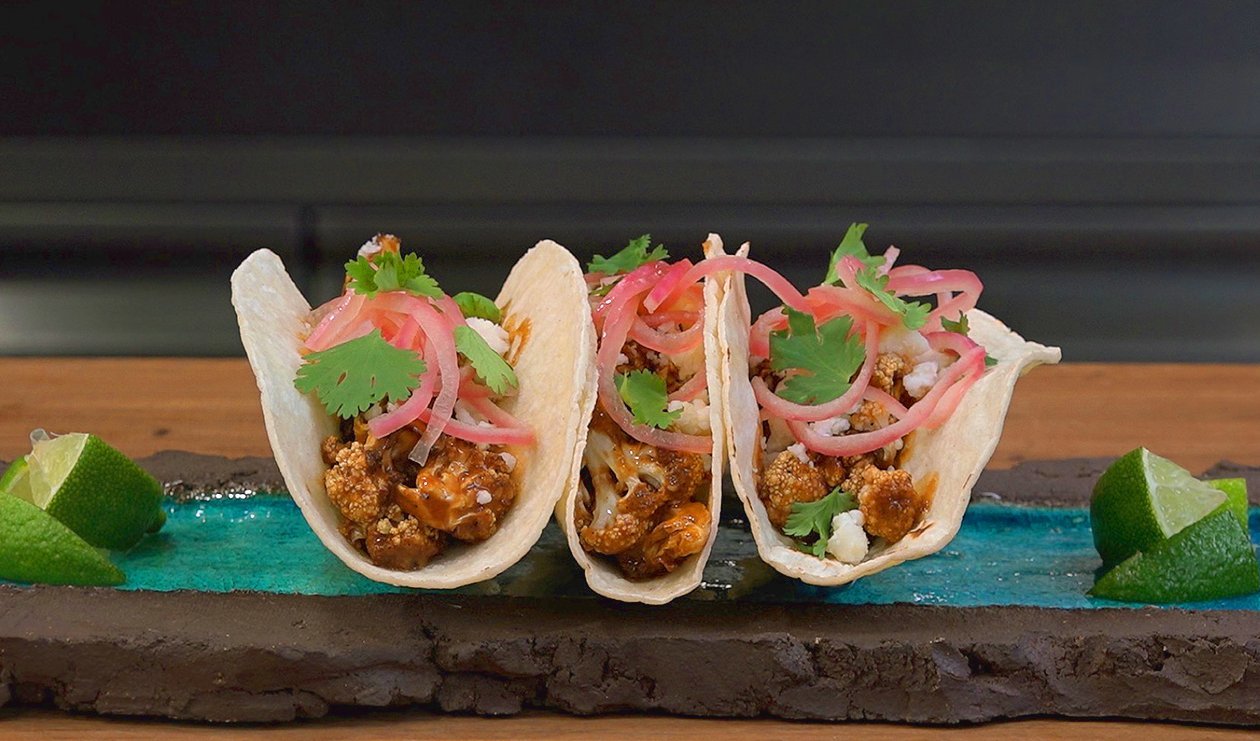 Ingredients
Prepare the Roasted Cauliflower
Cauliflower, cut into florets

2 lbs

Salt and Pepper, to taste
Prepare the Molé Sauce
Dried guajillo chiles

2 each

Spanish onion, cut in large pieces

0.25 each

Toasted sesame seed

2 tsp

Unsweetened chocolate

2 oz

Apple cider vinegar

1 Tbsp
Finish the Dish
Cotija cheese, crumbled

4 oz

Pickled Red Onion, prepared

1 cup

Limes, cut into wedges

3 each
Preparation
Prepare the Roasted Cauliflower

Toss the cauliflower florets with olive oil, salt and pepper. Roast at 400˚F until browned and beginning to char, about 15 minutes. Set aside.

Prepare the Molé Sauce

Char the guajillo chiles in a cast iron pan until browned, but not blackened. Remove from heat and remove the stems and seeds. Soak the chiles in 1 cup warm water.
Meanwhile, in the same cast iron pan, char the tomatoes, garlic and onion.
Remove the chiles from the water, and include this water to prepare the Knorr® Brown Gravy according to package directions.
Puree the brown gravy with all ingredients and season to taste.

Finish the Dish

Warm the tortillas over a grill or open flame.
Toss the cauliflower with enough mole sauce to coat.
Build each taco with cauliflower, cotija cheese, pickled red onion and cilantro leaves. Serve with lime wedges.