Pork Belly with Sweet Potato and Kumquat
Traditional Chinese pork, easy to prepare and serve. Low food costs means this is a profitable dish.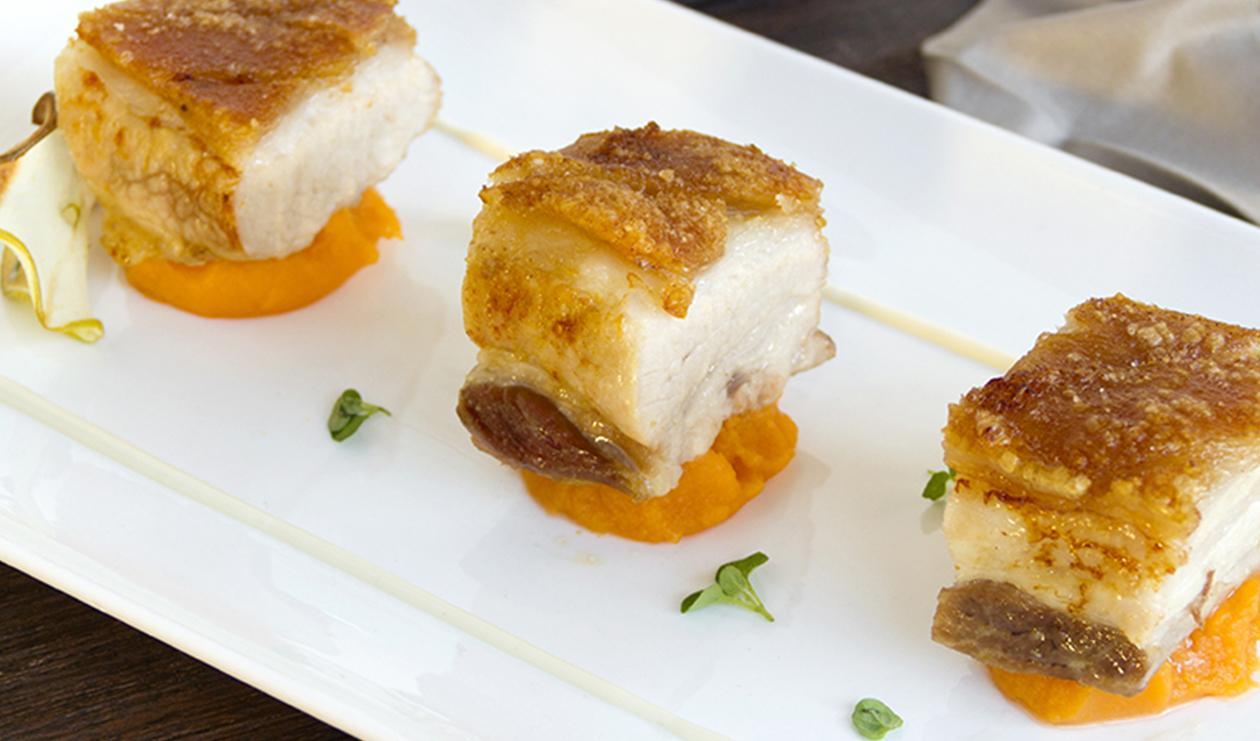 Ingredients
Step 1:
Pork belly, cut into portions and cleaned

4.5 lbs.
Step 2:
Garlic, peeled and crushed

1 head

Ginger, fresh, peeled, sliced

2 tbsp

Onions, shallots, diced

1 lb

Chilies, dried, chopped

2 tsp

Sichuan peppercorns, crushed

1 tbsp
Step 3:
Step 5:
Sweet potato, peeled and cut into quarters

5 lbs.
Step 8:
Preparation
Step 1:

Day before service: Place the pork on a sheet pan skin side down, cook for 20 mins at 375F.

Step 2:

Day before service: Combine the garlic, ginger, shallots, chilies, salt and Sichuan peppercorns to make the marinade. Cover the pork with the marinade. Loosely cover and allow to cool. Fully cover and allow to marinade in the refrigerator overnight (or at least 4 hours).

Step 3:

Day of service: Make the sauce by mixing the wine with the prepared Knorr® Professional Liquid Concentrated Chicken Flavor Base, honey, soy bean paste and black pepper.

Step 4:

Remove pork from refrigerator and uncover. Pour the sauce over the pork. Cook uncovered for 30 minutes at 350F.

Step 5:

Add the sweet potato to the pork. Cover the pork and turn down the oven to 325F. Cook for a further 40 minutes. Taste and adjust seasoning.

Step 6:

Remove from the oven, uncover and cool before storing.

Step 7:

Reheat each portion in the sauce. One portion is 6 oz pork, 1 oz kumquats and one sweet potato.

Step 8:

Garnish each portion with a kumquat