Smoked Salmon "Everything Bagel" Salad with Creamy Dill Ranch
Smoked salmon with tender baby potatoes, shaved red onion, cornichons and watercress, dressed with Creamy Dill Ranch dressing and topped with crunchy everything bagel breadcrumbs.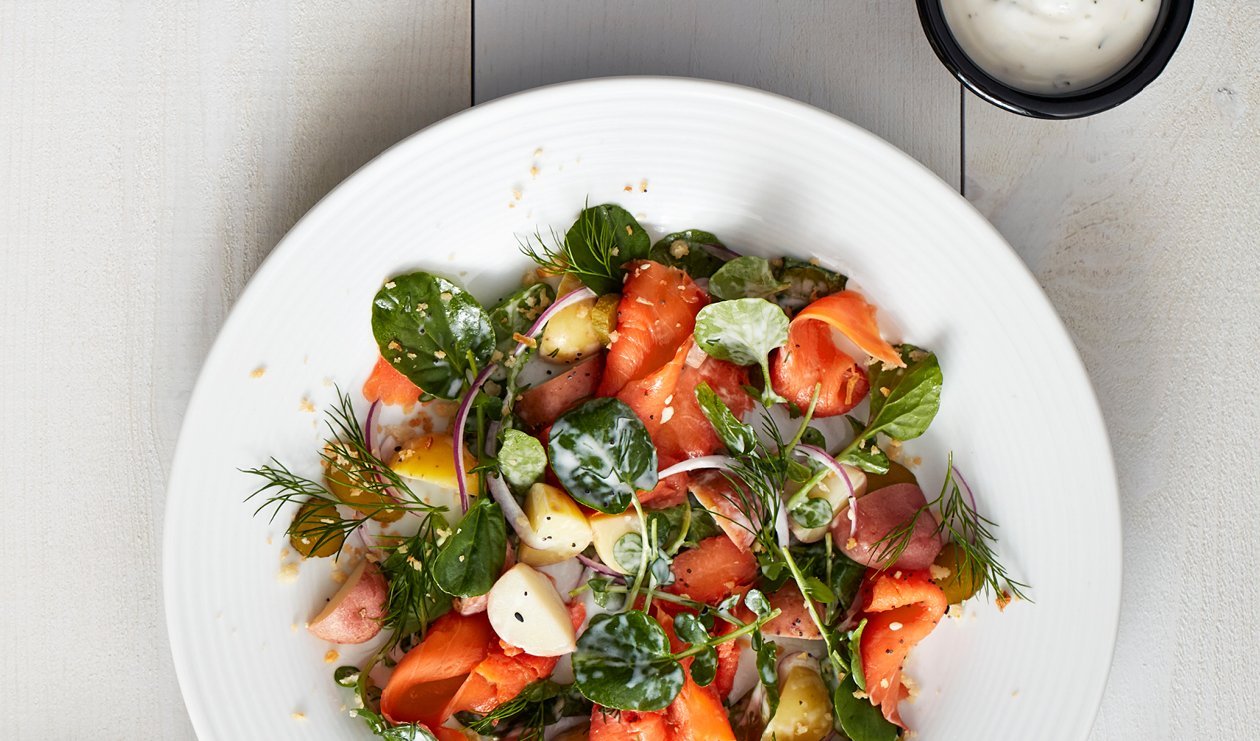 Ingredients
Prepare Creamy Dill Ranch
Dill, fresh, chopped

5 Tbsp
Prepare Everything Bagel Breadcrumbs
Everything bagel seasoning mix

1 Tbsp
Finish the Salad
Baby potatoes, boiled in salted water until tender, cooled and quartered

3 lbs

Shaved red onion

0.75 cup

Smoked salmon pieces

20 oz

Cornichon, sliced

20 each

Lemons, cut into wedges

3 each
Preparation
Prepare Creamy Dill Ranch

Combine Hellmann's Classics Ranch Dressing with chopped dill, refrigerate until needed.

Prepare Everything Bagel Breadcrumbs

Melt butter in a sauté pan, add panko and toast until golden brown. Stir in everything seasoning.

Finish the Salad

For each portion, combine 1 cup watercress, 5 oz. quartered potatoes, and 1 Tbsp. shaved red onion and toss gently with 2 oz. prepared Creamy Dill Ranch Dressing.
Arrange watercress potato mixture on a plate with 2 oz of smoked salmon pieces. Top with 2 sliced cornichons, 1 Tbsp. Panko everything crumbs, dill sprigs and lemon wedges.