Southern Thai Rice Noodles with Baracuda
A classic Southern Thai appetizer of spicy fish dip with coconut milk and tamarind.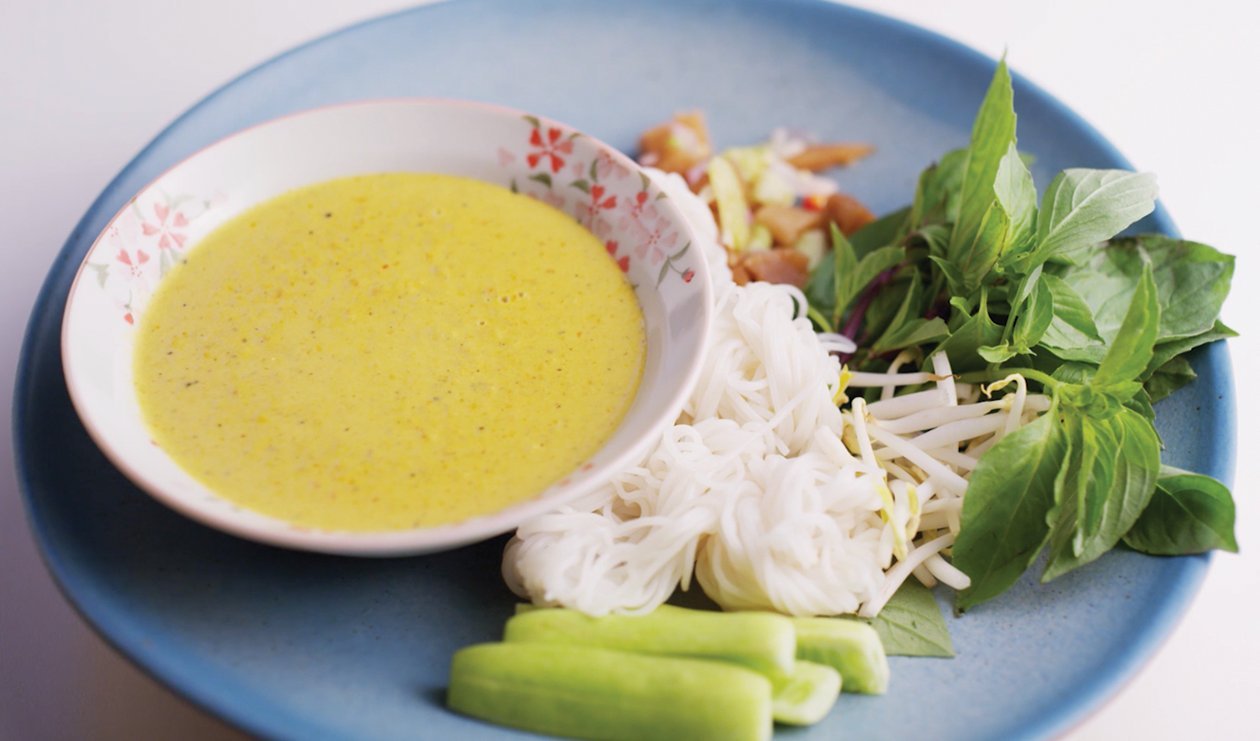 Ingredients
Prepare the Fish Curry
Thai Barracuda, cooked

4 cups

Kaffir lime leaves

3 each

Southern curry paste

0.5 cup
Finish the Fish Curry Sauce
To Serve
Cucumber, quartered lengthwise, sliced thinly

2 cups

Long bean, sliced thinly crosswise

2 cups

Thai basil, only leaves

2 cups

Rice Noodle (Kanam Jeen)

4 cups
Preparation
Prepare the Fish Curry

In a mortar mix shrimp paste and curry with cooked fish together.
Heat about half a cup of coconut milk in a pot or pan and add the mixed curry paste.
Cook the curry paste for 2 to 3 minutes, untilthe spices are cooked and released their aromas.
Add remainingcoconut milk and prepared Knorr® Bouillon Base Fish together, bring to a boil, then add the salt and torn kaffir lime leaves.

Finish the Fish Curry Sauce

Season the fish curry with fish sauce and sugar. Add tamarind paste.
Adjust the taste to your preference. It should be a blend of salty, sour and a hint of sweetness.
Pourthe half cup ofcoconut milk in the sauce and stir it in. Once it bubbles again turn off the heat.

To Serve

Arrange the cabbage, bean sprouts, cucumber, long beans and Thai basil in sections among 6 plates. Divide the fish curry sauce and rice noodles among 6 bowls and serve on the plate with the garnishes.