Maille® Mustard-Crusted Cauliflower
Crispy, golden brown cauliflower is crusted with Old Style and Dijon Mustard, bread crumbs, Parmesan, parsley and lemon zest.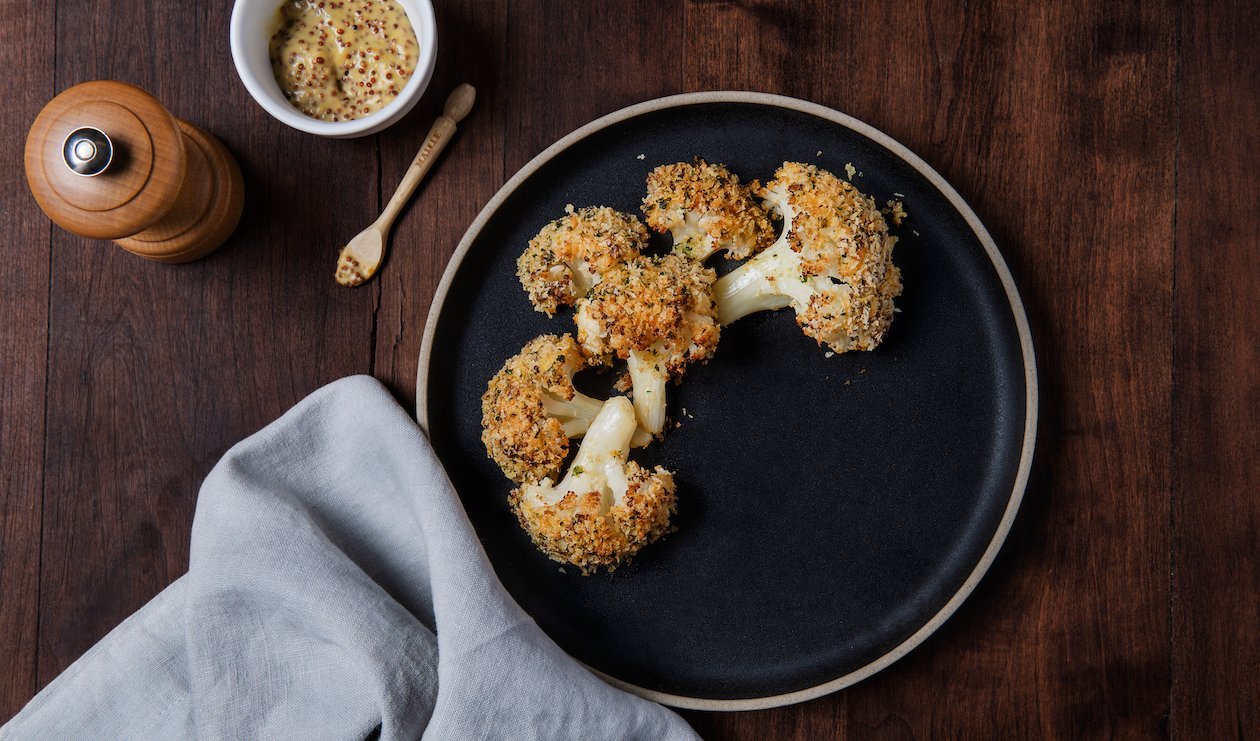 Ingredients
Blanch the Cauliflower
Cauliflower, large (about 2-1/2 lbs.)

1 head
Prepare the Roasted Cauliflower
Panko bread crumbs

0.75 cup

Parmesan cheese, grated

0.25 cup

Flat-leaf parsley, finely chopped

0.25 cup

Lemon peel, finely grated

1 tsp

Black pepper, freshly ground

0.25 tsp
Preparation
Blanch the Cauliflower

Cut cauliflower into large florets, then trim bottoms to sit flat on baking sheet. Cook cauliflower in boiling salted water until just barely tender, about 7 minutes; drain well.

Prepare the Roasted Cauliflower

Preheat oven to 425°F. Line baking sheet with aluminum foil and coat with non-stick cooking spray; set aside.
Combine Maille® Old Style Mustard, Maille® Dijon Originale Mustard and 2 tsp. oil in small bowl; set aside.
Combine bread crumbs, Parmesan cheese, parsley, lemon peel and remaining 2 tsp. olive oil in medium bowl. Season, if desired, with freshly ground pepper.
Coat top of cauliflower with mustard mixture, then press into bread crumb mixture, patting to adhere. Arrange bread crumb-side-up on prepared baking sheet. Bake until bread crumbs are browned and cauliflower is tender, about 20 minutes.