Shaved Fennel and Apple Salad with Pickled Cherries
A bright, crunchy and refreshing salad of shaved fennel and apple is topped with pickled dried cherries, herbed goat cheese and crispy prosciutto.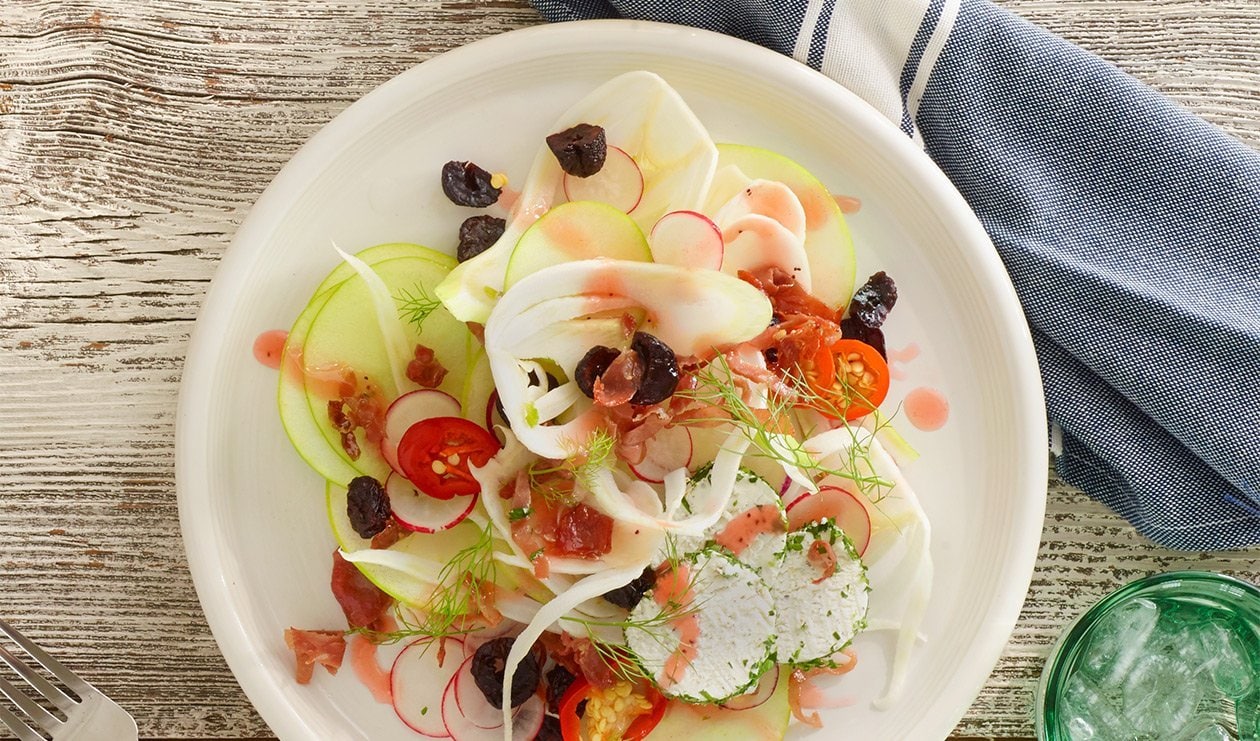 Ingredients per serving
Prepare Pickled Cherries
Red wine vinegar

1.5 cups

Sherry cooking wine

0.75 cup

Black peppercorns

2.0 tsp

Coriander, ground

2.0 tsp

Crushed red pepper flakes

2.0 tsp
Finish the Salad
Thinly sliced fennel bulb

5.0 cups

Green apple, sliced

5.0 cups

Radish, thinly sliced

1.5 cups

Cherry peppers, hot, sliced

0.5 cup

Herbed goat cheese, sliced

1.0 lb

Prosciutto, fried until crispy, roughly chopped

1.0 cup

Pickled cherries, prepared

2.0 cups

Fennel fronds, chopped

0.5 cup
Preparation
Prepare Pickled Cherries

Combine all ingredients except the dried cherries in a pan and bring to a simmer. Stir to dissolve sugar and remove from heat. Add dried cherries and cool.
Yield: 2 cups.

Finish the Salad

Combine dressing, fennel, apple, cherry peppers, and toss until evenly coated. Top with goat cheese slices, crispy prosciutto pieces, pickled cherries, and fennel fronds.