Pan Seared Turbot with Sweet Potato, Smoked Asparagus and Citrus Confit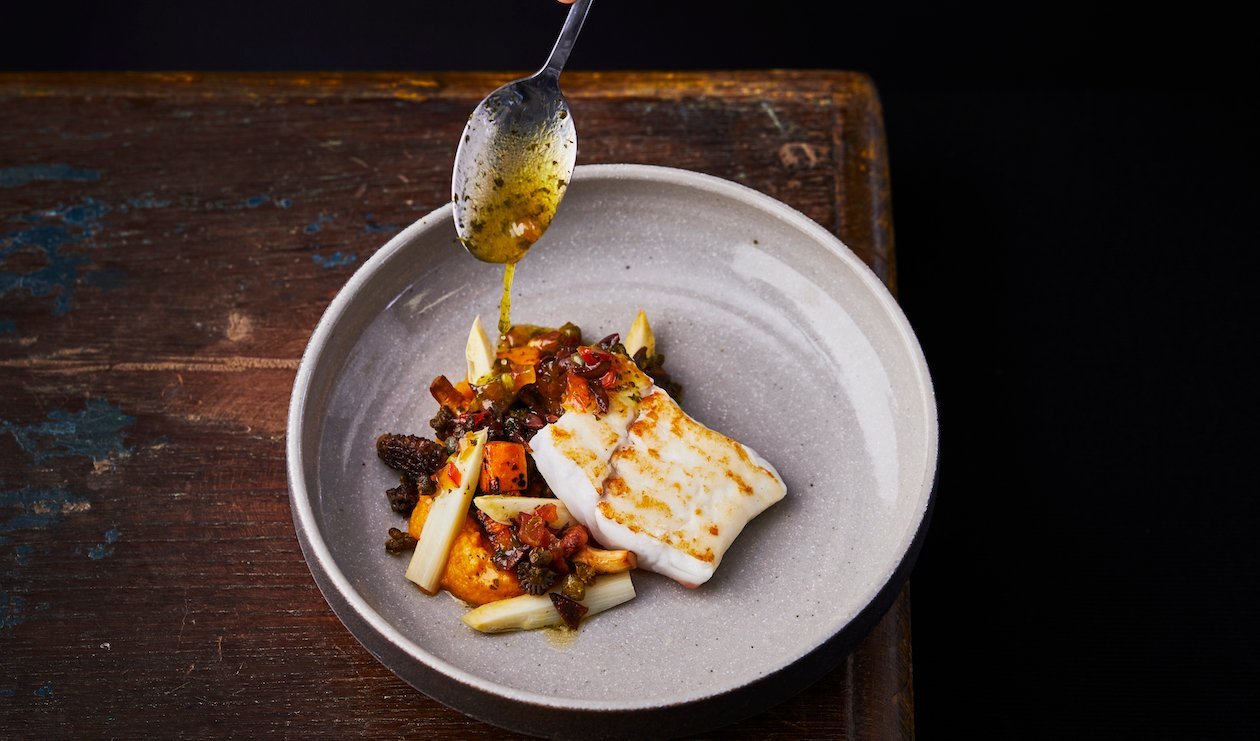 Ingredients
Prepare the Smoked Asparagus
White rice, uncooked

0.25 cup

White asparagus tips, cleaned

14 each
Prepare the Citrus Confit
Parsley, chopped

2.5 Tbsp

Liguria black olives, julienne

4.75 Tbsp
Prepare the Morels
Prepare the Sweet Potatoes
Sweet potatoes, peeled

2.4 lbs
Prepare the Turbot
Turbot, cleaned and filleted

2.65 lbs
Finish the Dish
Deep fried capers for garnish
Preparation
Prepare the Smoked Asparagus

Prepare smoked butter by mixing the sugar, rice and wood chips. Transfer the mixture into a smoker. Portion the butter (3/4 inch x 3/4 inch), place into a smoker; 155 F° for 10 -15 minutes. Remove, covered and chill.
Trim the asparagus and place into a vacuum bag. Heat a stock pot, add in the smoked butterand melt. Pour in the melted butter into the bag with asparagus. Seal the bag with vacuumand sous vide (175°F for 10-12 minutes).

Prepare the Citrus Confit

Mix all the ingredients (half amount parsley) with Knorr® Ultimate Intense Flavors Citrus Fresh and toss well. Transfer to a vacuum bag, sealand sous vide (155°C for 45 minutes). Removeand toss in the remaining parsley to mix. Leave aside.

Prepare the Morels

Heat a pan with butter, add the minced garlic, lightly toss to mix. Add in the cleaned morels, toss well.

Prepare the Sweet Potatoes

Cut ½ sweet potato into cubes then sauté with olive until cookedand golden brown.
Use remainder for the puree. Boil in water until soft, sieve through fine mesh sieve for puree.

Prepare the Turbot

Heat a pan with olive oil, panfry the turbot until cookedand golden on both sides. Add in butter cubes.

Finish the Dish

Make the plates and garnish with deep fried capers.