Chocolatea Banana Smoothies
Chocolate, banana and tea flavors don't often come to mind when thinking of smoothies, but they're truly delicious together.
Gluten-free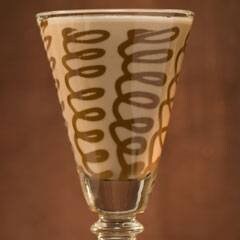 Ingredients per serving
Prepare the Smoothie
Heavy or whipping cream

0.5 cup
Preparation
Prepare the Smoothie

Prepare 16 oz Ice Tea.
In blender, process all ingredients until smooth. Use 8-10 ice cubes, to taste.
Serve immediately and drizzle, if desired, with additional chocolate syrup.

Tip: For a decorative twist, drizzle melted chocolate into glass; refrigerate 5 minutes to set.