Beef Ragu with Marbled Pappardelle, Chicory and Gremolata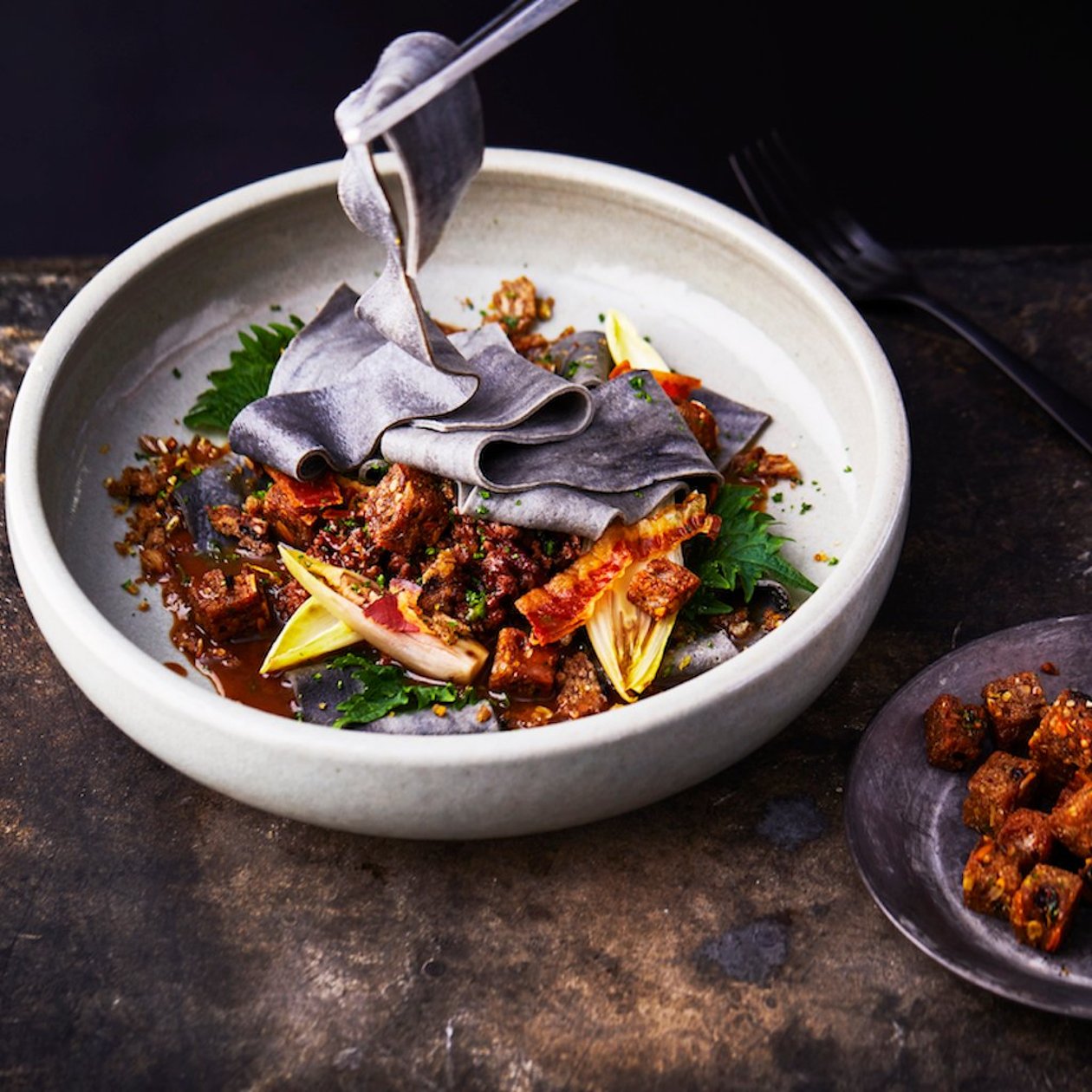 Ingredients
Prepare the Meat Ragu
Red onion, chopped

2 cups

Streaky bacon, julienned

4.5 oz
Prepare the Marbled Pappardelle
All-purpose flour

4.5 cups
Prepare the Gremolata
Whole grain rye bread

14.25 oz
Preparation
Prepare the Meat Ragu

Sauté chopped onions and bacon julienned. Add in minced meatand continue to sauté. Deglaze with white wine, reduce half and add thyme,Knorr® Liquid Concentrated Base Beef and Knorr® Ultimate Intense Flavors Wild Mushroom.
Reduce till coats back of spoon.

Prepare the Marbled Pappardelle

In a mixer using a hook, add sifted all purposeand semolina flours, eggs, olive oiland salt, combine on medium speed till a ball forms.
Divide the dough in half and slowly incorporate the squid ink into one of the halves. Rest for 20 minutes.
Mix both doughs to create a marbling effect of pasta. Flatten the dough to required thicknessand cut into "pappardelle" pasta.
Blanch in salted boiling water, drain and toss in olive oil, season to taste.

Prepare the Gremolata

Mix all the ingredients together, leave aside. Cut Rye bread into croutonsand thin slices.
Toss croutons with a little olive oiland Gremolata mix: sauté till crispy.
Dry the thinly sliced Rye bread in oven. When done, pound them and toss with Gremolata mix.