Roasted Kohlrabi and Fennel Salad with Pear and Shaved Pecorino
Refreshing shaved fennel, sweet pear and roasted kohlrabi combined with seared shiitake mushrooms, piquillo peppers, almonds and pecorino, tossed with Hellmann's Lemon Zaatar Dressing.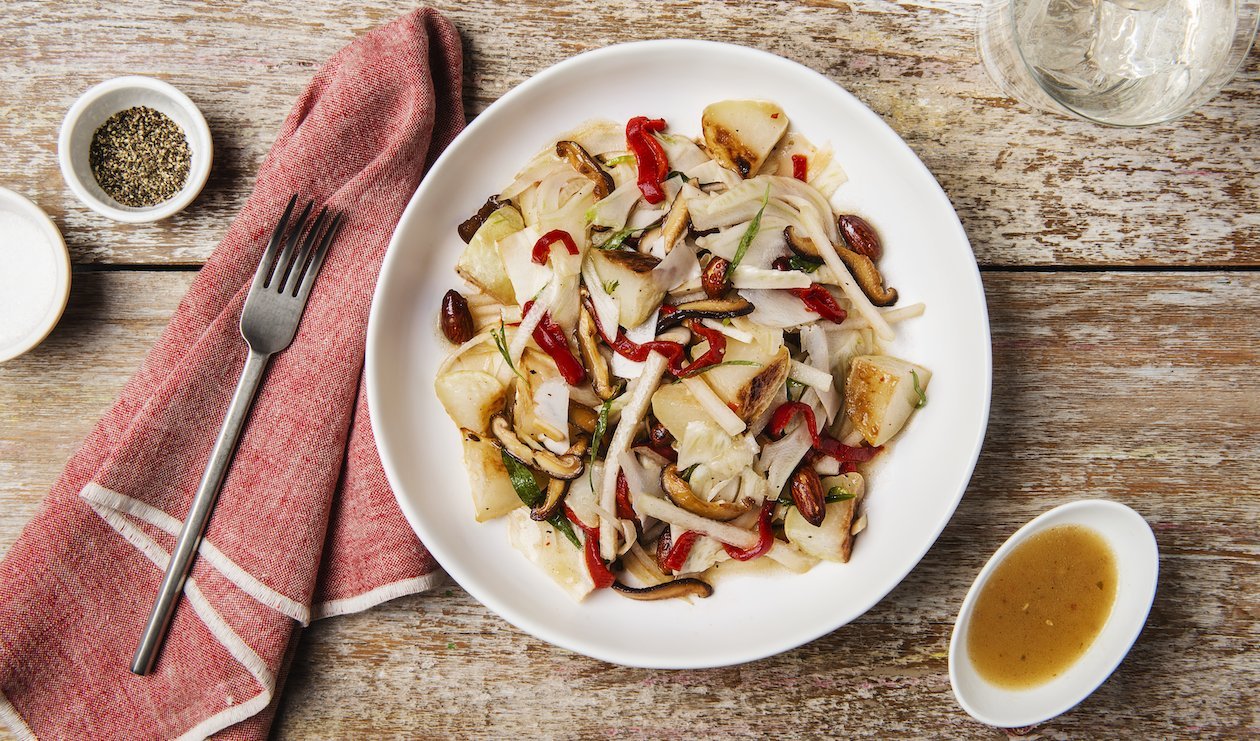 Ingredients per serving
Prepare the Fennel and Pear
Pear, peeled and sliced

3.0 each
Prepare the Roasted Vegetables
Salt and Pepper, to taste

Mushrooms, shiitake, sliced

1.0 lb

Garlic, chopped

3.0 cloves
Prepare the Salad
Piquillo peppers, sliced

1.25 cups

Pecorino cheese, shaved

2.0 cups

Almonds, toasted

2.0 cups
Preparation
Prepare the Fennel and Pear

Shave the fennel on a mandoline and cut the pear into julienne. Place in ice water for about 5 minutes.
Then drain and set aside.

Prepare the Roasted Vegetables

Cut the kohlrabi into eighths. Toss with olive oil, salt and pepper. Place on a parchment lined sheet pan and roast at 425F for 10-12 minutes until tender and golden brown.
Heat a small amount of oil in a sauté pan, sear the shiitake mushrooms, then add the garlic and cook for another minute. Set aside and cool.

Prepare the Salad

For each portion, combine 1/3 cup shaved fennel, 1/3 cup pear, ½ cup roasted kohlrabi and 1/4 cup shiitake mushrooms together with 1/8 cup Piquillo peppers, 2 Tbsp pecorino, 2 Tbsp almonds and a few tarragon leaves. Toss gently with 2 oz Hellmann's Lemon Zaatar dressing add salt and pepper to taste.

.