Roasted Asparagus and Prosciutto Salad with Candied Beets and Burrata
Roasted asparagus, orange-candied beets, creamy burrata, prosciutto and oil-cured olives topped with crunchy Marcona almonds and focaccia croutons.
Appetizer/Shareable
Salads
Main Course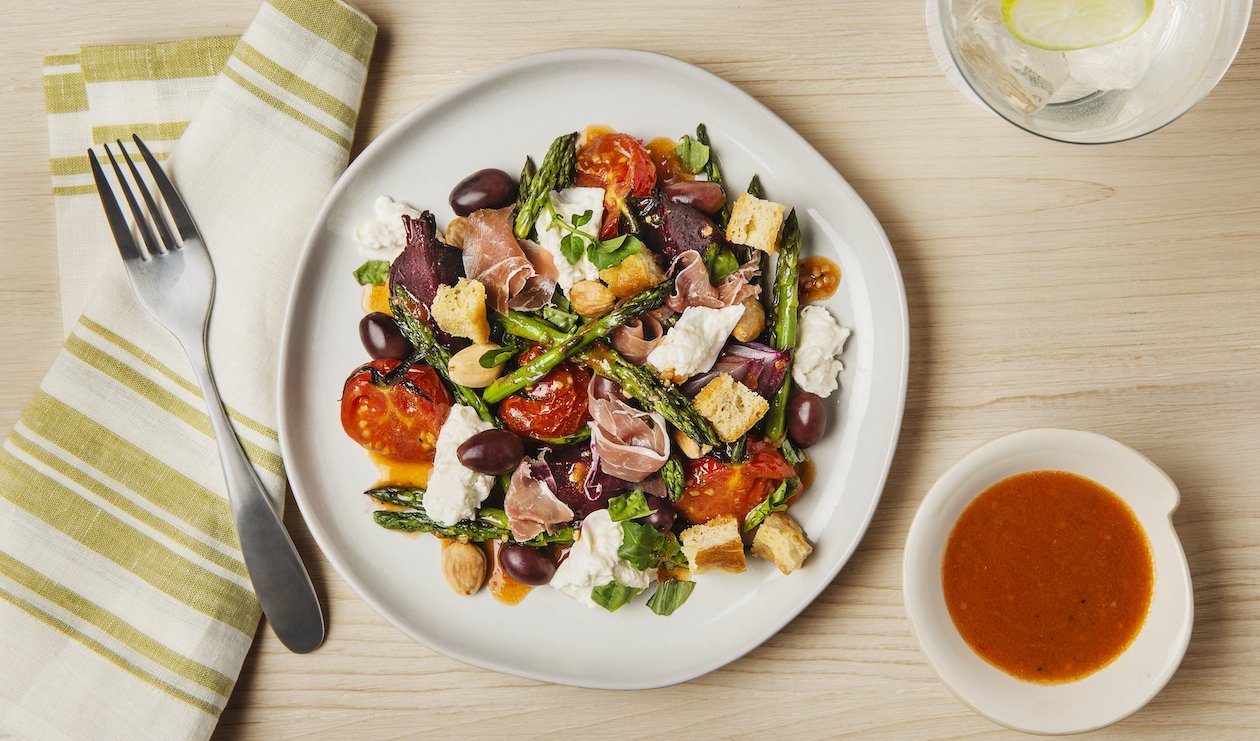 Ingredients per serving
Prepare the Asparagus and Tomatoes
Green asparagus, trimmed

2.0 lbs

Red onion, quarters

1.0 lb

Salt and Pepper, to taste

Red vine tomatoes, halved

1.5 lbs
Prepare the Candied Beets
Baby beets, washed, halved

1.0 lb
Prepare the Salad
Oil-cured olives, drained

6.0 oz

Marcona almonds, roasted

5.0 oz

Focaccia croutons, roasted

6.0 oz

Basil, fresh, torn

2.0 oz

Watercress, trimmed and washed

4.0 oz
Preparation
Prepare the Asparagus and Tomatoes

Toss the asparagus and red onions with olive oil, salt and pepper. Roast at 375 F on a parchment lined sheet pan for about 10-12 minutes, until cooked and slightly golden.
Toss the tomatoes on a baking tray, drizzle a little bit olive oil over the tomatoes and season with thyme and sea salt. Roast for 15 minutes.

Prepare the Candied Beets

Toss the beets with olive oil and sea salt and roast at 375 F as well for about 15-20 minutes, until slightly tender.
Melt the butter in a saucepan and add the orange juice and sugar, bring to a boil and allow to simmer for around 8 minutes until caramelized and thick. Remove from heat and combine in a bowl with the roasted beets. Transfer to a silpat lined sheet pan and cool.

Prepare the Salad

Tear each burrata into 6 to 8 pieces (keeping the cream as contained as possible within the thicker outer shell of the cheese).
For each portion, build the salad with each of the vegetables, season with salt and pepper, and drizzle with about 1.5 oz Hellmann's Charred Tomato and Garlic Dressing.
Add the prosciutto and burrata and garnish with the olives, Marcona almonds, focaccia croutons, basil and watercress.