Guajillo Roasted Chicken
Traditionally cooked with lamb or goat this hearty dish is a breakfast classic in the Baja region.
Appetizer/Shareable
Main Course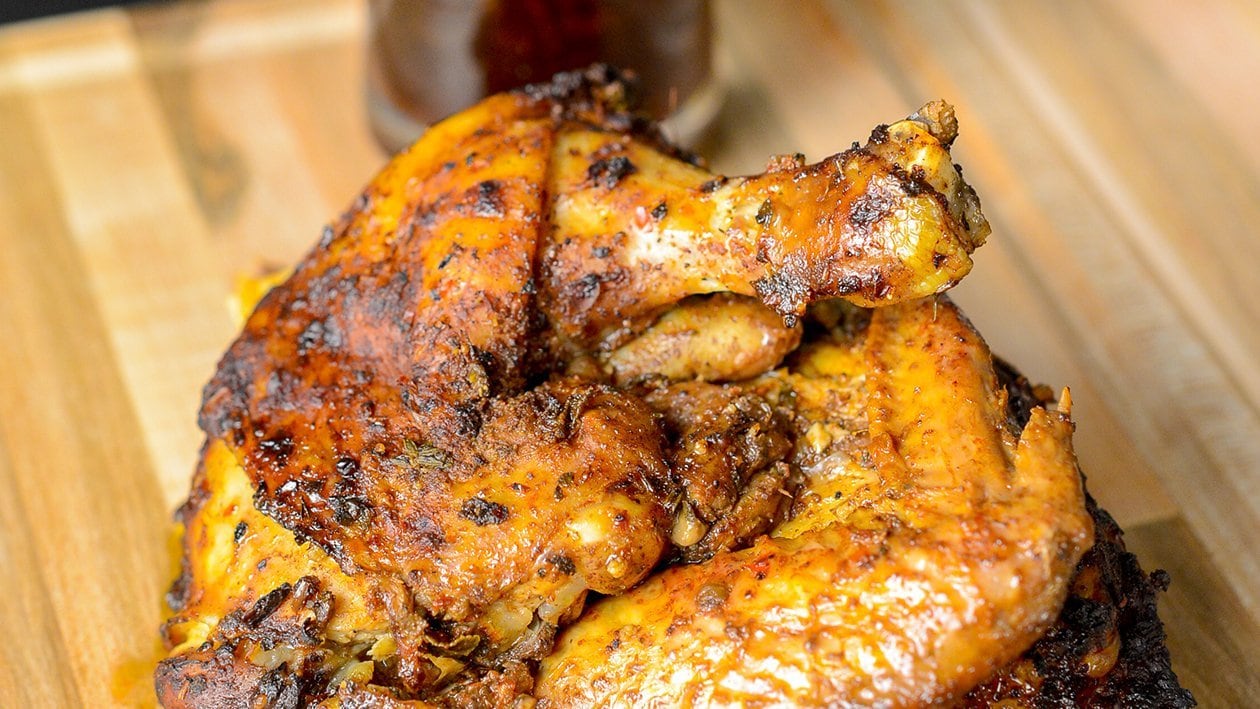 Ingredients per serving
Prepare the Chile Paste
White wine vinegar

2.0 Tbsp

Dried guajillo chiles

3.0 each

Chiles, ancho, dried

3.0 each

Dried New Mexico chiles

5.0 each
Prepare the Meat Rub
Ground black pepper

1.0 tsp

Mexican oregano, dried

1.0 tsp

Cinnamon, ground

0.25 tsp

Chicken, whole, bone in, skin on, 3.5 lbs, can be in parts

1.0 each

Thyme, leaves, fresh

1.0 tsp
Cook the Meat
Garlic, finely diced

6.0 cloves

Onion(s), coarsely chopped

1.0 each
To serve
Avocados, mashed

4.0 each

Limes, cut into wedges

2.0 each
Preparation
Prepare the Chile Paste

Toast the chiles on a hot griddle or skillet over medium heat until browned, not burned.
Remove the seeds and veins, then place the chiles in a bowl and cover them with hot water for 15 to 20 minutes until rehydrated. Reserve 2 cups of chile rehydration water.
Process chiles, water, vinegar and Knorr® Professional Liquid Concentrated Chicken Flavor Base in a blender to make a smooth paste.

Prepare the Meat Rub

In a small bowl, mix the salt, pepper, cloves, oregano, cumin, cinnamon, thyme and Knorr® CALDO DE POLLO together.
Rub the meat well with the mixture. Coat the meat with half the chile paste.
Cover loosely with plastic wrap and let it marinate overnight in the refrigerator.

Cook the Meat

Add the coarsely chopped onion, bay leaves and diced garlic to a roasting pan.
Add the chicken and remaining chile paste to the roasting pan, cover tightly with foil, and bake for 2 hours at 350°F.
Remove the chicken from the oven.

To serve

Pull the chicken meat off the bone. Mix shredded chicken with the cooking sauce and serve in tacos or tostadas garnished with cilantro, lime and avocados.

Note: Chicken can be served cut into larger pieces with its flavorful juices as the sauce. Remaining sauce can also be thinned out with broth and served on the side.