Grilled Peach and Napa Cabbage Slaw
with Aleppo Spiced Almonds and Smoked Peach Vinaigrette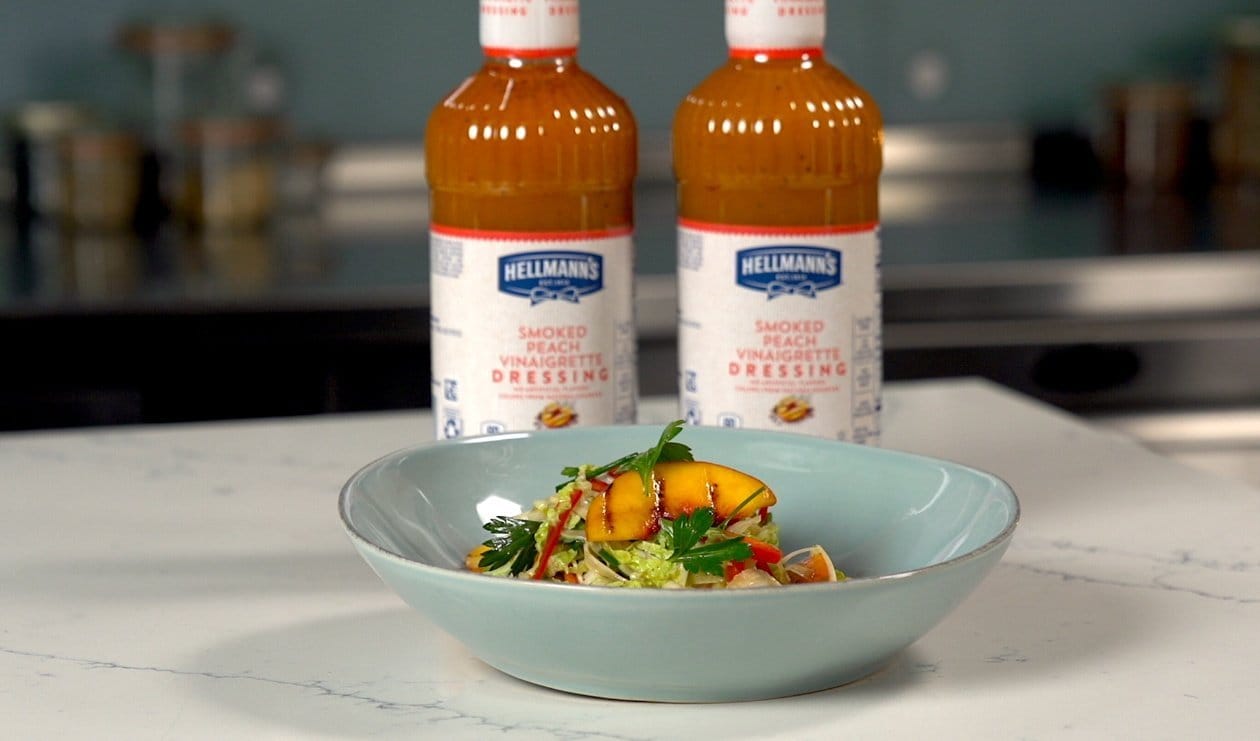 Ingredients per serving
For the Aleppo Spiced Almonds
Almonds, slivered, toasted

1.0 cup
For the Salad
Firm but ripe peaches, pitted and halved

1.0 lb

Extra Virgin Olive Oil

1.0 oz

Shredded Napa cabbage

2.0 cups

Red peppers, julienned

0.25 cup

Kohlrabi, julienned

0.25 cup

Green onions, julienned

0.25 cup

Chives, cut 1" pieces

1.0 Tbsp

Aleppo-Spiced Almonds

2.0 Tbsp
Preparation
For the Aleppo Spiced Almonds

Lightly oil a baking sheet.
Combine the water and sugar in a bowl. Pour mixture into a sauté pan, and bring to a simmer. Simmer until the sugar dissolves and the mixture starts to thicken. The bubbles will become large and fill the surface of the pan. When the sugar starts to change color, add the almonds. Stir to coat the almonds with the sugar mixture. Once the almonds are evenly coated, pour onto the oiled baking sheet and spread the almonds into a single layer. Sprinkle with salt and Aleppo pepper. Mix and redistribute.

For the Salad

Preheat a grill to medium-high heat.
Combine the honey and oil in a bowl. Add the peaches and gently toss. Season with salt.
Place the peaches on the grill, cut sides down, 1 -2 minutes per side, turning once with a spatula, until lightly marked. Remove to a cutting board and cool. Cut into quarters.
In a large bowl, combine the cabbage, fennel, red peppers, kohlrabi, and green onions.
Add herbs, vinegar and dressing, season with salt and pepper then toss. Add the peaches and nuts and gently toss.

Additional Notes*

The Aleppo Spiced Almond recipe makes more than needed.
Cooked lardons of bacon are a great addition to the salad.