Summer's almost here, and if your guests are anything like us, they're already daydreaming about delicious summer meals enjoyed on lazy patio afternoons.
 
There's a reason specialty burgers are among the most-added new entrées on menus:[1] because guests love discovering new flavors and you love experimenting with even-better burger builds.
 
We've compiled some delicious burger trends guests are looking for, along with tips from Chef Jill Houk, to help you build burgers you'll love as much as your guests do.

Blends with Benefits
 
Where's the beef? It's in there, but with many modern burgers, chefs have probably brought some extra proteins along for the ride. Operators are upscaling burger blends by including adding brisket, wagyu mix blends and more in the grind.[2]

Now's the time to experiment: Over half of consumers are interested in stuffed burgers.[2]

Chef Jill says:
"Grinding meat in-house gives you more choice in terms of fat content, different flavors, and whether to use organic or grass-fed. You can also grind proprietary spice blends with the meat so that burgers taste consistent from bite to bite."


There's nothing wrong with thinking beyond red meat. 42% of guests—and over half of millennials—want to see more turkey burgers on the menu.[2] 
Chef Jill says:
"Ground turkey is a great substitute for beef, not just because it's perceived as healthier, but because you can use different flavors with poultry than you can with beef. Think bold southwestern or Asian flavors. Or even do a riff on Buffalo wings with a turkey burger."


Meatless burgers on menus have doubled in the past year—making black bean, sweet potato, and chickpeas a delicious competitor, not just for vegetarian diners.[3] Plus, they give you more range to experiment.
 
Chef Jill says:
"Veggie burgers are even better for experimentation--you can create burgers from beans and lentils, grains, vegetables, or a combination of all of them. They can take on any spice, from an Indian-spiced lentil burger with chickpeas, topped with cucumber raita, to a Mexican black bean burger studded with roasted corn and poblano peppers."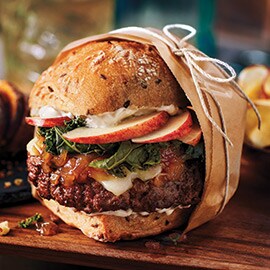 Over-the-Toppings
Almost half of younger millennials prefer finding new trends and trying interesting burgers with unique toppings.[2] The same unique toppings that make your burgers delicious also make them beautiful and snap-worthy. Here are some topping ideas to make your burgers even more irresistible.
Use hyper-regional condiments. Think local mustards, cheeses, and pickles that give your burgers a unique story.
Sweet burger condiments are beginning to gain traction on menus including jam, salsa, balsamic, and honey.[4]
Sweet condiments are a riff on ketchup or barbecue sauce, which both tend to be sweet. Add peach or apricot preserves to mustard and spread on a burger.
Chef Jill says:
"In addition to spicy, sweet and ethnic, sour toppings also pair well with meat based burgers. The acidity cuts through the richness of the meat. Think housemade sauerkraut or pickled beets on top of a beef burger, or a lime-cilantro aioli on top of turkey burgers."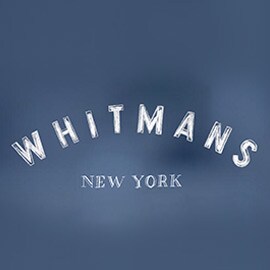 Real Restaurants are Getting Creative
Chefs are making burger magic from coast to coast. Here's just a small sample of creative blends and toppings:
 Whitmans – New York
Modeled after the Minneapolis classic, Juicy Lucy features two short rib blend patties surrounding a scoop of pimento cheese, for a molten core of cheese oozing from the patty.
BurgerFI – Florida-based chain
The CEO Burger features two wagyu + brisket blend beef patties, layered with aged Swiss cheese, topped with homemade candied bacon-tomato jam and a garlic truffle aioli.
 
Southern Smoke Barbecue House – Ontario  
With all meats smoked in-house, brisket burgers are cooked diner style and topped with caramelized onions, Applewood smoked cheddar, or house blend burger sauce.
 
Burger Bar – Chicago
Guests can request pulled pork, pork belly or chorizo to make a burger of two (or more) meats at once. Non-beef options include chicken, turkey, veggie, or zesty shrimp.
 
Trina's Starlite Lounge – Boston
Turkey burgers pack unique flavor when topped with cheddar, Brussels sprouts, whole grain mustard aioli, mixed greens, and balsamic vinaigrette.

Chef Jill Houk is a professional chef, author, and culinary consultant. When she's not working or cooking for her family, you can find Chef Jill traveling, cycling, or taking a boxing class. Find her on Twitter @ChefJYH.
[1] Technomic 2017
[2] Mintel: State of the Burger – US, April 2016
[3] Mintel: Healthy Dining Trends, March 2017
[4] MenuMonitor; Technomic 20