One of the major quandaries we're facing as chefs is creating enticing recipes for different dieters. The trickiest difference of all may be vegetarian and vegan consumers versus meat-eaters. Meat-eaters are usually reluctant to try plant-based recipes, and are doubtful they can be as lip-smacking as the recipes they've grown up with.
An easy solution is replacing meats in favorite recipes from around the world with similar substitutes.  
Here are a few of the best recipes to sneak meatless substitutes into, and what the tastiest substitutes are. 
| | |
| --- | --- |
| Classic Recipes to Try Meat-Free | Substitution Options for Meat |
| Shepherd's Pie | Butternut squash and other root vegetables, white beans, or vegetarian meat subsitutes |
| Classic Stew | Vegan beef strips, jackfruit or portobello mushrooms |
| Chicken Adobo | Soy curls, seitan "chicken," vegan chicken strips or no-chicken chunks |
| Burgers and Fries | Black bean burgers, veggie burgers, chickpea burgers or no-beef-burgers |
Read on for the complete recipes, and tips for making meatless menu items look and sound incredible to consumers across the dietary board.
Shepherd's Pie
Your customers love the flaky crust and steaming meat, potato and veggie filling in a fresh shepherd's pie. How can you make a meat-free version that even non-vegetarians will love?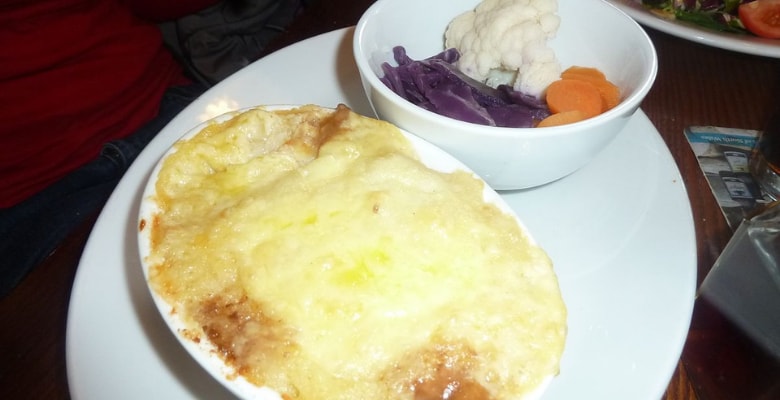 Option 1: Even More Root Vegetables
You can always substitute for missing meat by stuffing in even more veggies with diverse flavors and textures.
This pot pie filling recipe is from Veganosity, and is to serve 4.
2 tbsp olive oil
1 red large onion – diced
3 cups diced purple potatoes (or white or sweet potatoes)
2 large carrots – peeled and sliced
1 large celery root – diced
2 and ½ cups diced butternut squash
 4 cups vegetable broth
1/3 cup red wine
1 tbsp Italian seasoning
¼ cup water plus 2 tbsp of corn starch mixed well
¼ cup vegan butter melted
Salt and pepper to taste
For complete instructions, see the link above. With rich flavors from the red wine, vegetable broth, Italian seasoning and butter, standard vegetables take on new textures so that you don't miss the meat at all.
Option 2: White Bean Filling
This Well Plated recipe includes baby bella mushrooms and white beans to give some chewy meaty textures to your vegan shepherd's pie. For complete instructions, use the Well Plated link.
Ingredients for the white bean shepherd's pie (serving 4) include:
3 tablespoons unsalted pepper
10 ounces cremini baby bella mushrooms
2 medium stalks celery – diced
1 ½ teaspoons garlic powder
½ teaspoon kosher salt
¼ teaspoon black pepper
¼ cup all-purpose flour
 2 cups unsweetened almond milk or milk of choice
 15-ounce can reduced sodium white beans – rinsed and drained
12-ounce bag mixed peas and carrots or frozen vegetables of choice
 ½ cup frozen pearl onions – no need to thaw
1 tablespoon chopped fresh thyme
1 tablespoon balsamic vinegar
1 egg
This cozy shepherd's pie is protein-packed and creamy.
Option 3: Vegetarian Chicken Chunks
If you use a vegetarian meat or a vegan beef, you can stick with your tried-and-true shepherd's pie recipe (or experiment with some new ones for your best results yet).
Meat-free substitutes that maintain a similar texture and flavor to meat make things the simplest. Nochicken Chunks are great for chefs who are trying to please customers with lots of differing dietary preferences.
 
Classic Stew
Warming, hearty and perfect for the winter months – how can you make a classic Irish stew meat-free (and still delicious)?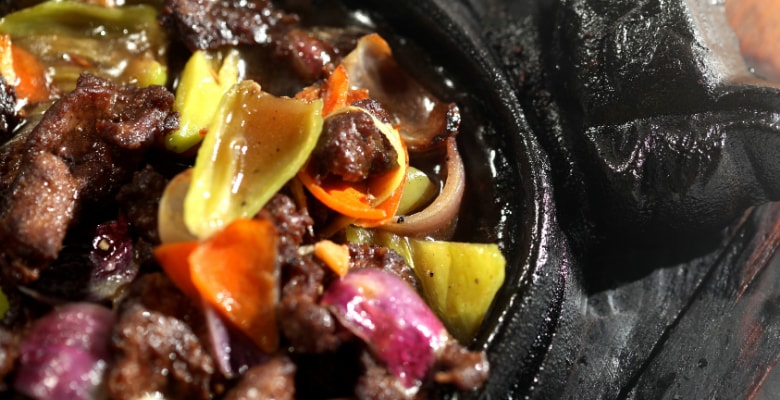 Option 1: Smoky Jackfruit
This Guinness Irish Stew from the Vegan Vigilante Blog is savory, rich, flavorful, and of course, vegan-friendly.
This particular recipe serves 8. Here's what you need:
3 tsp olive oil, divided, extra virgin
1 bay leaf
5 cloves of garlic – minced
1 medium brown onion – finely chopped
2 7-ounce packages of organic young jackfruit – unseasoned
32 ounces organic vegetable broth
5 medium red potatoes – chopped
4 large carrots – diced
4 large celery stalks – diced
3 tablespoons tomato paste
22-ounce Guinness beer – extra stout
1 tablespoon fresh rosemary
1 teaspoon tarragon
1 teaspoon sea salt
1 teaspoon black pepper
4 tablespoons corn starch, mixed with a small amount of cold water
Option 2: Portobello Mushrooms
You probably already know that portobello mushrooms are a favorite meat-replacement option when it comes to expert meatless dishes. They contain a similar protein structure to meat, beans and legumes, giving the stew the right texture.
This Brand New Vegan recipe is a thick, hearty stew with big chunks of mushrooms and a broth that is packed with flavor.
1 ½ yellow onions – diced
2 ribs celery – chopped
1 carrot – chopped
1 parsnip – chopped
3 cloves garlic – minced
1 lb portobello mushrooms
¼ cup tomato paste
1 dark, stout beer (12-14 oz can or bottle)
3 cups low sodium vegetable
15 baby potatoes
2 bay leaves
1 tablespoon vegan Worcestershire sauce
1 teaspoon dried thyme
½ teaspoon dried rosemary
½ teaspoon salt
¼ teaspoon ground pepper
2 tablespoons corn starch or arrowroot powder
1 tablespoon water
Fresh parsley for garnish
 
Chicken Adobo
Garlicky, tender chicken adobo is perfect with rice. How do you give vegan consumers the same satisfying taste with none of the chicken?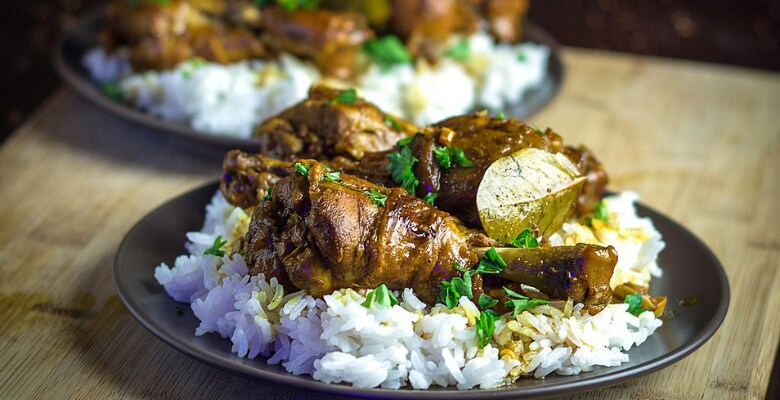 Option 1: Soy Curls
This veganized version of the traditional Filipino dish is packed with bold flavors. Sweet Simple Vegan promises this recipe will be spot-on with the classic Adobo recipe, and is ready in about 30 minutes. This recipe serves 6.
2 heaping cups of soy curls
4 cups vegan chicken broth or vegetable broth
¼ cup liquid refined coconut oil
5 bay leaves
½ teaspoon black peppercorns
5 cloves of garlic – finely minced
1 small white onion – finely diced
2 small potatoes – peeled and cut into medium-sized pieces
1 medium carrot – peeled and cut into medium-sized pieces
1 cup reduced sodium tamari
¼ cup apple cider vinegar
1-inch fresh ginger – sliced
4-5 tablespoons light brown sugar
For vegan consumers who are looking for a classic with a kick, they'll love this soy curl-based chicken adobo.
Option 2: No-Chicken Strips
Take advantage of the various vegan chicken replacements. Then you can use your own Chicken Adobo recipe or this recipe from Eat Figs Not Pigs – it is salty, savory and slightly sweet, with caramelized onions and jalapeno.
Option 3: Seitan Chicken
"Seitan" is a vegan meat substitute that is made entirely out of hydrated gluten. It can also be called wheat gluten. You can make it by kneading wheat flour with water until it turns into sticky strands of gluten protein – a nice substitute for meat. The texture of seitan can be soft like a pot roast or as firm as a cutlet or steak, depending on how you make it.
This seitan chicken Adobo recipe from The Works of Life includes:
2 tablespoons oil
1 large onion
4 cloves garlic
14 ounces coconut milk
3 tablespoons cane vinegar
2 tablespoons dark soy sauce
2 teaspoons light soy sauce
1 tablespoon sugar
½ teaspoon ground black pepper
1 bay leaf
2 dried red chili peppers
8 ounces chicken-style seitan
2 tablespoons cilantro
This particular recipe serves 3. For thorough instructions, see the link above.
 
Burgers and Fries
Juicy, cheesy burgers with crispy French fries are a worldwide favorite. Fortunately, plant-based experts are on top of producing equally delicious burger substitutes.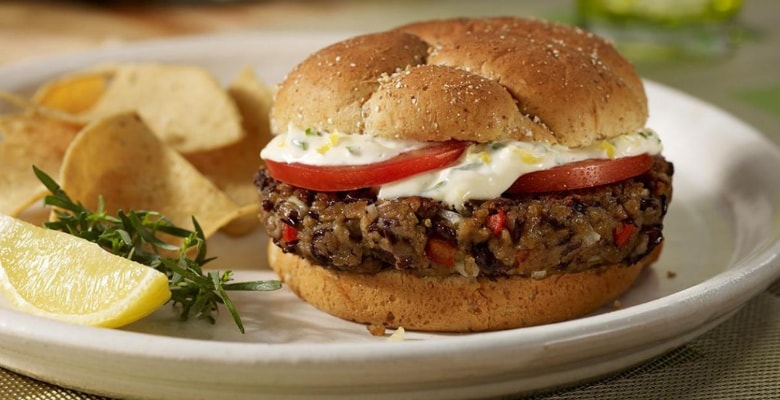 Option 1: Black Bean Burgers
Black bean burgers are one of the most common vegan burger options because they taste fantastic. They imitate typical burger patties surprisingly well, and the right black bean recipe, like this Spicy Black Bean Burger recipe, can please even the pickiest meat lover.
Ingredients for the burger patty and zingy sauce include:
1 tablespoon cumin seeds
2 tablespoons fresh lemon juice
2 tablespoons fresh lemon zest
1 tablespoon fresh tarragon
1 tablespoon fresh chives
1 ½ cups hellman's vegan mayo
6 ½ cups drained and partially mashed black beans
2 cups plain breadcrumbs
1 chopped onion
3 tablespoons chopped garlic
1 tablespoon salt
1 tablespoon ground black pepper
3 eggs
Olive oil
Option 2: Veggie Burgers
Love and Lemons recommends substituting beef with these tangy, smoky, and savory veggie patties. This particular recipe serves 6-8.
2 tablespoons olive oil
2 shallots – chopped
16 ounces mushrooms – mix of shiitake and portobello
2 tablespoons tamari
¼ cup balsamic vinegar
1 tablespoon mirin
2 garlic cloves
½ teaspoon smoked paprika
2 teaspoons sriracha
½ cup crushed walnuts
¼ cup ground flaxseed
2 cups cooked short-grain brown rice
1 cup panko bread crumbs
Vegan Worcestershire sauce
Make Meatless Menu Items More Appealing
Now that you have the right meat substitutes, there are two more ways to ensure customer satisfaction with meatless recipes.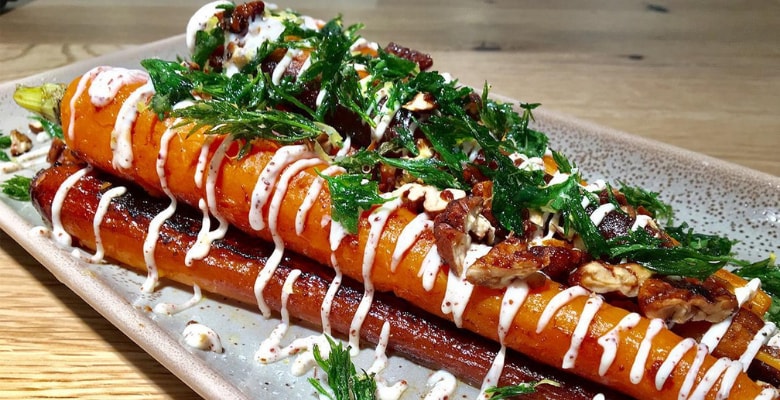 First, go the extra mile to make the final product delicious. Here are some cooking techniques to make meatless meals more flavorful:
Add Spices: Explore some new spices and take the time to toast them – mix things up. Utilize aromatics like garlic, leeks, parmesan rinds and ginger.
Shop Seasonally: With all of the veggies in vegan recipes, it is essential to buy them when they are in season for optimal flavor and texture.
Sauce Showtime: Use fresh herbs to make up outstanding condiments like salsa verde or chimichurri, or use the simplest oils and citrus juices to perk up a meatless meal.
Texture is Everything: Sometimes meatless recipes are missing a texture dynamic. You may be missing a crunch. Try adding roasted nuts, croutons, or parmesan crisps to your meatless masterpiece to take it to the next level.
Fat for Flavor: Fats like olive, avocado, and coconut oil brings bold flavor to any meal, but especially meatless ones that may be otherwise lacking in this department.¹
Next, it is essential to spice up those menu descriptions to convince meat lovers to order your vegan recipes. Here are some of the words and ideas that WRI has found to encourage meat-free orders:
Locale-inspired language: Focusing on where a dish comes from sounds colorful and exciting to consumers.
Flavor: Focus on words like earthy, savory, smoky and more. Lure consumers in with a sample taste of your meatless option.
Look and Feel: Is your recipe mouthwatering, melting, or boldly colorful? The more descriptors you can implement, the more likely consumers are to order the particular dish.²
Avoid discussing restrictive words like "vegetarian," "vegan," and "meat-free." Focus on what the dish is over what it is not.
¹ https://chopra.com/articles/vegetarian-cooking-10-ways-to-make-meatless-meals-more-flavorful
² https://www.wri.org/news/its-all-name-how-boost-sales-plant-based-menu-items