Spinach, Artichoke and Bacon Pizza
Creamy, garlicky white sauce is the base of classic spinach artichoke dip turned into a pizza.
Appetizer/Shareable
Main Course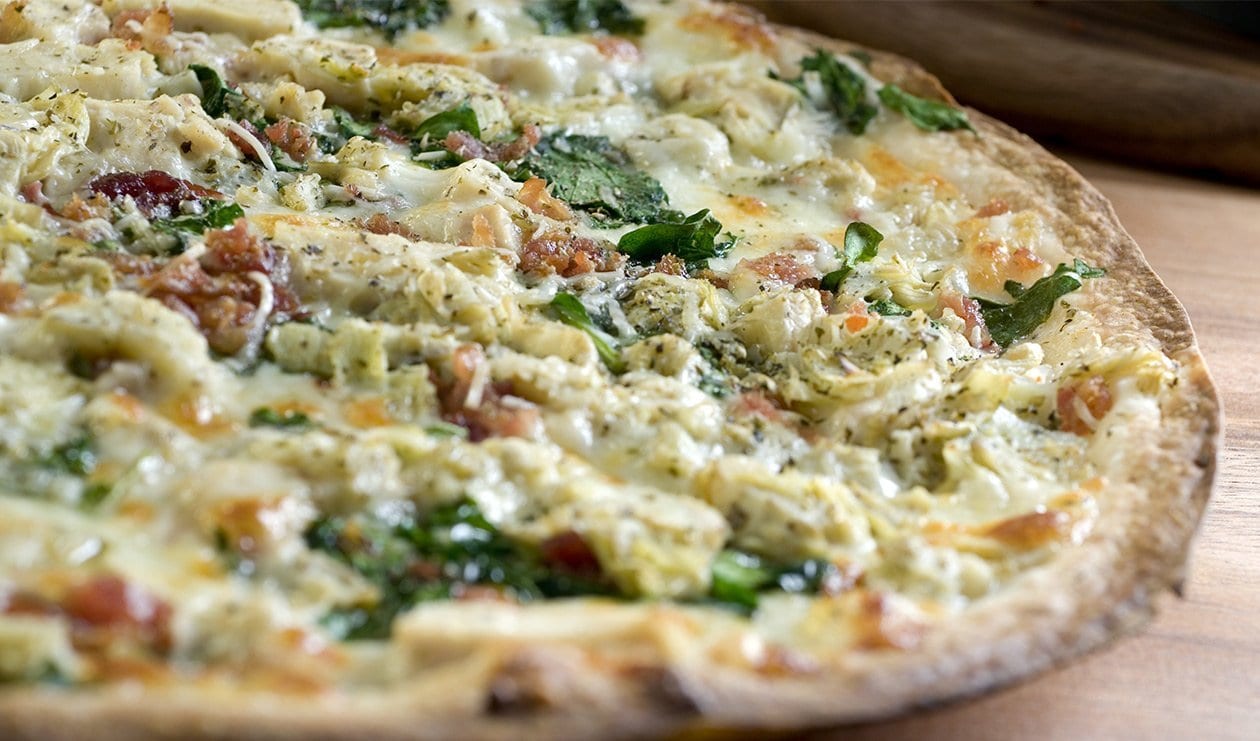 Ingredients per serving
Prepare the Sauce
Garlic, minced

2.0 cloves

Crushed red pepper flakes

0.5 tsp

Parmesan cheese, grated

0.25 cup

Baby spinach, roughly chopped

10.0 oz
Prepare the Pizza
Pizza Dough, rolled (12")

2.0 each

Cheese, Mozzarella, shredded

3.0 cups

Artichokes hearts, roughly chopped

14.0 oz

Bacon, crisp-cooked and crumbled

1.5 cups

Oregano, fresh, chopped

1.0 Tbsp
Preparation
Prepare the Sauce

In a medium saucepan, heat oil and add the garlic and red pepper flakes; cook, stirring constantly, 30 to 60 seconds. Gradually add prepared LeGoût® Cream Soup Base. Bring the mixture to a simmer over medium-low. Stir occasionally for about 5 minutes. Stir in the Parmesan and lemon zest.
Meanwhile, add the spinach to a medium saucepan over medium-high heat. Cook and stir until the spinach wilts, about 1 minute. Remove the spinach from the pan and remove all excess liquid, then add to the LeGoût® Cream Soup Base mixture.

Prepare the Pizza

Spread ½ of the spinach sauce over each of the rolled pizza doughs, then top each with half of the mozzarella, artichokes, bacon and oregano.
Bake at 425⁰F until the cheese is bubbling and the crust is brown.