Read More
Lobster & Shimeji Mushroom Arepas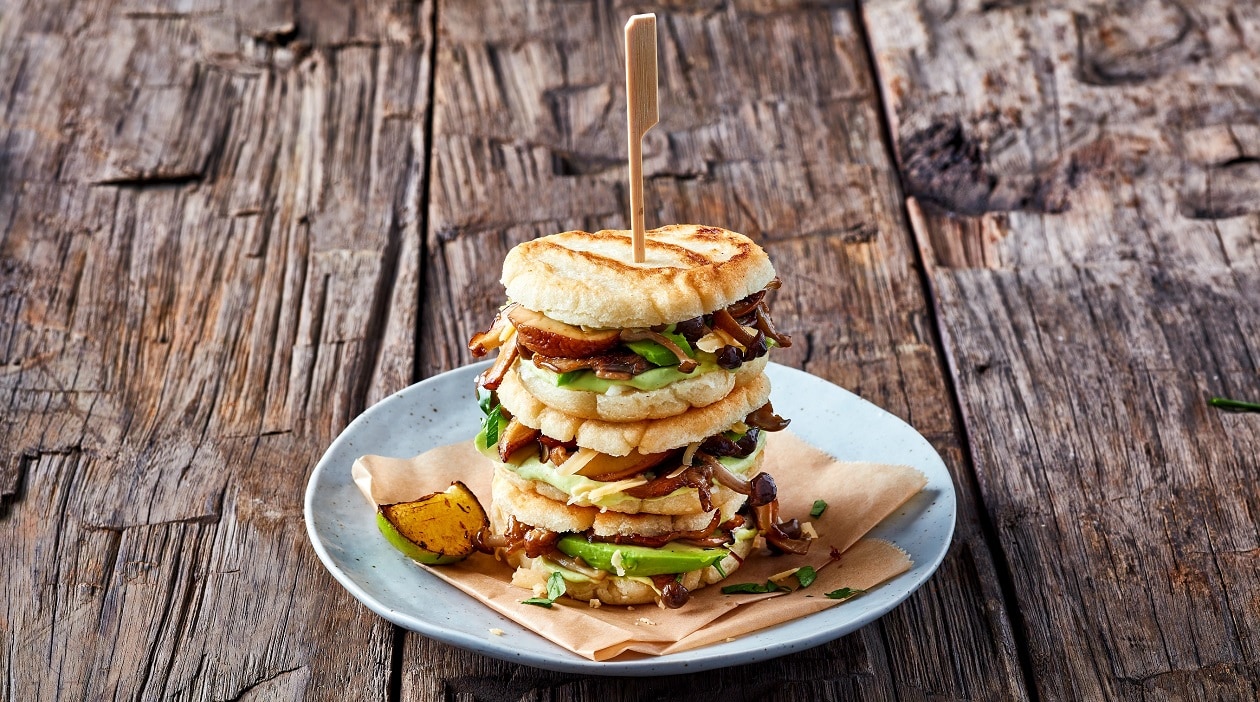 Ingredients per serving
Lobster & Shimeji Mushroom Arepas
Create the Arepas
Masa harina (Arepa MIX just water/salt)
/cup
1.5 cup
0%
Make the Avocado Crema
Avocados, Haas
/piece
1.0 piece
0%
Hellmann's® Heavy Duty Vegan Mayonnaise 1 gal 4 pack
/cup
0.5 cup
0%
Sour cream vegan
/cup
0.25 cup
0%
Cilantro
/cup
0.25 cup
0%
Agave syrup light
/tsp
0.5 tsp
0%
Cayenne pepper
/Tbsp
1.0 Tbsp
0%
Prepare the dish
Lobster mushrooms, sauteed
/lbs
1.0 lbs
0%
Shimeji mushrooms, sauteed
/lbs
0.5 lbs
0%
Avocados, Haas ,slices
/piece
1.0 piece
0%
Vegan Cheddar cheese
/cup
1.0 cup
0%
Create the Arepas
Masa harina (Arepa MIX just water/salt)

1.5 cup
Make the Avocado Crema
Sour cream vegan

0.25 cup

Agave syrup light

0.5 tsp
Prepare the dish
Lobster mushrooms, sauteed

1.0 lbs

Shimeji mushrooms, sauteed

0.5 lbs

Avocados, Haas ,slices

1.0 piece

Vegan Cheddar cheese

1.0 cup
---
Create the Arepas

Prepare Arepa Mix according to MASA HARINA PAN procedures.
Divide the 1.5 Cups of prepared masa in 4 parts & form into arepa shape. (Round ball, then flattened w/ wet hands so it's a bit easier to maneuver.) 

Preheat a Large nonstick pan and cook AREPAS in a low/medium fire, until light golden color. (Finish arepas in a Josper oven or any Open Fire for extra flavor/depth.)


Make the Avocado Crema

Using a Vita Mix combine all the sauce ingredients and blend for about 1 min. Place on a squeeze bottle and refrigerate. 


Prepare the dish

Open arepas using a paring knife ¾ of the way around and stuff w/ cheese, mushrooms, and avocado slices.

Drizzle some sauce inside the cavity as well and continue with desired presentation.