The Way You've Been Managing Inventory Is Outdated
A recent interview with Stefan Kalb, co-founder of Shelf Engine, a restaurant inventory management system, illuminated many inefficiencies in the common task of food and ingredient ordering.

Managing inventory and ordering food have changed very little over the years. The processes still largely rely on gut feelings and sales from previous years. Stefan Kalb says, "What's likely happening is you either have spreadsheets that you use to make that decision or you're straight up guessing. But what it's doing is costing you an incredible amount of money." Many orders are dependent on managers and staff who often leave. UFS Professional Chef Dana adds, "Those responsible for ordering often don't take outside factors into account, like a holiday week that may be the cause of slower sales; and still order the same amounts as usual." All these factors lead to a situation where either not enough food is on hand—and sales are lost—or too much food is in storage—and then is wasted.

As Millennial chefs rise to prominence, the industry needs dual strategies for those who grew up with technology and the older chefs who will be much slower to accept that data is better than their gut instinct from many years of experience.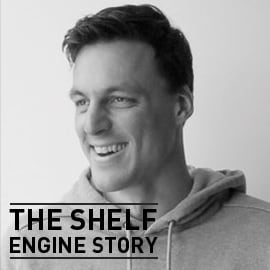 The Shelf Engine Story
Stefan Kalb entered the foodservice industry selling fresh deli sandwiches and other items to grab-and-go kiosks like those found in airports and campuses. Their business model included buying back unsold inventory. They were extremely successful, but along the way Stefan began to realize how much food was being wasted due to fluctuations in demand. He set to work building an algorithm that factored in previous ordering data to create optimized and accurate production schedules. When he shared the project with friends in the industry, they became very interested in having him apply the model to their own specific operations. A lightbulb went off and a product was born.

After tweaking and fine tuning the process, Shelf Engine now uses their clients' historical sales data and receiving data to create finely tuned orders that can be submitted automatically or manually. They take into account seasonality, volatility and gross profit by product to ensure they're delivering maximum value to their partners.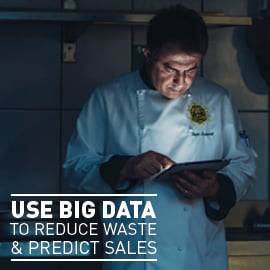 Use Big Data to Reduce Food Waste and Predict Sales
There are services in the marketplace that can give you data on your restaurant's performance, but the sheer volume of what's captured and delivered can become overwhelming. Brad Barnes, CMC with the CIA, is very blunt on the matter, "80% aren't using data and the 20% that are don't know what it means."


Data and analytics can drive strategy, but at the buyer level, a simple plan is necessary. The staff who does ordering is normally in charge of many other responsibilities (not data analysis). Look for partners who can give you a simplified, easy-to-follow plan. Stefan Kalb explains, "Analytics can be a form of bias for buyers. If you're managing a restaurant and you have all this data that tells you how your sales are going to be, you're actually going to start making different decisions. Because the data can be overwhelming, you very well may make worse decisions. That kind of data is really helpful at the strategy level—at the executive level—but the decision on the buyer level should be just, 'Hey, you should be making 11 pans of lasagna because that's the profit maximizing level, and if you chose to make more pans of lasagna or less you should know that the predictions says that it's going to cost you X amount of dollars to be that far off.' Making the decision really, really simple is clutch."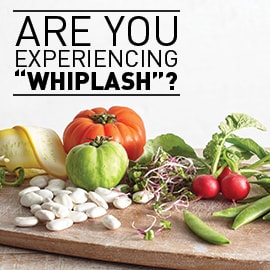 Are You Experiencing "Whiplash"?
The tendency and gut feeling is to never under order, but time after time, Stefan Kalb sees restaurants over ordering—and ultimately wasting resources. It's natural to fear running out of an item, but without sound strategies, predictions can be inaccurate. Conversely, when there's a dip in sales, buyers can over correct too dramatically as well. Stefan's advice here is, "Make decisions very slowly and adjust slowly. You'll save yourself a ton by making that shift."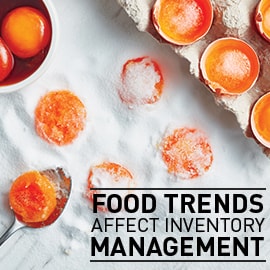 Food Trends Affect Inventory Management
You've seen the rise of the farm-to-table and fresh movement. Consumers are looking for fresher, more local ingredients across the board. Many items that meet this criteria have a much shorter shelf life because they have fewer preservatives or don't go through other commercial processes that lengthen the amount of time the produce is ripe. The older ways of sourcing and ordering simply don't work with this type of inventory. A partner with years of experience, analytics power and restaurant knowhow is extremely valuable.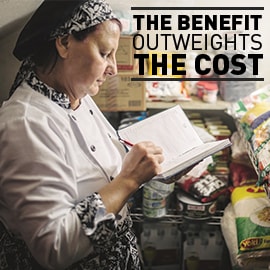 The Benefit Outweighs the Cost
Sure, sales reps are going to make lots of promises when making their pitch, but using an inventory management and ordering system like Shelf Engine really pays off. Most services offer a sliding scale based on sales or number of units. There may be an upfront cost, but that's reasonable and to be expected since the service will likely have to integrate with your current systems and databases. But once things are set up, you should realize savings from the get go. Since lots of these companies are new and eager for clients, you can be a little shrewd and ask for trials and upgrades at a reduced price.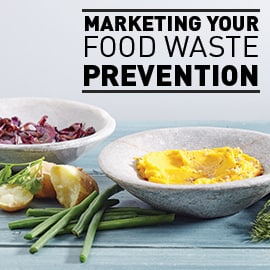 Marketing Your Food Waste Prevention
In much the same way some sustainability programs are becoming commonly known among consumers, so too can be your food waste efforts. Simple callouts on the menu or signage on your door can let people know you're taking steps to reduce waste and keep costs down. If you achieve a major milestone such as reaching "zero landfill" status, social posts or a press release will help get the word out and give guests another reason to visit.
Learn more about food waste and get tips on how you can reduce losses.