Articles about how Millennials are changing this or that will continue to pop up, but getting acquainted with their successors, Generation Z, is a smart move as you look to the future. Let's start with the basics.

The Traits Affecting Your Restaurant
#1 Menu Expectations 


Custom Dishes
These guys grew up up knowing more about nutrition than any generation before them. They're expecting fresh, customizable options that are big on flavor. Technomic says, "Gen Z generally places the highest importance on customization, including the ability to change portion size."1
With diversity becoming the norm, global dishes are going to be mainstream; just don't call the dishes "ethnic" because it's already mainstream for them.

Consciousness: Both Health and Sustainability
Gen Z is being raised by Generation X and Y parents who focused on foods for their children that were "all natural"— the most sought-after attribute for their children's snack foods.5 Chef Dana recommends, "They want to see the words 'fresh,' 'organic,' or 'sustainable.' Start with the basics and let them customize the dish. Or make it healthier, like a twist on nachos that includes roasted vegetables."
Gen Z has come up being taught about the fragility of the earth and our environment. You can show your alignment by using packaging that's recyclable or made with planet-friendly materials. If you use Fairtrade or Rainforest Alliance Certified products, let them know; your choices tell your story.

Budget Mindful
55% of Gen Z usually picks restaurants with lower prices (vs 45% of all other generations). 2
Many are still living at home and not earning money beyond an allowance from mom and dad. Their discretionary spending is lower today than other generations (est. $45 billion), but they have spending power at a younger age than any generation before them.2

Generation Z was born into a smartphone world. In fact, they're often referred to as The First Connected Kids and The Technology Inherent. They don't know a life without the handheld technology and the multitude of services now available on the internet. 
They're expecting to find and follow you online—whether you're ready or not. They'll be fact checking and turning to their social communities for instant information. Although social media connectedness is the norm, their platforms of choice are slightly different than Millennials.1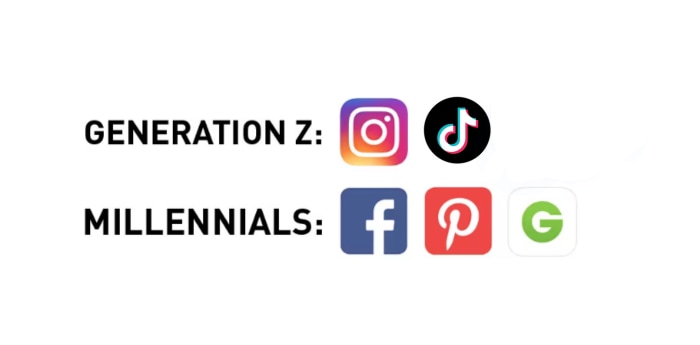 They're looking to order online—and probably enjoy the meal elsewhere (and of course pay for it from their phone). On average, just 44% of Gen Z's restaurant meals are consumed inside the restaurant (vs. 50% of Gen X and older consumers).2
"I'm interested in ordering 'off the menu.' I simply search for the restaurant in either Google, Facebook, Pinterest, Twitter etc., and voila, it's all at my fingertips. One of the best hashtags for finding out about hidden menu items across various social platforms is #HackTheMenu.4
#3 Meeting Them Where They Are
As Gen Zers strike out on their own and enter the workforce, a much higher percentage of them are going to be in nontraditional offices or even working remotely. That means your delivery services need to be on point. You can learn more about each and join at the following links:
#4 The Snacking Generation
Gen Z loves to snack. They're increasing the number of items eaten in between meals while eating smaller main meals. As Boomers decrease side dishes eaten with their main meals, younger Gen Z consumers are eating more traditional snack foods and side dishes as a convenient way to make up a main meal.5

To accommodate their desire for smaller dishes, Chef Dana recommends handhelds like smoothies, freshly made dip cups (guac or hummus), skewers, small bowls (like poke), creatively flavored popcorn and all-day snack menus.

Part of the excitement of working in foodservice is paying attention to what's on the horizon and adapting. The one constant is change. Lucky for us, food is always going to be central to people's lives for all kinds of  nourishment.
1 Technomic Generational Trend Report 2016
2 Technomic Foodservice: Gen Z and its Impact on Foodservice 2016
3 Technomic, Consumer Brand Metrics, 2016
4 USC Annenburg School for Communication and Journalism, "Secret Menu Items are Socially Shareable." March 2017
5 NPD, Guide to Gen Z