Over the years we've loved seeing global flavors become more commonplace in American cuisine. This trend crosses all dayparts, and cool new dishes have even conquered breakfast. Watch how delicious Taiwanese breakfast can be, plus see tips from UFS chefs on bringing fresh inspiration to your menu.
51% of millennials and 43% of Gen Z want to see more ethnic items and flavors offered at breakfast*
A Taste of Taiwanese Breakfast
Joan and K.F. Seetoh of the Culinary Institute of America dropped in to a breakfast hot spot in Taipei. What they ate looks incredible.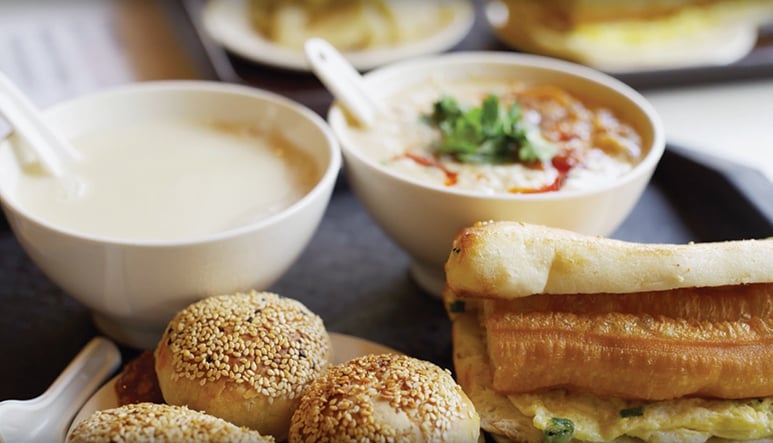 When Chef Jill Houk saw this spread in the video, it sparked ideas for creating some irresistible domestic culinary spinoffs:
 
Shaobing Youtiao ("Carb Sandwich")
"For an American audience, I would start by trying to replicate the carb-on-carb crunch with a crusty sesame roll (rice flour would give it a crispier texture) and add a delicate chive omelet + a thin layer of crispy hash browns to bring local familiarity."
 
Dan Bing (Crepes)
"I'd start with ultra-thin crepes with no added sugar, and fold around a soft-scrambled egg with a choice of mix-ins like veggies, ham and/or cheese. Lightly griddle, as you would a burrito, and serve sliced into pieces as they do in the video."
 
Dou Jiang (Savory Breakfast Stew)
A North American version could use a poached egg instead of soy milk and soy curd—offering the same basic unctuous texture from the soft yolk alongside the more toothsome egg white. Serve over soft polenta, again drawing on the texture, and add a spicy Asian sauce, cilantro, and a garnish of pickled vegetables.
Mintel predicts global flavors at breakfast is just getting started and expects more authentic breakfast items to hit menus such as empanadas, kolaches and dosa. Here are our chefs recommendations to keep you on trend.

Savory Waffles
Waffles provide an amazing base off which you can bring in all sorts of unexpected flavors. Instead of traditional syrups, different types of gravies can complete the dish.

Items with "Super" Powders like Matcha
Health-centered lifestyles call for boosting health benefits wherever possible. Herbal drinks are also on the rise as people look to optimize their beverage choices.
Bold Flavors
Even simply adding these to egg dishes is a step in the right direction to give your breakfast menu a global update.
Tahini
Za'atar
Sumac
Furikake (seaweed and sesame seasoning)
Curry
Chimichurri

Dosa with Curried Potatoes and Mint Chutney
Since potatoes are already common in American breakfasts, this dish is a great foray into global flavors at breakfast. The thin pancake also mimics a traditional American breakfast food.
 
Samosa Chaat
These pastry-like shells can deliver all kinds of delicious flavors. Try these with a mint chutney, rather than the traditional tamarind and chili sauces for dipping.
 
Chorizo
Incorporate a traditional Hispanic flavor into common breakfast ingredients such as cauliflower, mushrooms, potatoes and tofu.


Huevos con Salsa Verde
A breakfast staple in many parts of the world, this plate could soon become standard here as well.

Chilaquiles
These offer the versatility to incorporate all sorts of savory breakfast ingredients.

Acai Bowl  
There are many variations, but an Acai bowl is a lot like a yogurt parfait containing super fruits, oatmeal and even peanut butter. They're very filling and offer a nutritious boost.
Though plant-based menu items are not specifically international, they may be perceived as such because other cultures focus less than America on center-of-the-plate meat.*


Examples of Ethnic Breakfasts in the Marketplace
Mexican
Mike & Patty's Boston breakfast torta contains two fried eggs, cheddar, jalapeños, potatoes, black beans, salsa and avocado.
Fusion
Eggslut in LA's Grand Central Market sells the Gaucho: wagyu tri-tip, runny egg over medium, chimichurri, red onions and arugula in a brioche bun.
* Technomic, Consumer Food Trends, December 2016