We talked to some of the best burger chefs in the country at Burger Bash in New York City. Then we interviewed our chefs to see where they say burgers are headed next.
Burger Bites: What's Next?
Get the scoop on burger trends from UFS Chefs Isaac Frerichs, Dana Cohen, Kyla Tuori and Rudy Smith.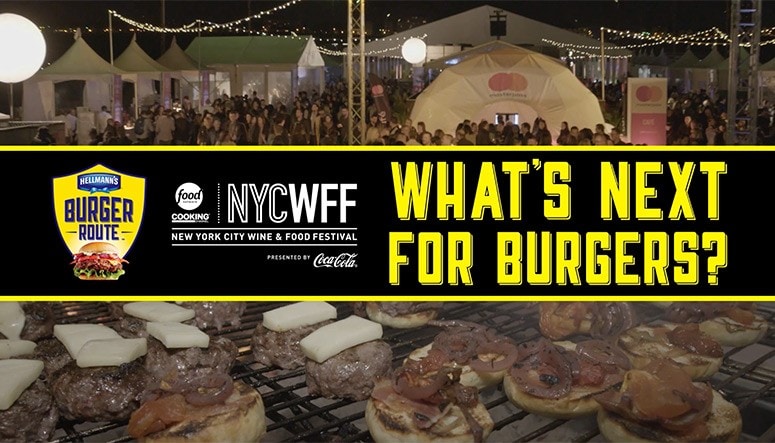 Chef Isaac
Pickled peppers are big—but not just jalapeños. We are seeing different pickled peppers like aji charapita, Anaheim, aji chombo, Hungarian black, or Brazilian starfish.  Some places are doing pepper jellies as well. And house-made ketchup in smaller operations. Mayos are typically flavored as well: Fresh herbs, peppers and toasted spices.
 
Chef Kyla
With condiments, it's about going back to basics. Letting the quality and variety of the other ingredients speak for themselves.

Trend Tip: This time-tested favorite is still popular. The fastest growing condiment for burgers is aioli—up over 70%.1

Chef Isaac
We still have more room to grow. Chefs can still think out of the box to offer a killer plant-based burger that is not processed (no added chemicals/binders often found in mass-produced foods) and offer something that is clear-cut and simple. 

Trend Tip: Offering more options has potential to draw a big audience of Millennial diners: Over half of people age 18-34 would like the choice of plant-based proteins.2
Chef Dana
The veggie burger game has done a complete 180. Now enjoyed by vegetarians and meat eaters alike, they can be charred on the outside, cooked medium rare, pink in the center, grease dripping down the sides—a far cry from the flavorless patty in the freezer. It will be interesting to see where this goes on menus.
Chef Kyla
Vegan and vegetarian are becoming more common in burger offerings—as well as other comfort foods. It is about being creative and using interesting vegetables and fruits to create texture and flavor. Doing these burgers well takes more skill, but it's worth the effort to capture the growing market.

Menu Tip: Words can make a difference. Guests are more likely to order items described as "plant-based" rather than "meatless" or "meat-free."2

Chef Rudy
I think more global flavor combinations in burgers and toppings are coming, especially Asian-inspired flavors.  
Trend Tip: Vietnamese cuisine has grown in popularity and signature flavors like pickled vegetables, cilantro and Sriracha can add Asian flair to burgers.3
Chef Dana
I think the slider is overdone and often not executed well. The ratio is usually off, and there is too much bread for the size of the burger. Different formats will start to take over. Due to the rise in global flavor influences, I expect to see lots of bun options, including Chinese steamed buns, Naan, or charcoal-infused buns.

Chef Dana
Most interesting burger I've seen recently was messy, indulgent and over-the-top: A smoked brisket burger with kimchi, cheddar cheese, bacon, gochujang mayo and scallions, all on a glazed donut.
 
Chef Isaac
There is this burger shop in Austin that makes a delicious pork belly burger. The owner explained that it's slow-roasted pork belly, diced and stuffed inside of a burger. He served it with jalapeño cheese topped with a ghost chili bacon jelly. It was great!


1 Technomic Burger Consumer Trend Report, 2017
2 Technomic Center of the Plate Seafood & Vegetable Consumer Trend Report, 2017
3 Mintel Menu Insights, Q3 2015-Q3 2017