Burgers on the Rise
Now's the perfect time to take advantage of the power of burgers by running specials to increase awareness and trial of your burgers. These suggestions will help you drive traffic, grow sales and improve loyalty even after the promotional period ends.
Tip #1: Offer a Discount
It sounds simple, but everyone loves a good deal. Take a look at your margins and figure out the best price you can offer. Guests are likely to splurge on other menu items.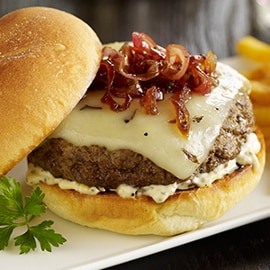 Tip #2: Free Cheese
Consider giving your guests the option of adding their choice of cheese at no extra charge. Other free toppings will also be well received and could lead to some innovative new burger combinations.

Tip #3: Flight of Burgers
A sampling of your best burgers in a slider format is a great way for guests to expand their knowledge of what your menu has to offer. A special price will make the deal even more appealing.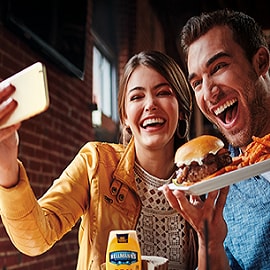 Tip #4: Share for Free Fries
A promotion that rewards customers who share pictures of your burgers with a free order of fries (or similar side item) will help your restaurant gain plenty of recognition. Giving away free fries may seem like a big out-of-pocket expense, but the social chatter can pay off big time.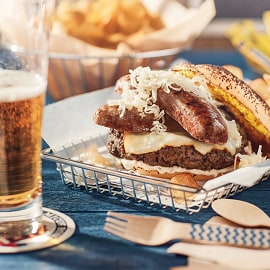 Tip #5: Pairings Are a Plus
Guests are growing more accustomed to the idea of drink pairings with their meals, and burgers are no exception. A promotional period is a great time to offer a special on a burger and complementary drink combo. Be sure to keep in mind nonalcoholic beverages as well. Fresh brewed iced tea makes an ideal partner for burgers of all types. 

Delicious Inspiration
Looking for a new recipe to get your burger special off to a good start? Try the Ham 'n' Cheese burger recipe. It features a creamy mushroom-cheese sauce, thin-sliced black forest ham, fresh tomato, grilled onions and tangy horseradish Dijon sauce.