Pulled Pork Eggs Benedict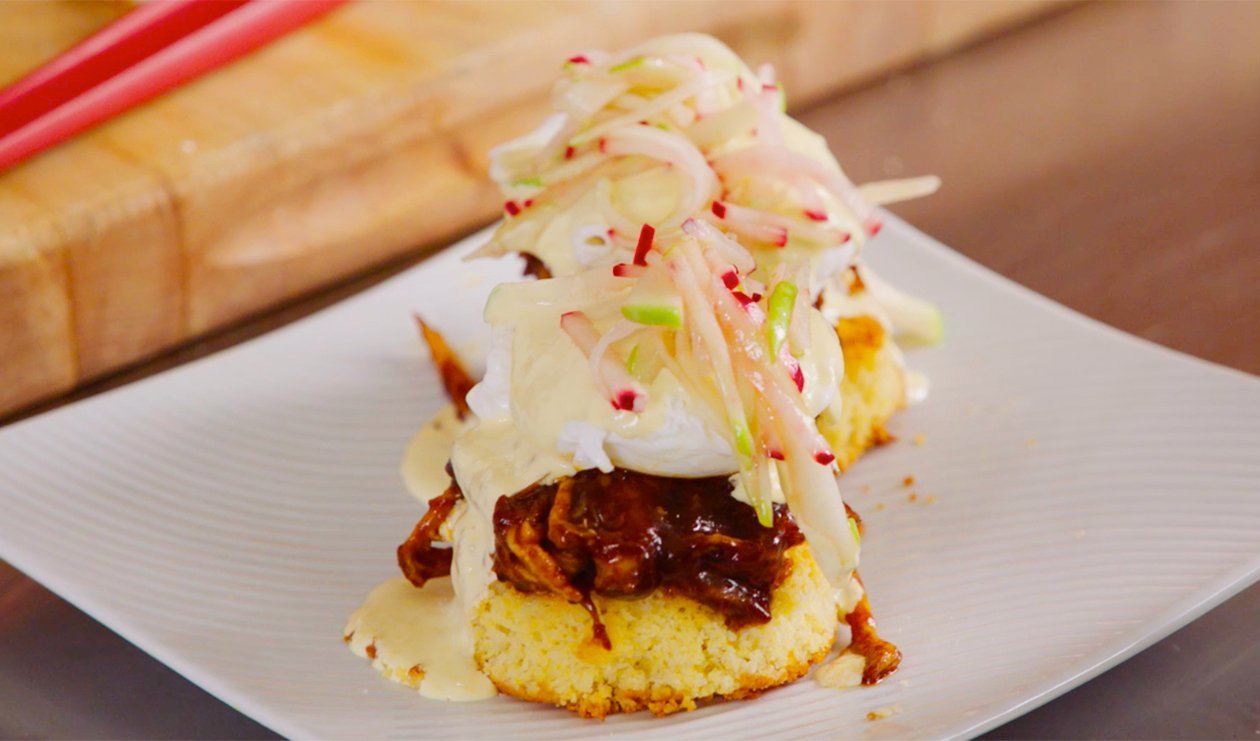 Ingredients
Step 1:
Pork butt, boneless

1.5 lbs

Black pepper, freshly ground
Step 2:
Apple cider vinegar

2 Tbsp

Garlic, clove, smashed

3 cloves
Step 4:
Step 5:
Granny smith apple, julienned

1 each

Radishes, julienned

4 each

Apple cider vinegar

4 Tbsp

Black pepper, freshly ground
Step 6:
Cornbread, cut into 2 ½ inch circles and toasted

3 lbs
Preparation
Step 1:

Preheat oven to 300F. Season pork generously with salt and pepper. Heat a small rondeau over high heat, add oil and sear the pork until browned on all sides.

Step 2:

Add the remaining ingredients. Bring to a boil. Cover the pot and transfer to the oven. Cook for 2-1/2 hours or until fork tender.

Step 3:

Remove the meat and reduce the braising liquid by half. Return the meat to the liquid.

Step 4:

For the hollandaise, reduce the bourbon by half in a small saucepot. Add the Knorr® Liquid Hollandaise and maple syrup. Heat and keep warm.

Step 5:

For the slaw, combine all ingredients in a small bowl and refrigerate until ready to use.

Step 6:

To build the benedict, place 2 warmed cornbread rounds on a plate. Top each with 2 oz of the pulled pork. Top each with a poached egg. Pour the hollandaise sauce on top, garnish with a small amount of the apple slaw and serve.