Plizza "Extraordinaire" – a Plant-Based Twist on Your Favorite Dish
We believe that you can change the world by changing what's on your pizza. Using Knorr's Future 50 Foods like spelt flour, black-eyed peas and sesame paste, you can create a planet-friendlier version of the world's most popular dish. Learn more about these and other

Future 50 Food

by downloading the report. Click

here

for other plant-based recipes.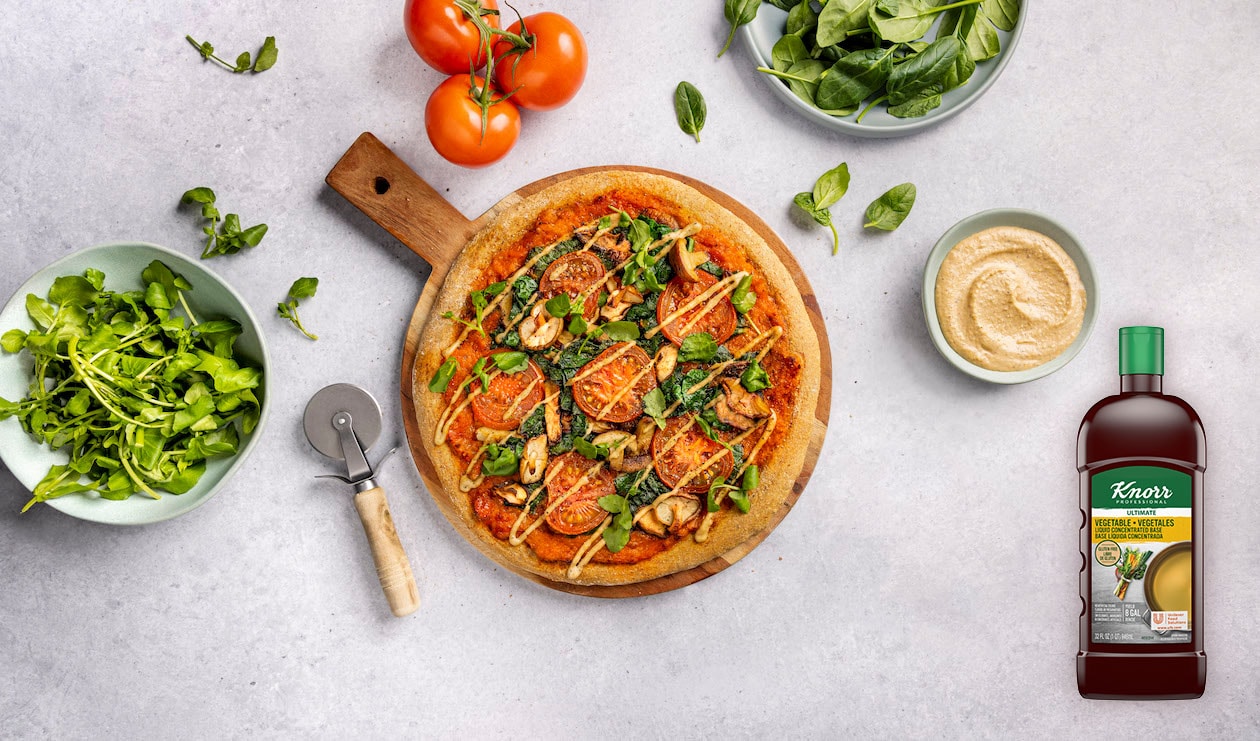 Ingredients per serving
For pizza dough
F50F spelt flour (extra to dust the surface)

3.0 cup
Tomato sauce
Onions, small dice

1.0 cup

Garlic clove, minced

1.0 each

Smoked paprika powder, mild

1.0 tsp

Organic red vine tomatoes

1.0 lb

Organic red vine tomatoes
F50F black eyed pea hummus
F50F black eyed peas (rinsed and drained)

1.0 can

Garlic clove, minced

2.0 each

F50F Sesame paste (tahina)

0.5 cup

Lemons, grated skin and juice

2.0 each
Garniture
Shitake mushrooms, (remove stem, large dice)

2.0 cup

F50F spinach, washed

16.0 oz

Organic red vine tomatoes, slices

3.0 each

F50F watercress, washed & leaves picked

4.0 oz
Preparation
For pizza dough

Add the dried yeast to the 1 Cup luke-warm water, stir to dissolve.
Put the flour, flaxseed oil, (optional a pinch of salt) and the water/yeast mixture in a (machine)bowl and start kneading until you have a smooth and elastic dough.
Divide the dough in 2 large balls, cover it up and leave it in a warm place for about 30-45 minutes until it has doubled in size.

Tomato sauce

Meanwhile make the tomato sauce by drizzling the flaxseed oil in cooking pan and fry the onion and garlic until translucent.
Add the smoked paprika, tomato andKnorr Professional Liquid Concentrated Base Vegetable, bring to a boil, turn down the heat, and simmer for about 10 minutes or until the sauce thickens up a bit.
Stick blender it into a smooth sauce, let it cool down.

F50F black eyed pea hummus

Add all the ingredients into a food processor, drizzle in the flaxseed oil and blend until it becomes a smooth paste. Season to taste.

Garniture

Put a Large sauté pan on medium high heat, drizzle in some flaxseed oil and sauté the Shitake mushrooms until it starts to color ,add the spinach and stir until spinach is wilted, season to taste and set aside.

Finishing the pizza

Shape the 2 balls into approx. 13" pizza's, transfer to an oven tray with baking paper underneath, cover it up and let it rise a little more (approx. 10 minutes).
Spread the tomato sauce on the pizza, the sauteed mushroom/spinach mixture and the tomato slices on the top of that.
Bake at 425° F for about approx. 20 minutes or until golden brown.
Finish the pizza with a generous amount of the black-eyed pea hummus and watercress on top.


CHEF'S TIPIf spelt flour is hard to source, of course you can swap it to any other whole wheat variant like ordinary flour. If some of the ingredients are not available or in season, swap them with similar ones that are available.