As a professional chef, it can be easy to slip into tunnel vision home-cook mode. What does that mean? Well, sometimes we conform to only what we see at the grocery store; settling for it, buying it and using it in our restaurant dishes. After all, these are the ingredients consumers are familiar and comfortable with. But diners these days are seeking out something more exciting - a new experience that offers them something different than the norm. Instead of narrowing our options or focusing on just what's available at our fingertips, we as chefs and creative innovators should challenge the status quo.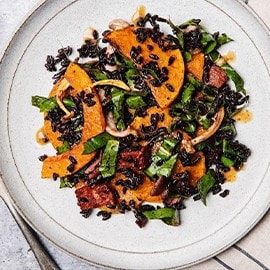 Sure, we'd love to live the dream of buying as much produce as we can at farmers markets but that's not always realistic when you've got so much else to focus on, like running a successful business. But in order to keep your guests excited about your menu, sometimes you need to step out of that routine ordering procedure and explore what else is out there. A simple first place to start is with salads. There are so many new salad trends that it can be hard to keep up, but now that diners are searching for interesting salads and bowls as meals, it's important to find ways to stand out. Can we agree to kick romaine out for a moment to make way for better greens? Lettuce go and do it! (no pun intended)
So, what are the typical greens we see at the grocery store and farmers markets? Romaine, of course. Green lettuce. Red Lettuce. Bibb lettuce, Boston lettuce, the old-school iceberg lettuce and the mixed lettuces, like mesclun. But there are so many other varieties out there that have not made it into the normal rotation. Now don't get me wrong - some of the most popular lettuce varieties do have a few good qualities, like texture, holding up well to dressings, reliability in sourcing, and consistency for the most part. But they often fall short in two key areas- taste and flavor!
I recently sat down with Chef Ben, who is in the process of opening one of the new Marriott restaurant concepts to be launched this October in San Antonio, Texas.
UFS Chef: Chef, let's talk about your perspective on the typical greens you'll find and why you prefer to use the unique stuff. 
Chef Ben: They aren't sexy. They are mainstream and just blah. For our operation, we are looking for something unique, flavorful and something that will catch the eye of our customers and make them ask questions. We want them to be delighted with their experience.  

UFS Chef: So then what types of greens do you like and why?
Chef Ben: Currently my favorite is a variety called Bronze Beauty Lettuce, which starts out green and halfway up the head, it slowly turns to a bronze color. It has a super sweet flavor profile and I pair it with a dressing that's light and smoky. It's crazy how much it's a crowd pleaser. Devil's Ear Lettuce is another variety that not only looks rad but offers a very nutty flavor profile. When you eat it, you'll seek out the nuts that you THINK are in the salad. It's just the lettuce and it's awesome. My all-time favorite though is the Black Seeded Simpson Lettuce and no, it's not because I am a life long fan of the Simpsons. It's a powerhouse lettuce that's crisp and flavorful yet buttery in the mouth.  
UFS Chef: These sound great, but how are you getting these unique greens?
Chef Ben: Well, not from any distributor small or large, that's for sure! Every year, we work straight with the two different farmers to grow certain crops for us. With that, we pay them to grow crop trials which constitutes 10% overall of what they are growing. So if we have one farmer growing everything we need, 10% of that will be experimental crops that we want to try. It keeps us and the farmer on our toes so we never bring these types of lettuces to such a mainstream situation like we did with romaine, butter and Bibb lettuces.
UFS Chef: Can you share with us some of the things you are working on for the launch of the new restaurant that uses unique greens?
Chef Ben: One of the things we are working on now is a Devil Chile Encrusted Scallop dish that will be paired with a Black Seeded Simpson Salad. We are also working on Three Mushroom Mousse to be paired with Merlot Lettuce and Roasted Yellow Beet Salad. The Merlot Lettuce is an heirloom lettuce that is rich to the mouth while being crisp at the same time.


While Chef Ben works directly with the farmers, there are also other, simpler ways to acquire unique produce. Start with your produce purveyor, as they may have access to items that they don't normally carry or promote. Still no luck? There are websites like The Chef's Garden and Melissa's Produce that will ship with low minimums and reasonable shipping costs. Add some excitement to your menu by searching for lettuces with a slight bitterness, like chicories or colorful varieties of radicchio that pair well with sweet summer ingredients like peaches or strawberries. Spicy, peppery greens like Mizuna and varieties of arugula are enhanced by the sweetness of stone fruit or citrus. Have fun with it and experiment in your salads or even other dishes, as your diners will appreciate the excitement on the menu.