Knorr® Professional Caldo de Res/Beef Bouillon 4 x 4.4 lb
Knorr® Professional Caldo de Res/Beef Bouillon 4 x 4.4 lb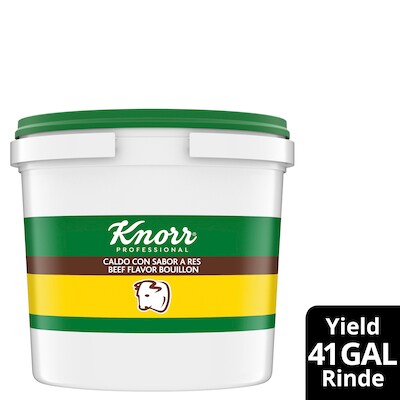 Knorr® Professional Caldo de Res/Beef Bouillon 4 x 4.4 lb
All product information
Nutrition Details & Allergens
Ingredients
Salt, monosodium glutamate, beef fat, sugar, corn starch, dried beef, hydrolyzed corn protein, natural flavor, silicon dioxide (prevents caking), maltodextrin, autolyzed yeast extract, caramel color, dehydrated parsley, disodium inosinate, turmeric (color), citric acid, spices, beef extract.sal, glutamato monosodico, grasa de res, azucar, fecula de maiz, carne de res deshidratada, proteina de maiz hidrolizada, saborizante natural, dioxido de silicio (antiaglomerante), maltodextrina, extracto de levadura autolizado, color caramelo, perejil deshidratado, inosinato disodico, curcuma (para color), acido citrico, especia, extracto de res.
Product Information
Description
Great for a traditional beef base and to heighten the flavor of stews, cassouletes and other favorite beef recipes.
Usage Information
Preparation
To prepare a delicious beef flavored broth, simply dissolve Knorr® Caldo de Res in boiling water as follows: 5 oz Knorr® Caldo de Res to 6 qts water yields 16 - 6 fl. oz servings. 16 oz Knorr® Caldo de Res to 4.7 gals water yields 100 - 6 fl. oz servings. 7.9lbs Knorr® Caldo de Res to 38 gals water yields 830 - 6 fl. oz servings.
Yield
1600 average servings per case