It has been said that to be the best, you must learn from the best.
We often hear of success stories such as world-renowned chef Joël Robuchon, who got a job as an apprentice chef at the age of 15 and later took on the job of head chef at Harmony-Lafayette restaurant in Paris when he turned 28. A year later, he attained his first Michelin star and has been named chef of the century. 
What does it take to be a culinary genius like him? Robuchon once said in an interview that it takes an incredible amount of hard work. He also put his mind to it, and when he decided to be a chef, he was determined to be the best. Chef Kyle from UFS suggests, "Read the foreword of Marco Pierre White's White Heat. That says it all for me." (You can see a preview here to get what he means.) What else does one need in order to become an Alain Ducasse, Wolfgang Puck or Anthony Bourdain?
 
Here are seven habits you can adopt to put yourself on track for an extraordinary career as a chef.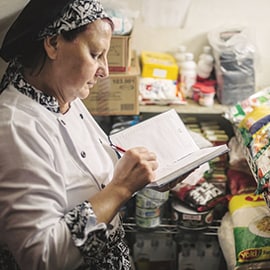 Habit 1: Planning Is Essential to Success
Great chefs are great planners. They think ahead and plot out everything they are going to do from cooking to the financial responsibilities of running a kitchen. These are essential skills in cooking and management, since poor planning can result in disaster. The best chefs know exactly what and how much ingredients they need, where all of their utensils are located, how they will pace themselves during crunch time, and what they can do to make the day as efficient as possible. Chef Kyle says to be a leading chef you must be able to manage a P&L statement and budget as well as understand how to make and save money.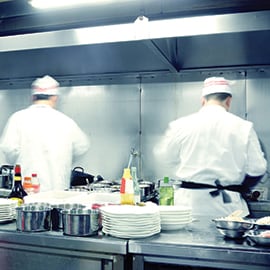 Habit 2: Become the Master of Your Schedule and Your Time
When cooking, time is everything. Food that's ordered must be scheduled, then prepared in minutes. Time management is crucial, and this means really paying attention to how you utilize your minutes and seconds after an order is received. With proper planning, you can have a highly effective kitchen, reducing stress for everyone and keeping diners full and satisfied.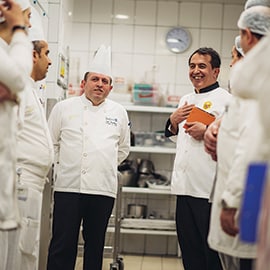 Habit 3: Determine what is Most Important & Focus on the Task at Hand
When your office is full of fire, knives and people, you cannot afford any slipups. Even a quick distraction can lead to a ruined meal—or worse. A good chef pays attention to the task at hand and focuses on what's important at that moment in time. This skill takes a good amount of discipline, but is essential to running a successful kitchen.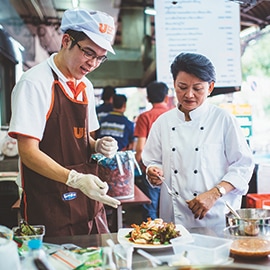 Habit 4: Organization is Key to Sustain Success
Staying on top of things is crucial if you want to achieve great things in the kitchen. The best chefs know exactly how many minutes it takes to prepare each dish in the menu, how to direct servers in and out of the kitchen, and where every utensil and ingredient is located.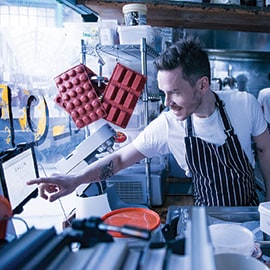 Habit 5: Innovators Never Stop Learning
How do certain chefs stay ahead of the game and know what foods will be popular before a trend starts? How do others create new and innovative dishes that are completely original? Simple: they're always learning. Great chefs keep updated with food trends. They study the cooking methods and cuisines of other cultures and spend time experimenting with different dishes. Doing so means they are constantly discovering new skills and recipes they can incorporate into their repertoires. Chef Kyle emphasises that chefs need to be learning every day. They must be willing to dive into ethnic cuisine and go beyond food. He also says, "Reading expands your horizons; you never know where outside of cooking you may get inspiration from. A great chef is always seeking flavor combinations."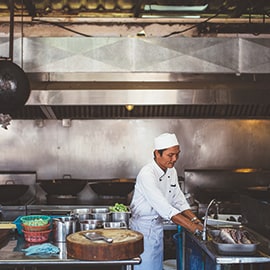 Habit 6: Conscientiousness Pays off every Step of the Way
This comes in many forms, from food quality to kitchen practices, personal and food safety, and presentation (plating tips) standards. Top chefs make it a priority to scrutinize everything that goes into their kitchen, from basic ingredients to the final dish.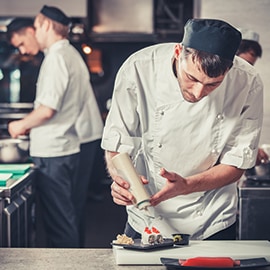 Habit 7: Keep Things Simple and let the Flavors Speak for Themselves
Many great chefs spend hours refining and perfecting their key signature dishes. This could mean offering set menus and limited items (which is practiced in numerous Michelin star restaurants). As the saying goes, "Quality over quantity" – offer food that is of top-notch quality, rather than creating a huge variety of dishes that are of mediocre standards.