Everyone could use an escape from time to time, and many diners are finding theirs by seeking out new cuisines. Dishes from the Caribbean fit the bill perfectly. The flavors of the region lend themselves particularly well to operators who want to incorporate some ethnic flair onto their menus. UFS Chef Kyle is all about the movement. He says, "Caribbean street food is HOT all over the country."
 
"72% of consumers are always looking for new cultural experiences to broaden their horizons.1"
"89% of millennials are open to trying new cuisines they haven't had before.2"

Trending Caribbean Flavors and Ingredients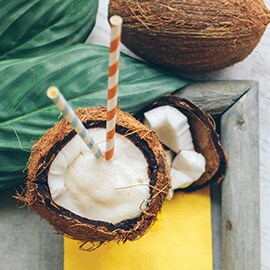 Coconut
Perhaps the first flavor that comes to mind with Caribbean cuisine, coconut is often used to make a bland shrimp offering more exciting.
Coconut flavored shrimp and fish dishes are up 17% and 34%, respectively, for the year.3
Rondon is a dish from the Caribbean side of Costa Rica that's made with fresh coconut milk infused with cilantro and parsley, root vegetables, sweet plantains, shrimp and it's finished with cloves, fresh ginger and nutmeg. Often it comes as a soup, but it can be served with the vegetables and the shrimp over rice and they thicken the soup to become a sauce.
Chef Isaac notes coconut is becoming more trendy in cocktails as well.
A good marketplace example is the Category 5 at Carbon Bar in Toronto. It's made with Havana Club 3- and 7-Year overproof rums, B&B, absinthe, passion fruit, coconut water, and house-made grenadine.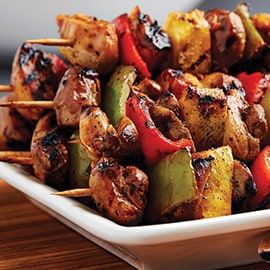 Jerk Spice
Jerk, which refers to both the traditional Jamaican style of cooking as well as the hot spice blend, can be used on nearly any type of protein to create an instant Caribbean menu item that guests will find both exciting and familiar.
Jerk menu call-outs increased 31% between 2015 and 2016.3
Chef Dana recommends incorporating jerk into burgers and sandwiches as well. She recently saw a Jerk chicken slider with peach preserves and citrus mayo.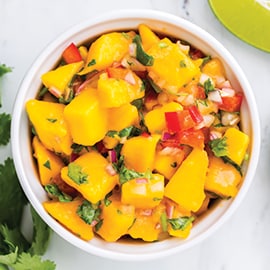 Fruits Enhance Savory Dishes
Pineapple naturally pairs perfectly with jerk seasoning and is an ideal topping or garnish for a jerk chicken dish and on Caribbean-inspired burgers.
Pineapple is up 6% on commercial menus in the past year.3
Mango is typically used in Caribbean style salsas or picos. Like pineapple, this fruit works as a terrific topper or garnish and can also be used to give a Caribbean spin on shrimp. Executive chef Sunil Kumar at Marigold Maison serves their butter shrimp with a silky, mildly sweet sauce made with mango cream and chipotle peppers.
Mango flavored chicken dishes are up 32% on restaurant menus on the past year.3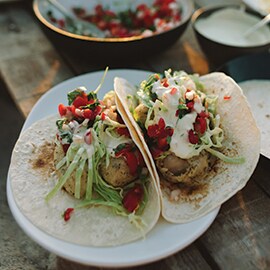 Blackened
Traditional jerk-style meats were cooked over pit fires, so it's only natural consumers are seeking blackened dishes when it comes to Caribbean, perceiving them as more authentic. Blackened chicken and mahi mahi make for popular Jamaican dishes.
Blackened prepared fish is up 8% on commercial menus in the past year while blackened chicken is up by over 30%.3
Chef Dana notes that blackened dishes play into the health trend. Just think how guests perceive blackened fish tacos compared to fried fish tacos.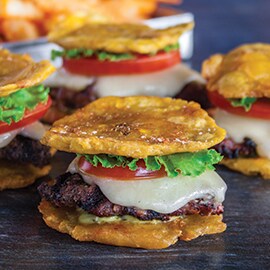 Plantains
Plantains, often fried, are a staple of Caribbean food. They work well as a side or on top of a Cuban-inspired sandwich or burger.
Plantains have grown 19% on commercial menus over the past two years.3
Chef Kyle suggests trying plantains as the "bread" of a sandwich. And they can be used to make plantain tortillas for Caribbean tacos.
What's All This Mean to Chefs?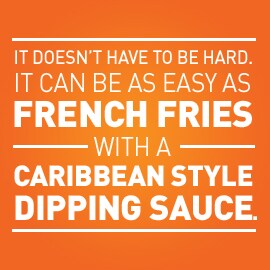 Start with Common Items
Introducing ethnic ingredients to familiar dishes is a great way to appeal to older generations, and it creates a gateway for them to try what might seem like intimidating cuisines.

Chef Jorge Cespedes, a chef with Marlin Network Culinary Arts, recommends updating items like pulled pork sandwiches with a Puerto Rican, Cuban, or Jamaican sauce or seasonings typical of the region such as cloves, curries, ginger, allspice, jerk mixes, cinnamon, or sage.
Vegetables Support Caribbean Flair
With veggies continuing to move center of the plate, most meals are no longer strictly protein-based. Curry works really well with veggies and Caribbean spices. Chef Jorge recommends a jerk cauliflower soup to deliver big flavor to your guests with an extremely on-trend vegetable.

Solomon and Kuff Rum Hall in Harlem does a really good job of having veggie forward dishes while incorporating Caribbean flavors. They serve a coconut curried cauliflower steak with crispy chana, minted pea salad, pickled beets, and tofu croutons.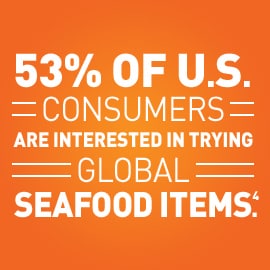 Update Protein Choices
Chicken and seafood make for natural Jamaican cuisine, while Cuban cuisine lends itself well to pork dishes.
As guests become more accustomed to rare and raw meats, consider ceviche de camaron, a classic Dominican Republic appetizer that brings a twist to traditional ceviche by adding tomato sauce. Most of the time it's served with a heavy helping of hot peppers so you'll start sweating in the hot Caribbean climate, but afterward your body cools down, making the high temperatures more bearable. Try your own by marinating fish or shrimp in a mix of citrus juices with coconut, ginger, red bell pepper, red onion, cilantro, avocado and a touch of habanero for a spicy kick.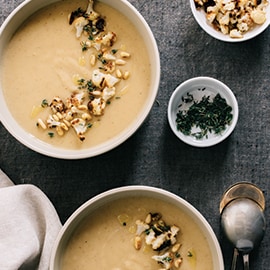 More Adventurous Chefs Can Experiment With More Authentic Dishes
Satisfy guests looking for the real deal with offerings taken straight from the islands.
Mofongo is a Puerto Rican staple chefs are extremely proud of. Mofongo is prepared from fried green plantains that are mashed with salt, garlic, oil and pork cracklings or crumbled bacon. Next they're rolled into a ball with seafood tucked inside. Sometimes they're served with cooked shrimp tails on top and finished with a strong chicken broth that can be served tableside.
Enchilado de mariscos is a delicious, spicy Cuban dish with deep Afro-Cuban roots. It's a very hearty seafood stew normally served over rice and topped with avocado chunks.
One dish that's just now making it to the mainstream is Jamaican beef patties. Long loved by New Yorkers, these hand-held patties of ground beef are seasoned with Scotch bonnet, black pepper, onion and garlic, enveloped in a flaky, golden crust. In Lawrence, Kansas, Jamaican beef patties are on the menu at Lucia Beer Garden & Grill and are a big hit with food-forward students.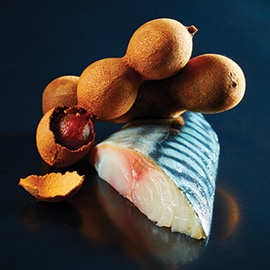 Chef Digby Stridiron Gives His Caribbean Perspective
Born in the Caribbean, Chef Digby is the culinary ambassador to the US Virgin Islands and founder and partner at Balter, a contemporary West Indian restaurant on the Virgin Island of St. Croix, his home country. Recently he was named the executive chef at Parcel 32. Digby is also both an official member of the Slow Food Movement and the James Beard Foundation, and was the first chef to host a James Beard dinner in the Virgin Islands.

At the CIA Worlds of Flavor Conference in 2017, he shared his sentiment that Caribbean cuisine is an essential part of the American culinary landscape and history. He said, "I feel like our food has finally gotten an identity as far as the Virgin Islands. It's part of America. I think when we went to James Beard last year for the first time, it was a chance to say we are a part of American history, American food, American culture. So now when you look at curries and run downs, that is American food. I think it's important that people start thinking about it that way."

He doesn't have a "signature dish" since he constantly switches up his menu, but he does credit spices like cilantro and ingredients such as yucca as staples. "You gotta love all the citrus we have in the West Indies. It plays a big part in the pepper and acid combos." Other staples include lime, garlic, cilantro trifecta and fruits like tamarind.
Caribbean Fare: Ready for the Mainstream
There is a very diverse group of flavors influenced by each country's unique history and colonization.
Of all the Caribbean's varieties, Chef Jorge feels Cuban cuisine is likely best positioned to gain mainstream appeal. Cuban foods feature the most familiar dishes, types of meats, and textures for the American palate. With such a broad umbrella of flavors, operators may want to hone in on this one specific cuisine.

That said, Caribbean flavors will remain new and exciting for years to come. Incorporating them into your current and upcoming menus is an exciting way to deliver the unexpected to your guests and keep them coming back to see what's next.

1 Kantar Futures, The Monitor Download Influencers Download, April 2016
2 Mintel Innovation on the Menu Report, September 2016
3 Mintel Menu Insights
4 Datassential's Menu Trends