Who doesn't love hollandaise? Its decadent creaminess is the epitome of the perfect amount of too much. As the only one of the five French mother sauces that's not thickened by a roux, it can be difficult to get right and is easily broken. But when it's at its best, hollandaise is an amazing addition to all kinds of dishes—from benedicts and beyond.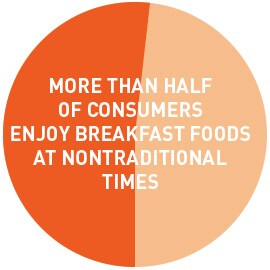 Breakfast Continues to Grow (Around the Clock, Too)
Breakfast should no longer be confined to that 7 to 10:30 timeslot.
More than half of consumers say they enjoy eating breakfast food at nontraditional times (up from 48% in 2013).1

Keeping your breakfast menu available all day can be hell for your mise en place, but if your lunch sales are dragging like they are across the country,2 keeping some breakfast items available all day can fight the slump. Creative uses of hollandaise sauces can help you be known as the go-to spot for those indulgent dishes available whenever guests' cravings strike.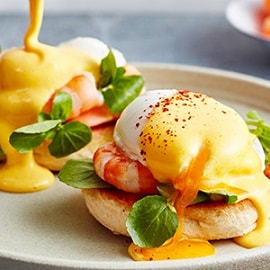 Not the Same Ol' Dishes: New Flavors and Formats
The popularity of avocado toast has exploded over the last couple of years. But imagine if your restaurant was the only place to serve it with a chipotle and sun-dried tomato hollandaise drizzle? You'd give yourself a point of difference that puts you top of mind when guests are ready to go out for breakfast or brunch. Over half of operators recently surveyed by Technomic said having a "unique breakfast option" had a large impact on sales.1
The Flavors of Breakfast - Regional Inspiration  
Mexican, Southern, French, BBQ and Chinese are the international or regional cuisine types guests find most appealing after traditional breakfasts when dining out.3 All of these can be incorporated into your hollandaise sauce relatively easy, giving guests that customization they're looking for.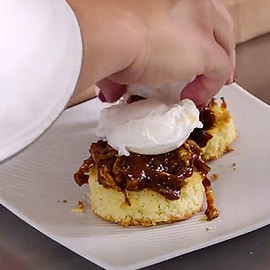 Eggs Are Still Sunny
The number of egg-based entrées increased by 12% from 2015 to 2017.3 By starting with a familiar foundation, you can bring in new and unique flavors that showcase your creativity. Eggs benedict is an especially trendy breakfast/brunch dish chefs around the country are taking to new heights.
Consider Chef Dana Cohen's pulled pork eggs benedict.
It uses griddled corn bread instead of the traditional
English muffin and is topped with barbecue-braised
pulled pork, crisp apple slaw, and maple bourbon
hollandaise sauce. The layers of flavor are just outstanding.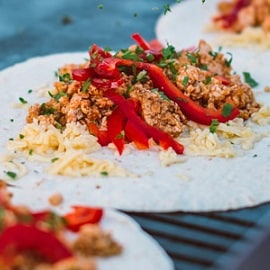 The Changing Formats of Breakfast
With different flavors come corresponding formats such as burritos, tacos and quesadillas for Latin inspiration. Incorporating fried chicken for loaded waffles brings some Southern flare to breakfast. Frittatas, unique toasts and even burgers all allow for unique and custom flavor inclusions.

A cauliflower hash breakfast bowl delivers an unexpected breakfast delight with a healthy halo. It's made with a sunny-side-up egg, avocado, black bean salsa, toasted pepitas, and topped with a roasted carrot chipotle hollandaise.
Examples Already in the Marketplace
The Village Inn Harvest Scramble is made with spinach, mushrooms and onions scrambled with two eggs and topped with poblano hollandaise, sautéed artichokes and grape tomatoes on a bed of sidewinder potatoes.
Bob Evans serves the Ham Biscuit Benedict, which is their twist on the classic with a freshly-baked biscuit split and topped with hickory-smoked ham, two eggs (cooked-to-order) with hollandaise sauce and green onions.

Juan's Breakfast Tacos at Snooze AM Eatery come with three fresh corn or flour tortillas topped with scrambled eggs, shredded hash browns, jack cheese, green chili hollandaise and pico de gallo.

The Egg & I serves the Harvest Hash made with rosemary-roasted zucchini, fresh kale, house-roasted onions, crisp bacon, Havarti dill and roasted sweet potatoes. It's topped with two eggs (any style), creamy hollandaise and fresh herbs.

Easily Customize Your Hollandaise: Quick Start Recipes
Chef Nydia has tapped her years of experience in kitchens around the world to bring you suggestions on how just a few simple additions can bring entirely new dimensions to this sauce—with uses well beyond the breakfast menu.
| | |
| --- | --- |
| Variety | Add |
| Mexican Hollandaise | Jalapeños, cilantro, lime juice and hot sauce |
| Southern, Minted Hollandaise | Orange juice concentrate, diced fresh ginger and parsley |
| Smoked Salmon Hollandaise | Chopped smoked salmon, capers, fresh dill and cayenne pepper |
| Southwestern Chili & Cilantro | Diced canned chipotle peppers, adobe sauce and cilantro |
| Spicy Thai Orange | Thai sweet chili sauce, orange marmalade and fresh chopped basil |
| Spinach Artichoke | Chopped spinach and chopped canned artichoke hearts |
| Curry Hollandaise | Your favorite variety of curry powder |
| Roasted Pepper Hollandaise | Julienne-cut roasted red pepper, chopped parsley |
| Dill Hollandaise | Dill weed and white wine |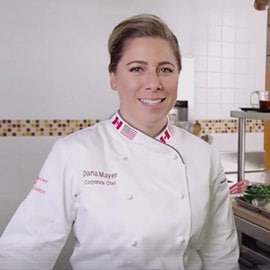 Further Ideas for your breakfast


1 Technomic Breakfast Consumer Trend Report 2015
2 Wall Street Journal, "We Don't Go Out to Lunch Anymore"; May 31, 2017
3 Mintel Restaurant Breakfast and Brunch Trends July 2017