Chef Dana
As a finalist on Season 10 of Hell's Kitchen on FOX (and returning for Hell's Kitchen All Stars!), Dana Cohen gained the hard-earned respect of acclaimed Chef Gordon Ramsay and was dubbed the "Scallop Queen" for her seafood mastery.

A New Jersey native, Chef Dana grew up surrounded by family, friends and plenty of good food. She quickly learned a meal is more than just food; it is at the heart of many fond memories. As a young girl with a sophisticated palate, Dana could often be found in the kitchen at home experimenting with new recipes or down at her grandparents' farm helping create a feast for the holidays.
 
At 16, Chef Dana was hired as a hostess at the local Italian restaurant in her hometown of River Vale. Determined to follow her passion, she begged her way into the kitchen and quickly proved she could handle the stress, pressure and long hours that are part of the job. There she became an integral member of the kitchen team and fell in love with the culinary world.
 
Chef Dana attended the prestigious Culinary Institute of America (CIA) in Hyde Park, New York, which led to an externship at The Four Seasons Resort in Palm Beach, Florida. During her time there, she was inspired by the fresh produce picked daily from the garden and local seafood caught just offshore. This is where she developed her cooking style, with a flair for transforming local and seasonal ingredients into simple yet memorable dishes.

As a chef instructor at the Viking Cooking School, Chef Dana explored her passion for sharing her love of food and cooking. There she taught a wide range of hands-on classes and cuisines to aspiring home chefs. Her most notable "student" was New York Giants quarterback Eli Manning.
 
Determined to find the best local dishes wherever she travels, Chef Dana is a firm believer that great food enhances any experience, from casual get-togethers to major life events. As an avid sports fan, it's not uncommon to find her with a football in one hand and tongs in the other as she shows off her tailgate cooking skills with friends.

Chef Dana advocates a healthy, active lifestyle and enjoys running, working out, and playing tennis. Her favorite dishes are often inspired by whatever catches her eye while strolling through the farmers' market and are then shared over a glass of wine and some laughs with good friends.


Quick Q&A

Foodservice Trend You're Most Excited For:
Less is more. Chefs will focus on the quality of ingredients they are using rather than quantity of dishes on the menu and ingredients used within a dish. I am hoping to see more locally, sustainably raised meats and produce, and a widespread acceptance of the "farm to table" movement.

Biggest Concern for the Restaurant Industry:
I think kitchen labor is a big problem that will continue to grow. Rising labor costs and the challenge to find skilled, reliable staff.

Favorite UFS Product and Why:
When you say to yourself, "There's something missing!", Chicken liquid concentrated base is always the answer.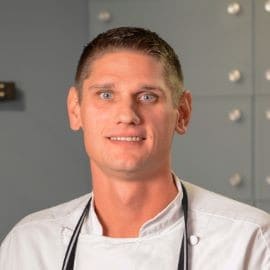 Chef Kyle
Chef Kyle has been professionally cooking for the past 13 years. Although currently based in Phoenix, Arizona, he grew up in Pirmasens, Germany, where his infatuation with food and culture took hold.
Chef Kyle has always felt that some of the strongest ties to culture and tradition flow directly through cuisine— that's why he loves to cook. Meeting new and different people from around the world through the lens of food is his ideal way to make connections.

He moved away from Germany to Phoenix when he was 10 years old. Although he pictured camels and sand dunes before the trip, he really liked growing up in Arizona and took a real liking to southwestern and Baja cuisine styles.

Chef Kyle went to culinary school in Scottsdale and worked in a few small independent restaurants before finding his way to the Fairmont Scottsdale Princess. Eventually he began his corporate cooking career with Bosch/Siemens/Home Appliance Corp. in Scottsdale. In 2011 B/S/H moved their training and flagship showroom to Irvine, California, and asked him to become their Executive Chef. As a function of sales, he flourished in demonstrating and driving excitement for the brands through innovative and upscale cuisine.

After three and a half years he began his own mobile catering business with the idea of opening up a small independent restaurant. Nonetheless, the opportunity opened up to work at Unilever and he jumped on it.

His style of cooking reflects his history and experiences. His passion resides with Asian flavors, Mexican/southwestern, and being whimsical.


Quick Q&A

Foodservice Trend You're Most Excited For:
Ordering from tablets and having only runners for the food. Makes it so much more simple and less employee costs. Less wrong orders as well.

Biggest Concern for the Restaurant Industry:
The people in the industry. Finding people who love the craft and will still work for $12 an hour.

Favorite UFS Product and Why:
Caldo de Pollo. It warms my soul.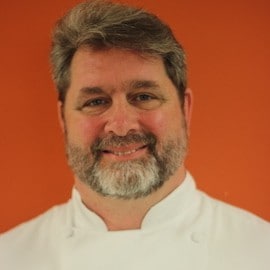 Chef Rudy
Chef Rudy started his culinary career at a very young age. He graduated with high honors from the Culinary Institute of America in 1986 and later went back to teach at the school for several years. He has taught and worked in Brazil, Japan and Mexico as well as all across the U.S.

He's a member of the American Culinary Federation and was selected as the Chef of the Year by the Mid-Hudson Culinary Association in 1996. Chef Rudy received the ACF president's medallion in 2009 and was the committee chair for the ACF Youth Committee from 2010 to 2013.

Always eager to compete, Chef Rudy has won gold and silver medals in both national and international competitions, including the Culinary Olympics in Erfurt, Germany, in 2000 as a part of the Culinary Institute of America team. He has been a member of the Skills USA Technical Committee for the Culinary Arts competition for more than 10 years and held the position of committee chair for several years. Chef Rudy has coached several students in competitions. He represented the United States as coach for the WorldSkills international culinary competition held in Germany in 2013.

During his career spanning more than 40 years, Chef Rudy has held executive chef positions in several independent, fine dining restaurants as well as club and resort properties in places like Aspen, Colorado; Palm Beach, Florida; and New York City. He Joined the Unilever Culinary Team in 2006 and loves working with operators. Chef Rudy has a passion for food and cooking that he loves to share.


Quick Q&A

Foodservice Trend You're Most Excited For:
Small plates

Biggest Concern for the Restaurant Industry:
Waste and sustainability

Favorite UFS Product and Why:
Demi glace – for its flavor profile and versatility. A close second would be liquid cream base for the same reasons.
Chef Kyla
Chef Kyla has worked with Unilever Food Solutions for 15 years and currently works as a corporate chef for the Canadian UFS market. In those 15 years she has had the pleasure of working with a variety of influential chefs and gaining operational experience across the U.S. and Canada. 
As a certified chef, with a background in marketing, her work with Unilever has enabled her to support a large number of Canadian restaurant operators.
Chef Kyla participates with a variety of culinary associations and local community organizations.  More recently she has been given the opportunity to work on the Fair Kitchens movement of chefs supporting chefs, looking to inspire a new kitchen culture, creating a more sustainable environment for the current – and next – generation of chefs and cooks. 
Chef Kyla is an ambassador for the #FairKitchens movement.  
She is honoured to be given an opportunity to support others in the industry, to thrive and succeed, is the most rewarding opportunity.
#FairKitchens is a global movement offering tools, training and insights focused on mental health, diversity, LGBTQI+, inclusion, leadership training, team building, and so much more tailored to those working in the Foodservice industry. FairKitchens.com 

Quick Q&A
Foodservice Trend You're Most Excited For:
Using "ugly" produce! Utilizing blemished fruits and vegetables, that are thought of as undesirable and disposed of. It is the smaller steps we take that can make for a more nutritious, affordable, and environmentally sustainable industry.
Biggest Concern for the Restaurant Industry:
Prioritizing value over nutrition and taste and that these ideals are not made affordable to all consumers.
Favorite UFS Product and Why:
I was brought up on Hellmann's Mayonnaise and was a fan from a very young age. It's versatile and, when you want to splurge, it tastes delicious with french fries.
Chef JC
Food has always been Chef JC Lopategui's life and the passion that he lives and shares daily. Chef JC, like many chefs, started cooking with his mom at age 4, "helping" her in the kitchen to make authentic dishes.

Though if you ask his mom, she would say he made the messes and disappeared at cleanup time only to reappear to eat the food. She would also say it was some of the best times in her life to be able to bond over cooking.
 
Chef JC has always had a laser focus which really bloomed at the age of 16 when he started business school in Puerto Rico. He believed the foundation for success started with the understanding of how business works. In 2000 after graduation, he took his learnings with him to attend The Culinary Institute of America in Hyde Park, New York. He studied under some of the most accomplished chefs from around the world. He decided to fulfil his externship at a 3 Michelin Star restaurant north of Barcelona called El Raco de can Fabes where he was exposed to the techniques and ingredients that made the restaurant so successful.
 
In 2002, Chef JC moved to Napa Valley to work under Todd Humphries, co-owner of the Martini House. Not only did this position provide more exposure for him, he continued to excel in his understanding of wine.
 
A few years later, Chef JC accepted a position as an executive sous chef at a $15 million restaurant in South Beach where he learned the true essence of high volume cooking while bridging excellent service and back-of-house techniques.
 
It was time for Chef JC to expand his horizons, and in 2008 he was hired as a consultant at a boutique hotel in Slovakia. He was able to bring the US steakhouse concept to them and was noted as one of the first chefs to introduce such a westernized concept to that type of establishment in the country.
 
While following through with consulting in Slovakia, he took on another consulting position at a six-unit chain in Ft. Lauderdale. He was able to bring in new products, concepts and execution standards to all of the locations.
 
Chef JC always likes to be busy with his hands and he decided to open up a business called The Ceviche Parlor that focused on bringing Puerto Rican style ceviche to farmers markets and catering events across Florida.
 
In early 2017, he accepted a position with Unilever Food Solutions. He continues to work with chefs and operators daily, providing solutions to help their businesses grow.


Quick Q&A

Foodservice Trend You're Most Excited For:
Back to Grandma's cooking—classic comfort food with a modern spin. Both Nuevo-Latino and Americana! Respecting the original recipe, while being creative with modern techniques and execution.

Biggest Concern for the Restaurant Industry:
Kitchen labor. Chefs are facing huge labor issues in our kitchens. We need to find ways of designing ready-to-use products that would ease our operators from intense or complicated preparations, while at the same time securing great quality on these products.

Favorite UFS Product and Why:
Select Chicken Base. It makes the best brines for chicken! I love grilling and frying chicken and this keeps it moist, juicy and flavorful.
Chef Brandon
Brandon Collins is the lead chef and North America Mustard Sommelier for Maille, the heritage French brand that has set the standard for Dijon since 1747. 
Through extensive training, Brandon has amassed a wealth of knowledge and expertise on the process, the ingredients and the qualities of mustard, its flavor and how it can be used with current food trends. In his role, Brandon aims educate North American chefs and consumers alike on the versatility of Maille's mustard through innovative recipes, tutorials and more. 
Brandon knew from an early age that he wanted to work as a chef, and launched his career after graduating from the Culinary Institute of America in Hyde Park, New York in 2001. Following school, he worked as both a sous chef and executive chef at restaurants in Cincinnati, OH before returning to New York to be the Co-Chef of The Garrison, a Hudson Valley resort. In 2014, he continued his career in the Hudson Valley, taking the lead as executive chef to open The Roundhouse in Beacon, NY. During his tenure at The Roundhouse, the restaurant received three stars from The New York Times for its outdoor patio dining.
He cemented his love for high-quality ingredients at a young age by cooking Sunday dinner with his grandmother. He has been a longtime fan of Maille both personally and professionally, even testing dishes like Maille's Old Style mustard on vanilla ice cream. His goal is to showcase just how approachable and convenient Maille is for everyday cooking in all North American.