BBQ Beef Tostadas
Shredded BBQ beef is the perfect topping for crunchy tostadas.  Braising the beef in a combination of Knorr Demi Glace and BBQ sauce makes it simple to prep and keeps the meat tender and juicy with bold flavor.  The beef can also be used for nachos, quesadillas, and so much more.
Appetizer/Shareable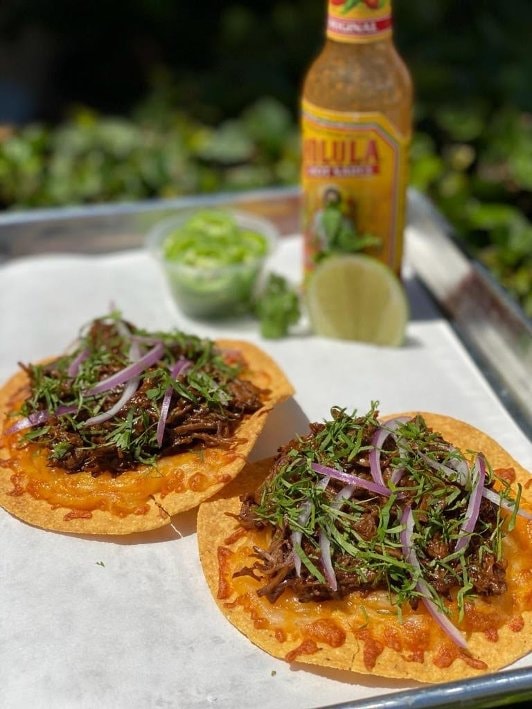 Ingredients per serving
Prepare the BBQ Demi- Braising Sauce
Filtered water, room temperature

1.5 qts
Prepare the BBQ Beef
Beef chuck, cubed

8.0 lbs

Salt and Pepper, to taste
Prepare the Tostadas
Mexican Tostadas

20.0 each

Shredded Mexican blend cheese

1.0 lb

Red onion, finely sliced

2.0 cups

Cilantro, chiffonade

1.0 cup

Jalapenos, pickled, sliced

1.0 cup

Limes, cut into wedges

5.0 each
Preparation
Prepare the BBQ Demi- Braising Sauce

Using a large saucepan, combine the Knorr Demi-Glace Powderwith the BBQ sauce and the water. Slowly bring to a boil and simmer for 2-3 minutes. Set aside.

Prepare the BBQ Beef

Preheat oven to 350 F.
Seasonthe cubed beefwith salt and pepper. Add oil to a large braising pan and brown the beef on all sides.
Transferbeef to a large hotel pan and cover with BBQ/Demi Sauce.Cover and cook for 3 hours at 350 F. Allow to restand shred/Pull the BBQ beef

Prepare the Tostadas

For each portion, place 2 tostadas on a small sheet tray and top with 2 oz. of shredded cheese each and 3 oz. of BBQ Pulled Beef (use portioning spoons for consistency and ease of preparation).
Bake at 400F for 3-5 minutes, or until cheese is golden brown. Serve with red onion and cilantro, with a side of pickled jalapenos and lime wedges.