We don't eat with our eyes any more. We eat with our phones. We decide where to eat, show what we ate and share what we thought about the whole thing online. More than likely—digital dining networks are the first place potential guests will (or won't) encounter your restaurant.

So they're important. But what's going to actually make a difference when it comes to managing your digital presence? These are four of the biggest dining networks:
YELP
OPEN TABLE
TRIPADVISOR
FOURSQUARE
We've reviewed them and figured out how to make the most of your precious digital time.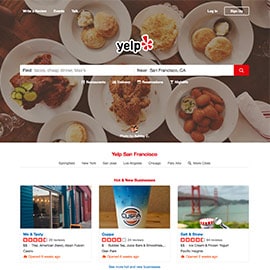 YELP
Because it consolidates ratings into one number while also elevating individual reviews, it paints both a broad and intimate picture.


WHY IT MATTERS
It's Everywhere — People don't really go to Yelp — it comes to them. Usually from search engines, millions of people find, contact and rate restaurants and chains via Yelp.

It's Not Just Them, It's You — Yelp asks guests to express enthusiasm or lack thereof. In both cases, you show the character of your restaurant with your response.

It Means You're a Number — Sorry. It's irritating or intoxicating — but it's important. According to one study, restaurants will see a 5-9% increase in revenue if their Yelp rating increases by just one star.



BEST FREE FEATURES
Analytics — How many people are checking my page on their phones? How many are calling, getting directions or visiting my website from the Yelp link? Great for figuring out when/how/if Yelp is working for you.

Online Ordering — Well, free-ish. Sign up, setup and support are all free, but Yelp charges commission and a processing fee. People are familiar with the platform however, so many consider it well worth the cut.

Offers — Gift cards, special discounts and check-in offers (rewards guests for "checking in" at your place via Yelp) can all help nudge guests through your doors. Again, free-ish as Yelp takes 30% of gift card and discount sales.


HOW TO WIN
Fill That Profile — Yelp can beat out your restaurant's site in search results, so load it up with everything people need — menu, hours, location and a link to your website.

Get Reviewed — A 2013 study showed bad experiences get shared twice as much as good ones. Actively ask for Yelp reviews — on your website, on receipts, with door stickers, with your mouth — to get more people who loved your place to say so.

Respond — Fans, foes and trolls all have one thing in common: they took the time to tell the world what they thought about your restaurant. Every review (especially those with fewer than 5 stars) deserves some of your time. It's a difficult ask. But be understanding, be consistent and be prompt, and you will be rewarded. Keep in mind — whether you are responding or not you are communicating.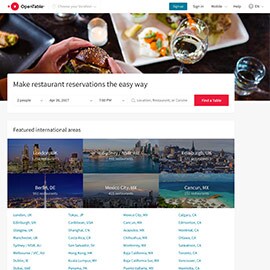 OPEN TABLE
They can do it from the website or you can plug it in to your own. While most features support this basic premise, it overlaps with Yelp in the rating/review arena.


WHY IT MATTERS
People Hate Waiting — And Open Table is an easy way to eat where they want without delay. It also shows your restaurant's user rating which means Yelp recos apply.

People Love Points — Diners get points for reserving, and you can dish out some points too (along with promo offers and gift card sales/redemption for a fee). Points eventually mean dining dollars.

People Hate Waiting Pt. II — The "Guest Center" is a front-of-house management subscription service that lets you manage waiting lists, pace seating, save diner preferences and more easily accommodate large tables.


BEST FREE FEATURES
Open Tables — Offering reservations is free. Booking costs $2.50 per guest.

Guest Preferences — Guests can say if the reservation is for a special occasion, if there are any personalized requests or seating preferences.

Alerts — You can get email or text notifications to avoid missing any reservations.


HOW TO WIN
If You Got It, Flaunt It — By letting people know you use Open Table, you can attract more people hungry for great food and of course, points. Remember, fees apply to bonus point incentivizing.

Details Details — When you're completing your profile, include all the helpful details (as you did for Yelp) and use their great photo section to your advantage.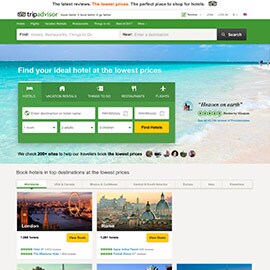 TRIPADVISOR
Hotels, flights, rentals and most importantly food—TripAdvisor puts all things vacation in one place. All sorts of sorting options allow travelers to find exactly what they're craving.


WHY IT MATTERS
People Travel — This is often a passer-by's only exposure to your restaurant.

Travelers Review — People who go on vacation like to share their experiences on social outlets. This gives their friends a reason to stop in when they're passing through.

You Can Earn Accolades — You can get "badges" from TripAdvisor ranging from "featured" to "recommended" that show vacationers and locals alike how much people love your place.


BEST FREE FEATURES
Facebook App — This allows you to add traveler reviews to your Facebook business profile.

Widgets — You can add TripAdvisor reviews and awards to your website while also encouraging customers to add reviews.


HOW TO WIN
Own It — Claim ownership and give a full picture of your restaurant. This means providing cuisine type, price range and detailed descriptions to make the most of the filterable format.
Photo Op — The photo section is front and center. Recent studies show businesses with 30 or more photos have 41% more engagement than those with 10 or fewer. Your profile picture is crucial for standing out on the list. Take a look at some simple tips for capturing your food's best side.
Reviews Rule (Review Rules) — See "How to Win Yelp" for recommended review response protocol (do it always).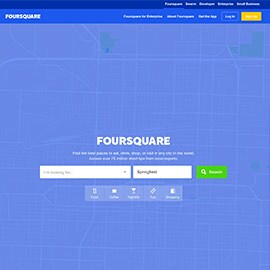 FOURSQUARE
It's the location-based network that shows people all the great places around them (especially places to eat). It lets people follow businesses, share where they are and how awesome it is.


WHY IT MATTERS
People Share — While the Foursquare community is already sizeable, many users share what they're doing through Facebook and Twitter which opens up the audience significantly.

Businesses Share — Sharing "tips" invites users to become insiders. It also means highlighting the best parts of your restaurant and fostering community by highlighting the best parts of other local businesses.

People Love Glory — Users earn "badges" the more they use the app, and the more frequently they visit a place.


BEST FREE FEATURES
Mayor Badge — Your #1 regular (who also uses Foursquare) gets to be Mayor. Honoring them with some kind of treat not only makes them feel special, it incentives dethroning…

Promotions — Specials? Coupons? Discounts? New sandwich? Post everything and both followers and nearby browsers will have another reason to stop in. 

Multiple Locations, One Page — Claim your business and create a profile that connects all of your locations and social accounts. This makes your account easier to manage and your locations harder to miss.


HOW TO WIN
Use Social Specials — Incentivize first-timers, groups and return visits by promoting fun specials across your social accounts around checking in ("Check in with 4 friends and get a free appetizer"). Doubles as grassroots promotion.

Plug It In — Plugging in Foursquare to your main site lets guests like your Foursquare page and save your locations to a list that reminds them to visit when they're nearby.

Post Reminders — Stickers, clings, receipts, words — remind people to check in and you'll both be rewarded.