Imagine a world where every new hire shows up fully prepared on day one. Your restaurant culture, top dishes, back-of-house procedures: All ready to go. Oh, and you also get a million dollars. We can't give you that fantasy world, but we can give you some tips to simplify training—while building loyal employees and happier customers. Sound good? (Almost worth a million bucks.)
 
First off, nearly 2/3 of the restaurant workforce are millennials.* Thanks to a long-term relationship with their smartphones, millennials have different needs when it comes to learning. They want to experience and explore—simply reading and repeating facts won't cut it anymore.

Gabe Hosler, director of training for Carlsbad, California-based Rubio's, says millennials don't want to memorize an entire manual up front. They're "on the job" people: "They say, 'Give me the least amount of information needed to get my job done.' Over time, they pick up on more."

So how can you balance the importance of training with the attention span of the "least amount of info" generation?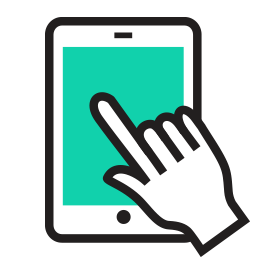 Make it Simple
Make training easy to experience on phone, tablet or desktop. Keep the conversation going with social media, texting or instant messaging to alert servers when new resources are available or to reinforce what they've already learned.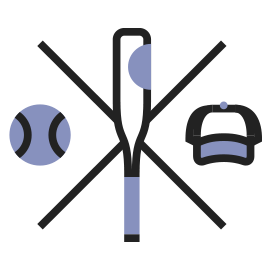 Make it Fun
Make the most of short attention spans with bite-sized training like a brief video or quiz servers could take at the top of a shift. The more engaging, the better. Incorporate video, interactive quizzes and/or friendly competition to keep your staff interested.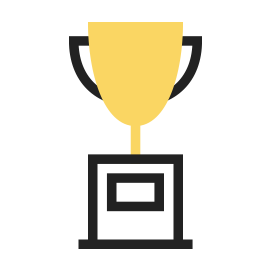 Make it Matter
Millennials want to make an impact, so let training empower them to feel like they're making a difference with what they do. They also love feedback, so track progress and reward development milestones.
Adapted from best practices by The Training Industry.


But you don't have to take our word for it…

The good news is you don't have to start from scratch. We checked out some top training programs and chose four to highlight. Read more to help decide which one might work best for you and your staff.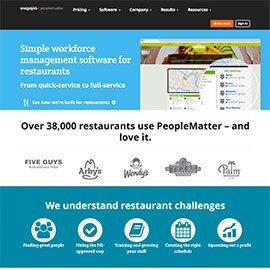 People Matter
People Matter – Workforce management software for restaurants, already used by many chains from quick-service to full-service, designed to help you run a more efficient business. Enables custom content, online accessibility and report analysis.

Our Take: This is more than just a training app, so if you need help in other areas like finding employees, hiring and scheduling, we think People Matter is a good system to consider.
Customers' Take: "We used to spend at least 2-3 hours doing onboarding paperwork on a new hire's first day of work. Now, we can do all of it online before Day 1, have a digital record that's easily accessible and start training the moment a new team member walks in the door." – Buffalo Wild Wings
Smartphone app available: YES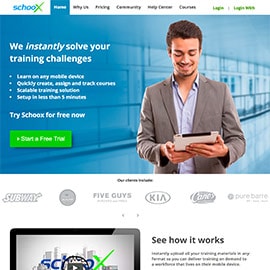 Schoox
Schoox – Built with Millennials and Gen Y in mind, with interactive and mobile-ready features such as games, knowledge sharing and collaboration.

Our Take: With engaging activities and detailed reports for managers, Schoox focuses on achievement and making the world better by improving individual careers. A great choice if that's your leadership style.
Customers' Take: "Schoox addressed four of our critical requirements: easily adaptable for our unique organizational structure, mobile delivery of content, out-of-the box reporting that is flexible and fits our needs, and multi-language capability." – Five Guys University
Smartphone app available: YES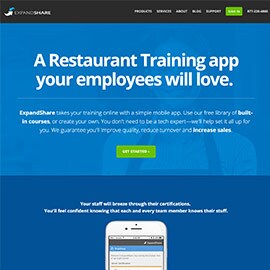 ExpandShare
ExpandShare – This is a mobile app with a library of built-in courses. They promise an improvement in quality, reduction in turnover and increase in sales.

Our Take: ExpandShare's bite-sized training content keeps staff learning without taking too much time--with minute-long exercises and text alerts for training tune-ups. They live up to their platform name: Restaurant Ready.
Customers' Take: "If an employee walks in the door and is given a detailed training schedule, consistency is created from day one. Expandshare takes into account how people actually learn and retain information. Their platform of restaurant-ready software is functional from day one." – Joey Rowland, Restaurant Operations Consultant, US Foods
Smartphone app available: YES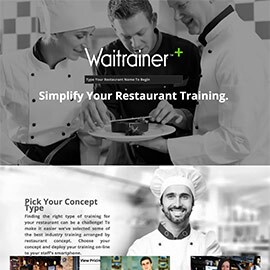 Waitrainer
Waitrainer – Focused on independents and small chains, Waitrainer arranges training by restaurant segment—fast casual, table service, or informal dining/bar.

Our Take: Waitrainer simplifies training with ready-to-use templates and videos tailored to your restaurant type, and helps you monitor success with tests and quizzes. Smaller chains should check them out.
Customer's Take: "Waitrainer allows us to prepare our training in advance. The information is always current and easily accessible for our team members in 'their' time. We feel confident that training requirements are met and maintained." – Tom Altosaar, The Landing Group
Smartphone app available: NO
Whether you choose one of these platforms or find another method, you'll reap the benefits of more engaged, well-prepared servers when you use free culinary classes that fits their learning styles and digital habits.

Source: The Training Industry, "5 Best Practices When Creating Online Training for Millennials," July 2016; Company websites; *64% of restaurant employees are under 35 (2014)
Note: Feature in this article does not imply endorsement or sponsorship.