Food narratives have become increasingly important. People want to know how and where their food was made, who made it, and what their relationship is to the food. We often look to the past for inspiration, and many restaurants are looking way back to revive the dishes that are truly native to their regions.2
82% of foodies and 61% of non-foodies said they feel a need to preserve their family's cultural traditions.1
Cristine Shipley, the Director of Culinary at the Marlin Network and contributing author of the quarterly Flavor Atlas says, "Conscious consumption, (mindful eating and drinking that respects the environment and the body) is becoming a focus for many Americans. Operators can leverage this trend by considering seasonality on the menu, utilizing local ingredients when possible, and providing consumers with nutritionally dense options that help them protect their health and minimize waste."
What's Trending
American Sioux Tribe
Dishes made from indigenous ingredients such as corn, beans, potatoes, amaranth, quinoa, natural wild rice and tuberose harken back to the native inhabitants of America. A large part of recentering indigenous cuisine is attempting to exclude European influences such as dairy, processed foods, refined sugar and meats such as pork and beef.
Think of the "three sisters" of squash, beans, and corn, plus game meat as North American flavors. There's a legend that suggests beans, corn, and squash are inseparable sister crops that thrive when grown together. The beans will grow up the corn stalk while the squash spreads around the base keeping away weeds.
North America's history begins with indigenous history. An individual trying to bring this point to the culinary world is the "Sioux Chef," Sean Sherman. He raised almost $150,000 through Kickstarter for this startup project, making it the most most-backed restaurant venture on the site. His fare focuses on pre-colonial dishes, foods that were abundant before the arrival of Europeans.
He emphasizes that Native American food is much more than fry bread (that's often crafted into "tacos"). Fry bread is actually a product of oppression created out of necessity based on the unbalanced ingredients supplied by the government. Since North America is so large, it's really about connecting with the plants and animals that are truly native to certain areas. For example, tribes of the Pacific Northwest would have a much different diet than those of modern-day Florida.
His catering company, The Sioux Chef, provides services throughout the Twin Cities area. He also created NATIFS (Native American Traditional Indigenous Food Systems), a nonprofit group focused on increasing education and access to indigenous foods. The Sioux Chef's Indigenous Kitchen Cookbook was named one of the best cookbooks of 2017 by many media organizations.
Get a recipe: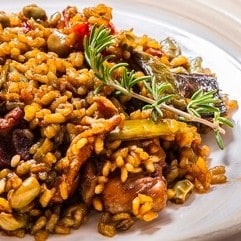 Duck Wasna
Try this recipe rich with indigenous ingredients!
Ingredient Amounts:
Duck breast: 2
Wild rice (hand harvested): 1 cup
Blueberries, dried: 4 oz.
Amaranth grain: 4 oz.
Salt ¼ tsp.
Directions:
Remove fat from duck breast and render.
Slice duck breast and dry.
Remove duck skin from rendered duck fat.
Puff wild rice.
In a molcajete or large mortar and pestle, pound Duck Meat, Crisp Fat, Berries, Wild Rice, popped amaranth, and a little salt.
Serve.
Ancient Cooking Techniques

Running parallel to the resurgence of barbecue, more and more chefs are experimenting with cooking techniques—often trying bygone methods. Steaks seared directly on coals or tortillas cooked on hot stones are finding their way into more traditional establishments.
The menu at Francis Ford Coppola's restaurant Werowocomoco includes fry bread tacos, venison chili, cedar plank salmon and rotisserie prairie chicken.

Chef Jeff Bolton of Kachina Southwestern Grill in Westminster, Colorado, breaks down, hangs, drys, and smokes Colorado-sourced bison for center-of-the-plate steak dishes, burgers, and jerky.


Indigenous Flavors for Dessert
Served Hot
Feature skillets in brunch, bar bite and dessert applications. Consider calling out the cooking method on your menu for items like cast iron catfish or serving items in mini skillets.
Ingredients Native to North America

Try to incorporate items like cranberries, crabapples, and blueberries in desserts such as cranberry-chocolate torte, crepes with crabapple-caramel filling, or blueberry cobbler with maple whipped cream.
Saskatoon berries come from a deciduous native shrub found from western Ontario to British Columbia and the Yukon. They have a sweet, nutty almond flavor that lends itself well to all kinds of dessert dishes.
1 Kantar Futures Report, 2017
2 Hartman A.C.T. Food Culture Forecast 2017, Minneapolis