LeGoût®
LeGoût® specializes in creating delicious and satisfying gravies and seasonings.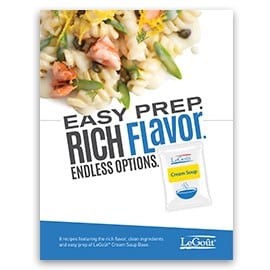 Download your free Cream Soup Base recipe book
9 recipes featuring the rich flavor, clean ingredients and easy prep of LeGoût® Cream Soup Base.
Download recipe book
Discover LeGout® Old Fashioned Peppered Biscuit Gravy Mix
Homemade flavor without the hassle.
Download broschure