TAZO® Iced Tea Concentrate 5:1 Passion 6 x 32 oz
TAZO® Iced Tea Concentrate 5:1 Passion 6 x 32 oz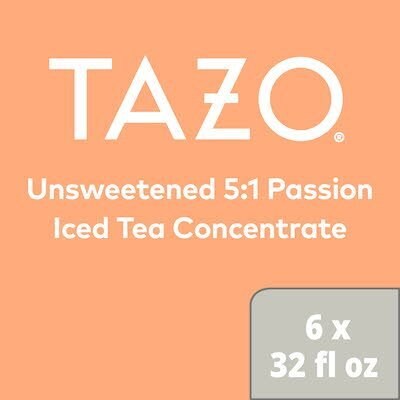 TAZO® Iced Tea Concentrate 5:1 Passion 6 x 32 oz
Concentrates are easy as 1,2,3 (Shake, Pour, Mix)
1 part concentrate to 5 parts water or lemonade – mix in any flavors you'd like or serve as is!
Perfect as a summer drink or for year round meal and dessert pairings
Brew the unexpected with an imaginative blend of herbal teas with hibiscus flowers, rose hips, and passion fruit flavors
Handpicked and responsibly sourced around the world
+ More product and allergy information
All product information
Nutrition Details & Allergens
Ingredients
An infusion of (water, hibiscus flowers, natural tropical flavours, citric acid, licorice root, orange peel, cinnamon, rose hips, lemongrass, gruit juice extract [colour]).
Product Information
Description
A foodservice exclusive - Empower your adventurous guests with a boundary-breaking taste adventure with TAZO® 5 to 1 Iced Tea Concentrate. With its exuberant blend of herbal, floral, and fruit flavors, TAZO® Passion Iced Tea Concentrate creates a uniquely delicious beverage that will excite even your most adventurous guests. This slightly sweet herbal tea concentrate offers perfect pucker for tart lovers thanks to vibrant hibiscus, citrusy orange peel, tart rose hips, zingy lemongrass, and a punch of warm cinnamon. The premium passion iced tea mix also allows you to easily expand your beverage offerings to include creative drinks like iced tea lattes, lemonade-and-tea coolers, tea cocktails, spritzers, and more.
Usage Information
Preparation
Shake the carton. Mix 1 part of iced concentrate with 5 parts cold water. Serve individual beverages over ice.
Storage
Before opening

Check the "Best Before" date on top of the carton.



After opening

Store the unused portion of this product in a refrigerator and use within seven days.