Winter is certainly a time for celebration, and with all the "sweater weather," the tendency is to go for big, heavy recipes—and over indulgence. While there's a place for comfort foods and enjoying rich meals, our chefs think you can bring balance with delicious, on-trend winter dishes that don't rely huge calorie counts.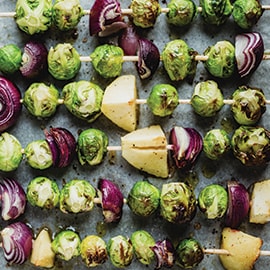 Wholesome Food Pairings
To help guests get a jump on health-related resolutions, focus on flavor combinations that don't pack on extra calories. Go with lean proteins paired with accompaniments with complex flavor profiles. Some of my favorites are:
Harissa-braised lamb shank with carrot puree and anise scented yogurt

Crunchy brussels sprouts and beet slaw with sunflower seed pesto
Roasted cauliflower "farrotto" with wild mushroom jus
Crispy skinned lemon chicken with smashed chickpeas and braised rainbow chard
Root Vegetables
Root vegetables like celeriac, parsnips, beets, and turnips can be transformed into more inspired dishes like crunchy salads, gratins or paired with more global flavors like miso, harissa or toasted cumin.

Charring
From shishito peppers to brussels sprouts, cauliflower and squash, charring vegetables creates a roasty, caramelized flavor while adding another texture element. Charring brussel sprouts will mellow its "cabbagey" taste and add a nice crisp factor. Charred meats, like crispy-skinned chicken, add a subtle smoky flavor and play up any spices or seasonings used.

Warm Spices
Options like cinnamon, cloves, ginger, chai, and nutmeg are perfect in soups, stews, braised meats and desserts to evoke that warm, nostalgic feeling. Try an apple cider and spice braised pork shoulder over a cauliflower puree.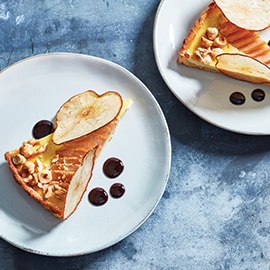 Lower-Alcohol Cocktails
Less boozy cocktails can make holiday celebrations guilt-free. Think winter punches and riffs on eggnog, using liqueurs and fortified wines in place of hard alcohol. Coquito (Puerto Rico's answer to eggnog) is made with sweet sherry instead of rum and lightens the alcohol level, but keeps the party spirit.

See other cocktail trends happening in the marketplace to help update your winter drinks menu.

Small Meals and Snacking
The party season, followed by North America's January diet, will keep a focus on small meals and snacking. Customers will embrace different day parts, such as mid-morning and mid-afternoon, as dining occasions, and will want smaller plates for sharing or as a lower-calorie alternative to a full meal. During the holidays, add some shareable desserts to your breakfast menu to entice diners to turn a Wednesday-morning meeting into a mini celebration.

Celery
Celery will find its way into different parts of menus, not just as a hearty replacement for greens in a salad, but as side dishes and soups. Think celery gratin as a spotlight-stealing side dish.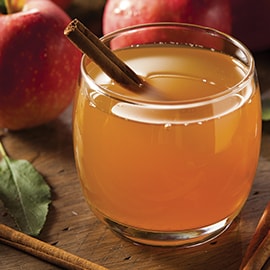 Tamales
This traditional Mexican dish is perfect for the holidays. They're frequently given as gifts in the southwest.

Winter-Specific Drinks
Some recipes only really surface during the colder winter months. Certain drinks like white Russians, hot apple cider, hot cocoa exemplify the holiday spirit.


Cookies and Baked Goods
These are a huge part of the holidays for many cultures. Ingredients like anise, nutmeg, marzipan, fennel seeds, and ginger are major players in flavor.

Potatoes
The humble potato is always in style, but during the colder months it plays a leading role. It will continue being added to stews and chowders, mashed with pot roast, or gratineed in all its splendid glory.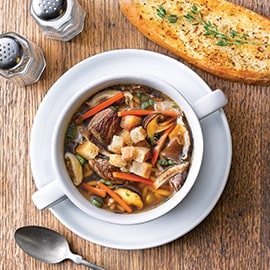 Local Produce
We will have an explosion of local produce coming back to the market in the wintertime as we capitalize on the second growing season of the year.

Winter Indulgence
Winter brings more comfort foods into the restaurant scene as folks prepare for the "cold" times to come. This means more soups, stews, braises, fewer salads, and more hearty offerings.

Celebrate with Hispanic Fare
Time to cue up the tamale parties, a tradition in many households and restaurants alike.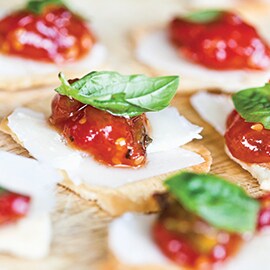 Winter Salads
Tired of braised meat and bored of Kale? Try collard greens. Eating them raw requires a little work. Massage the leaves with the vinaigrette until they wilt. Your guests will love to see some fresh greens in the dark winter. Try pairing it with walnuts or cashews, hard cheeses and citrus.

Preserves
If you're not canning and preserving your own late summer and fall vegetables, give canned whole peeled tomatoes a try. They're picked and preserved at their very best. Drain and roast them for as a replacement for fresh tomatoes, and wow your guests with a winter bruschetta.

Cardamom
If you have any carrots, yams, or squash left in the root cellar, they would welcome a pinch of cardamom in a rich puree. A little bit goes a long way for warming up your guests.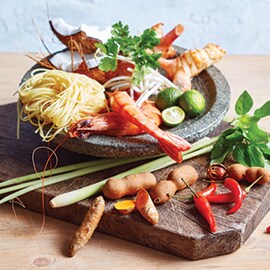 Grain Bowls for Breakfast
Protein-packed grains have made a comeback in recent years, but they're not just for dinner anymore. We will see a switch-up of dayparts: breakfast for dinner and dinner ingredients to start our day! Consider cinnamon-peach freekeh and quinoa breakfast bowls with pistachios and almond milk.
Kelp
With guests looking for foods that can "do more for them," operators can highlight more nutrient-dense foods. Edible seaweed can be eaten cooked or raw and is a good source of vitamins and minerals. Start with a miso, butternut squash soup with smoked kelp.

Low-Carb Substitutes
Operators have already seen a huge influx of traditional carb substitutes with the popularity of cauliflower "rice" and vegetable noodles. Customers will be looking for more variety to replace their complex carbs. Guests will love brown butter braised kohlrabi and kohlrabi greens with thyme and parmesan.