These days consumers are dining out for the experience as much as they are to simply eat a meal.



One way they're becoming more adventurous is by experimenting with new meats. Unique protein options are an excellent way to differentiate yourself from competitors as well as serve dishes consumers typically wouldn't make for themselves. In fact 90% of consumers agree dining out is a good way to enjoy food they wouldn't prepare at home.1 

The movement is supported in trend reports and marketplace examples alike.
New cuts of meat was the number-one trend for 2017 as reported by chefs in NRA's national What's Hot Chef Survey, with 71% of chefs noting it as a hot trend.
A recent Arby's LTO featuring a venison sandwich sold out much more quickly than anticipated.

Chef Dana adds, "I think part of the reason restaurants are focusing on these meats is due to customer awareness of where the meat is coming from (local, free range) and how it is raised (no hormones or antibiotics, natural diet). Also, most of the time, these are leaner meats which tie into the trend of eating a healthier, lower fat diet."

Once reserved for finer dining, nontraditional meats are seeing menu incidence growth across all segments. Our chefs weigh in on how you can put new and innovative proteins to work on your menus.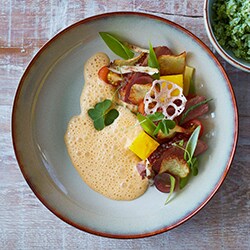 Emerging Proteins
Mortadella, Muscovy Duck, Kielbasa, Quail, Speck
Mortadella, known as the "italian bologna," is an italian sausage lunch meat  made with ground, cured pork, flavored with spices, myrtle berries, and pistachios. Chef Jill recommends adding it to a brunch menu by using it in place of Canadian bacon in a benedict. Replace the hollandaise with bechamel and make an Italian benedict.
Heavier meats like duck and kielbasa are delicious in the late fall and also leading up to the holidays when customers tire of traditional steaks, roasts and chops.
Lighter meats, such as quail, find their home on a spring menu. Due to its size, quail is perfect for appetizers. Switch up the proportions on buffalo chicken by offering a celery salad topped with buffalo-spiced quail.

Following the meteoric rise of bacon, speck is also growing in popularity. It's a type of bacon that can be cured or smoked. Chef Dana is seeing it in many different menu items like artisan pizzas.
Menu Ideas
Seared muscovy duck breast over a bed of roasted root vegetables with a cranberry-balsamic gastrique.
Duck Rillettes made with slow-cooked duck legs, cooked confit style then shredded until spreadable, served with sour cherry jam to cut the fattiness served on fresh crostini.
Crispy speck with caramelized pears and balsamic.
Wood-fired pizza with speck, fontina, artichoke cream and spicy greens.
Marketplace Examples of Mortadella:
A classic italian deli meat, Chicago's Augostino's Rock and Roll Deli features mortadella alongside salami and capicola in Augie's Italian Sub.
Tennessee's Mafiaozas's Pizzeria features the meat in their Piccolo Morsi Antipasti appetizer.
LA's Cheebo uses mortadella in their Pinwheel appetizer, alongside flank steak, prosciutto, salami, provolone, and basil.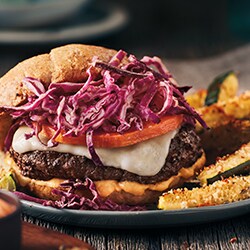 The Once Exotic Is Now Going Mainstream
Offal, Goat, Bison
Offal
Offal goes along with the nose-to-tail trend, decreasing waste and creating unique uses for every cut of meat. Since consumers are getting more adventurous with what they will try, it's a good time to begin experimenting. You can start by serving offal as the main ingredient in dishes like beef cheek ravioli or pickled pork tongue salad. Chef Dana says, "I am also seeing a rise in forcemeats and pates, which used to be reserved for classic French restaurants. Now we see this on charcuterie plates everywhere."

Chef Isaac is noticing offal emerging across menus in the Lone Star State. He says, "What we are seeing in Texas is a slow start of restaurants offering offal meat salads. These are either green based salads or a grain based salads highlighting offal meats which are low food cost products for the operator."

Offal Recipe Inspiration
Roasted bone marrow with seared ahi tuna and watermelon radish slaw
Whipped chicken liver mousse with toasted pistachios
Goat
Goat has a lovely flavor reminiscent of lamb. Chef Jill says, "I'm finding a lot of goat here in Chicago, as Stephanie Izard has built an empire on it." (Girl and the Goat, Little Goat Diner, and Duck, Duck Goat are her three restaurants).

Goat Recipe Inspiration
Goat tacos on blue corn tortillas with queso fresco, fresh cilantro, and diced red onions, are a terrific way to introduce goat. They can be an appetizer or small plates.
To take goat to the next level, bring in a coconut goat curry with tomato, onions, and garlic served over brown basmati rice.


Buffalo
Buffalo or bison, though technically cattle, has a typically lighter, more mellow taste than beef, and is showing up across several burger joints and steakhouses, in a variety of formats including buffalo steaks, burgers, and bacon. More nutritionally dense and containing a lower fat content than beef, some consumers may see it as a leaner, healthier alternative.
Marketplace Examples of Buffalo
Ted's Montana Grill restaurants offer a variety of buffalo dishes, including buffalo chili, buffalo short ribs, and bison pot roast.

Al Biernat's in Dallas, Texas, serves a North Dakota Buffalo Filet entree, as well one of third of their Air, Land, and Sea combo alongside quail, prawn, and scallops.
Estes Park, Colorado's Grubsteak offers several wild game options, including a buffalo sirloin, buffalo meatloaf, and buffalo burgers.


In Addition to Unique Meats, Quality Is Also On the Rise
Operators are increasing featuring higher quality meats across their menu, and consumers are willing to pay a premium for it. Chef Dana says, "calling out the name of the supplier or farm is an added value to the customer that they are willing to pay for."

With a proven track record of consumer appeal, premium burger blends are an excellent way to begin the foray into enhanced meat offerings. This practice is also a lower-cost way for consumers to try premium meats for the first time.


Other high quality meats gaining traction:
Jidori Chicken (up 75% on menus in the past year)2
Snake River Farms Beef (up over 100%)2
Niman Ranch Meats (up 50%)2
Berkshire Pork (up 50%)2

The cost can be higher for the operator, but perception of value is very high to the consumer. And while the food costs percentage may actually decrease with premium meats, the profit will increase.

Menu Inspiration
Grilled elk chop with roasted acorn squash, wild rice and candied beet jus
Wild boar ragu over pappardelle with whipped ricotta
Korean style pork belly tacos with kimchi and gochujang mayo
Braised beef cheek ravioli with smoked pancetta and sweet onion puree
1  Mintel, Dining Out - A 2017 Look Ahead, December 2016
2  Mintel, Menu Insights, Q1 2017 - Q1 2016
3  Mintel, The State of the Burger, April 2016