As a supermarket deli operator, you're already taking the initiative to reduce food waste and boost operational efficiency and productivity. Those are urgent needs throughout the grocery industry at a time of continuing cost and staffing pressures.
More than one-third of the food produced in the U.S. is lost or wasted rather than eaten, according to data from the U.S. Environmental Protection Agency (EPA). In addition, food waste is the most common material sent to landfills and incinerators. That not only contributes significantly to greenhouse gas emissions that harm the environment, it also represents a financial loss for food retailing businesses already challenged by high food and labor costs and a shortage of qualified employees. Those bottom-line realities underscore the imperative for deli operators like you to clamp down on waste and choose products with the versatility to play multiple roles across the menu.
In the supermarket deli, food retailers are finding practical and appealing ways to repurpose and sell high-value products before they reach their expiration date. Strategies include using end cuts of deli meats and cheeses as protein additions in salads, soups and casseroles and featuring pulled rotisserie chicken meat in hot bar items, wraps and grab-and-go specialties. "As long as proper food safety and handling practices are followed, reusing leftover food can save money and reduce waste," says an EPA report on food waste reduction. 
The value of simplicity
Sixty-two percent of retailers and 65% of suppliers have quantified goals and implementation time frames for food waste reduction, according to The Food Retailing Industry Speaks 2023, a report by the Food Marketing Institute. Deli operators can further those goals by simplifying and streamlining their food offerings, says Chef Rudy Smith, corporate chef at Unilever Food Solutions. He recommends following the Rule of Five, which advises building recipes that are flavorful as well as operationally efficient because they have five or fewer ingredients. This means identifying products in the deli that are at risk of expiring and combining them with high-flavor ingredients to develop great-tasting, value-added food items with strong consumer appeal. "This opens up great opportunities to get creative with a few well-chosen ingredients," says Chef Smith.
Reducing recipe complexity has multiple benefits. "It allows for lower inventory, meaning less money is tied up on the shelf," Chef Smith says. "It reduces labor cost because food production is quicker. And because the recipes have fewer ingredients, staff training is easier and the results are more consistent."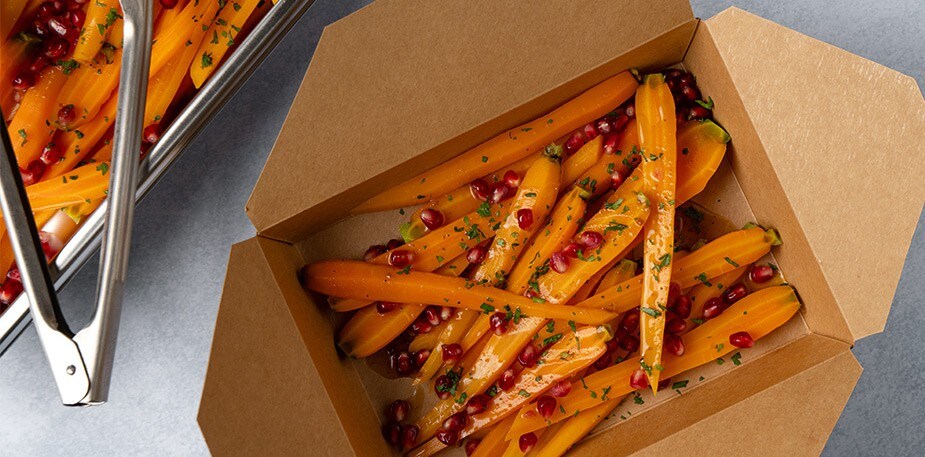 Choosing ingredients wisely
However, having more streamlined recipes means ingredients need to contribute more to the desired flavor impact of the dish. "You need big, bold, robust flavors to pull it all together so that a few ingredients make a great tasting dish," says Chef Smith. "You're seeking complexity of flavor without complexity of recipe."
Hellmann's and Best Foods Real Mayonnaise and Hellmann's Real Ancho Chipotle Sauce are examples of products that have the flavor, versatility and performance to augment the appeal of all sorts of recipes. "Hellmann's and Best Foods have the greatest emulsion on the market, which means that it works very well in hot applications such as crab cakes, casseroles and hot dips, as well as in cold dishes such as potato salad and any number of other popular deli salads," says Chef Smith.
Hellmann's Real Ancho Chipotle Sauce can be "a beautiful sauce base for a pizza or glaze for chicken kebabs, because it holds up so well to the heat," says Chef Smith.
Another example is savory zucchini casserole, a medley of zucchini slices, Hellmann's or Best Foods Real Mayonnaise, shredded cheddar cheese and a crunchy topping of crackers and breadcrumbs, baked until golden and bubbly. "The heat stability of our products is unsurpassed," says Chef Smith. "This adds versatility to what cooks and operators can do."
Another great choice for repurposing deli foods into tasty new creations is Hellmann's Extra Heavy Real Mayonnaise, which is thickened with extra egg yolks for enhanced binding and browning ability.
Likewise, Knorr Liquid Concentrated Bases and LeGout Cream Soup Base are valuable building blocks of simple, flavorful recipes. Knorr Liquid Concentrated Bases are known for the scratch-like flavor, color and aroma they bring to recipes as well as quicker prep time and greater versatility. An example is roasted cauliflower soup with roasted cauliflower florets, onions and garlic simmered in Knorr Liquid Concentrated Vegetable Base and water.
"The versatility of these products is fantastic," adds Chef Smith. "Brush a chicken with a little liquid concentrated chicken base before it goes into the rotisserie and you'll never have a better chicken in your life."

Similarly, LeGout Cream Soup Base is an ideal starting point for soups, white sauces and casseroles. It lends smooth, creamy texture and rich flavor to a dish like creamy white bean chili, made with ground turkey, great northern beans, green chilies and spices. What's more, it is quicker to prepare and withstands heat better than such a dish made from scratch.