Minimizing food waste has always been a priority for food retailers. However, the current climate of rising costs and chronic staffing shortages is making it imperative for supermarket deli operators to be even more proactive with food that has an expiration date. "You can turn perfectly edible products into appealing, value-added food items for consumers, in effect creating fresh takes on food waste," says Chef Rudy Smith, corporate chef at Unilever Food Solutions.
Repurposing unused food rather than discarding it in landfills can improve the sustainability reputation of a supermarket brand, appealing to consumers concerned about the environment and winning their much-needed patronage.

Looking anew at staples
With that in mind, operators are looking anew at staple deli products, such as deli meats, cheeses and rotisserie chickens, to find repurposing ideas that will capture the interest of consumers.
Take the end cuts of meats and cheeses that accumulate in the deli, for example. Although they can be simply packaged and sold as-is, it may be more profitable to repurpose them into new, value-added deli items.
"End cuts are extremely versatile," says Chef Smith. "For example, you can dice ham end cuts and add them to scalloped potatoes to make a hot bar or grab-and-go item that your customers will enjoy."
Other appealing and profitable items can be derived from cubed turkey breast ends, such as a savory turkey, peas and bacon pasta salad. The typical deli has a variety of different meat ends that can easily be used as ingredients in deli salads, soups, pastas, pot pies and casseroles.
Rotisserie chickens unsold at the end of the day are another prime opportunity. "They are perfectly good to repurpose in other ways," says Chef Smith. "There are many things you can do with them, ranging from making a hot buffalo chicken dip to just selling pulled chicken meat, which people consider a value item."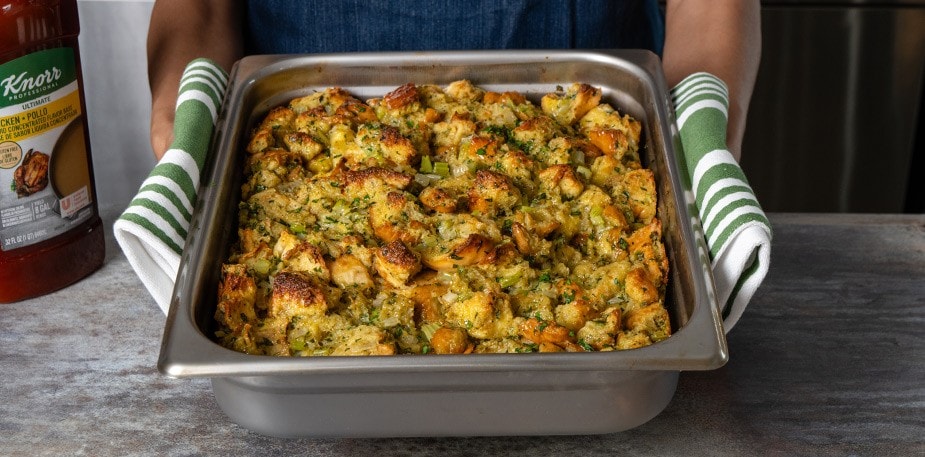 Stimulating creativity
Deli operators can optimize their food repurposing efforts by using flavorful products that are versatile enough to shine in multiple applications. "Look for a great mayonnaise that can be used for hot and cold foods, salads, dips and everything else," says Chef Smith. "Or a great sauce that can go into a salad as well as be used as the base for pizza.
"Multiple-use products are really important to the deli," Chef Smith says. "They decrease inventory, which reduces money spent on the shelf. They encourage menu simplicity. They lower labor cost because they are easy to use in recipes."
The ease with which deli proteins can be combined with flavorful sauces, concentrates and bases encourages the development of limited-time offerings (LTOs).
"Limited-time offerings create excitement for your customers while letting you repurpose products that aren't moving as fast as you would like," says Chef Smith.
The list of workhorse ingredients includes Hellmann's and Best Foods Real Mayonnaise and Hellmann's Real Ancho Chipotle Sauce, which have the flavor and high performance to excel in many hot and cold food applications. For instance, tossing chunks of pulled rotisserie chicken with Real Ancho Chipotle Sauce yields a deli item with strong appeal to fans of zesty flavor experiences.
"Or, say you have a nice, simple pasta salad," says Chef Smith. "Just by adding some Hellmann's Real Ancho Chipotle Sauce, roasted red peppers and fresh cilantro, you now have made a Southwest pasta salad with very few changes."
Knorr Professional Liquid Concentrated Bases and LeGout Cream Soup Base are also versatile, flavorful and high-performing ingredients that produce outstanding results without the time, labor and skill requirements that scratch cooking demands. "Bases are great foundations for repurposing other ingredients into soups, casseroles and pot pies to avoid food waste," says Chef Smith.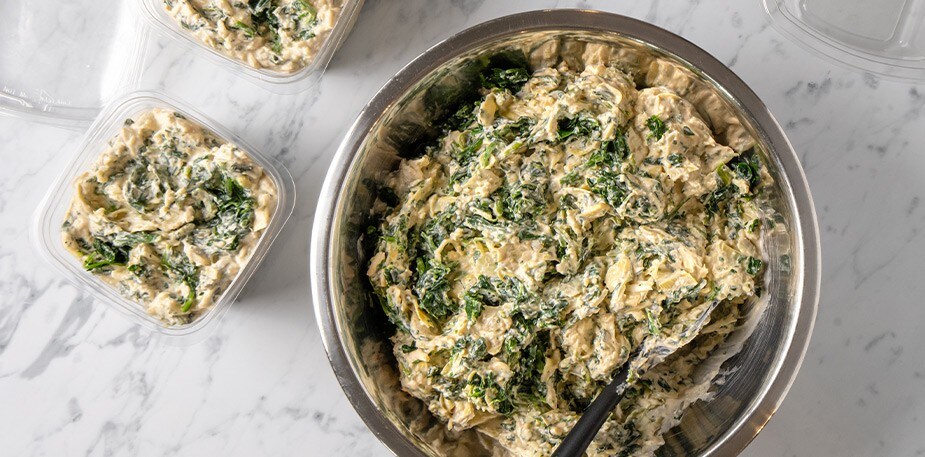 The marketing advantage
In addition to generating much-needed sales, a successful waste reduction and food repurposing program can inspire a positive marketing story for the supermarket brand. Research shows that consumers are eager to shop at businesses that are committed to sustainability. In fact, zero waste, sustainability and upcycled foods—each environmental in nature—are among the 10 Hot Trends for 2023 reported by the National Restaurant Association.
"Right now, the majority of consumers say they want operators to be sustainable," says Chef Smith. "You want to tell patrons your sustainability story, including the ingredients that you use, such as Hellmann's Mayonnaise, which is made with cage-free eggs and sustainably sourced oils. So your customers know you are not only being sustainable in what you do in your operation, but also in the ingredients you purchase."