As a restaurant operator you know and value that everything in your operation must be kept "clean." Cleaning is the removal of dirt, dust and debris from surfaces. Sanitizing on the other hand reduces pathogens on surfaces.
In the current environment it is important to adjust your standard operating procedure to include the sanitization of ALL-CONTACT SURFACES both front of house and back of house, not just food-contact surfaces. 
Below is a quick checklist to run down to make sure you are taking all the extra precautions necessary in order to help prevent the spread of COVID-19.  
Of course, frequent hand washing by your staff is the most important step in a cleaning protocol and making hand sanitizer available to anyone who enters your operation is equally important.

How to Implement the Checklist:
 

Build a cleaning schedule and delegate responsibility. 


During cleaning and sanitizing make sure your staff is wearing gloves, a respirator if available and an apron that can be removed and either laundered or disposed of before returning to any other duties.


Check with your local authority to understand which chemical sanitizers are available to you.


Know how to clean and sanitize a surface properly.

First, clean dirty surfaces with soap and water or detergent before disinfecting 
Be sure to follow manufacturer's instructions for application and proper ventilation, and ensure that the cleaning solution is not expired

BACK OF HOUSE CLEANING CHECKLIST
FRONT OF HOUSE CLEANING CHECKLIST
As Often As Possible:
As Often As Possible:

All food-contact surfaces
Non-food contact surfaces


Receiving doors
Phones
Reach-in and walk-in-doors
In-place equipment
Anything that cannot be washed in 3 compartment sinks
Area around and basins of sinks when not in use

Clean and empty the trash cans and recyclables.
Put all aprons, rags and chef's in the laundry
Clean entrance (glass door, door handles and frames)

All food contact surfaces

All areas regularly touched by employees/guests
Restrooms (toilets, sinks, paper towel dispensers, etc)
Door Handles
Touch Screen Registers
Drive-thru window ledges
Clean every surface such as chairs, tables, bar and booths
Delivery vehicle interiors and any reusable delivery shipping/warming units
Anything else applicable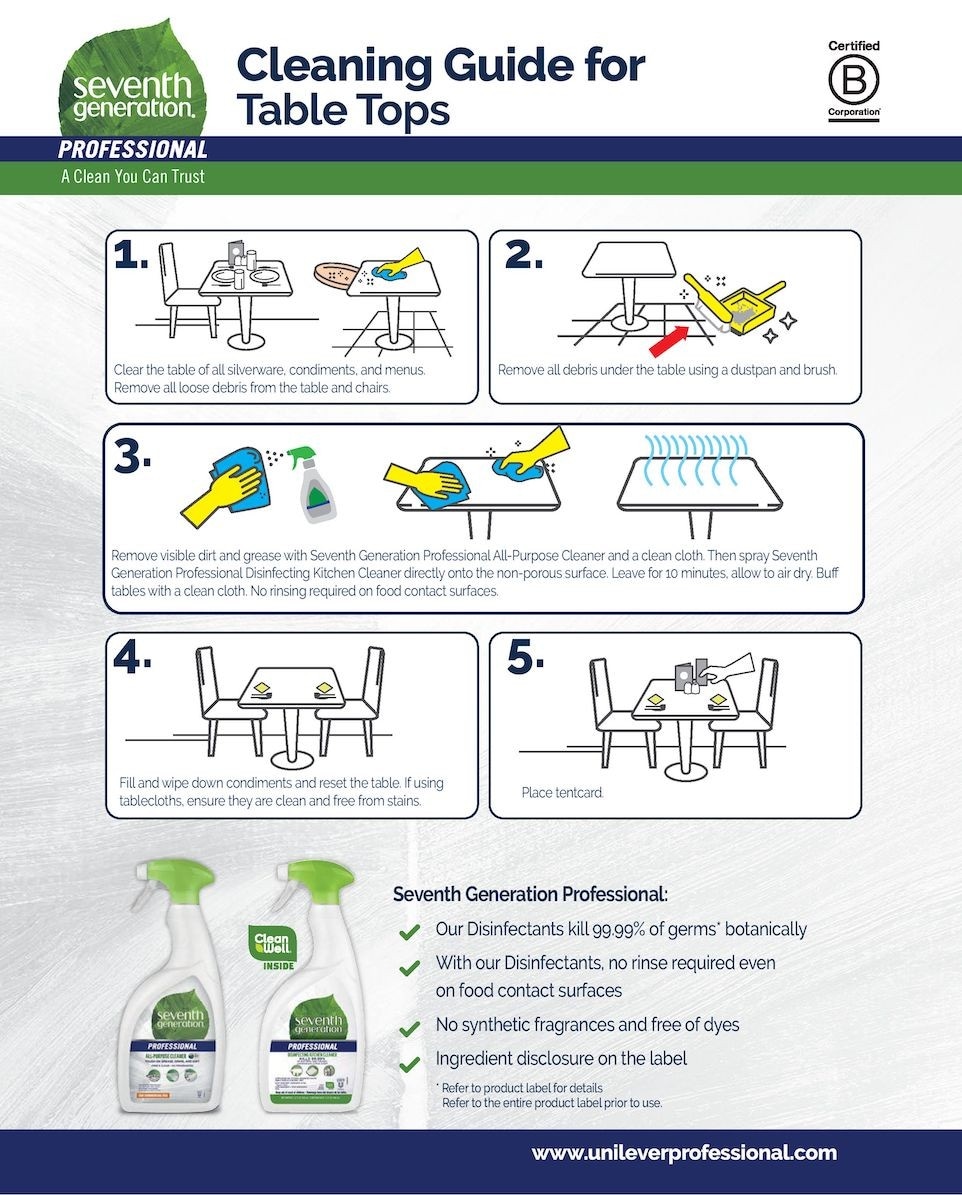 FREE Guide: Seventh Generation Professional Cleaning Guide for Table Tops
Cleaning Guide for Table Tops
Download Now
FREE Guide: Seventh Generation Professional Cleaning Guide
Cleaning Guide for Food Preparation Surface
Download Now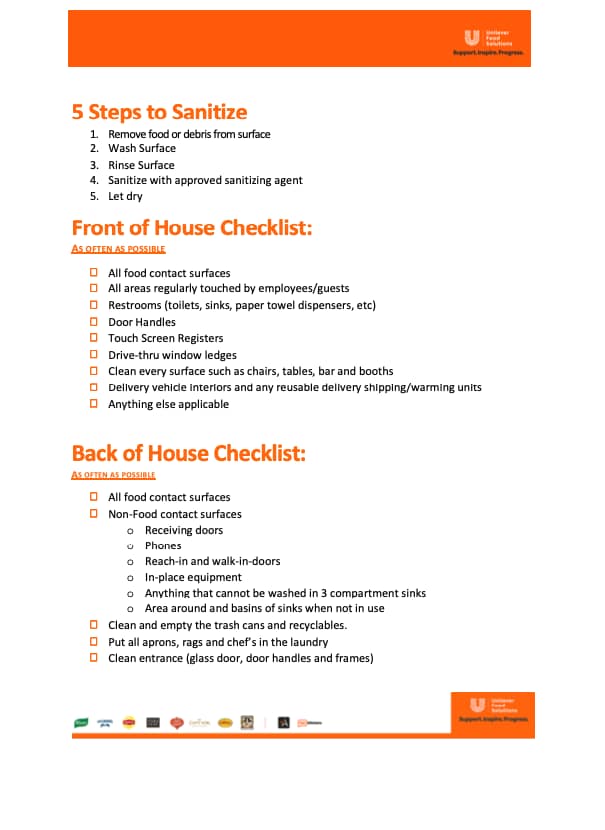 Download restaurant cleaning checklist
A handy template to be used by Back of House and Front of House staff to ensure your restaurant is spotless!
Download Now!