TAZO® Turmeric Latte Golden Milk 6 x 32oz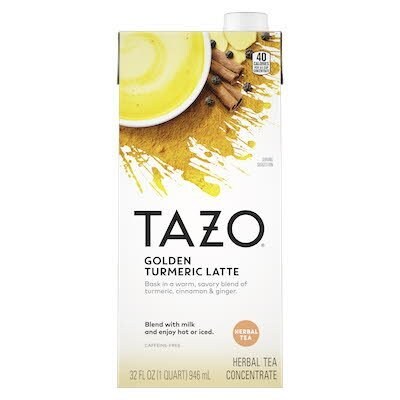 TAZO® Turmeric Latte Golden Milk 6 x 32oz
Create delicious beverages as easy as 1. 2. 3
Tea concentrate made from high quality turmeric and other herbs and spices, brewed with bold expertise
Great base for tea lattes, iced or hot, desserts, milkshakes
Bask in a warm, savoury blend of turmeric, cinnamon & ginger
Easy-to-use tea latte concentrate lets you create hot or iced tea lattes with no brewing
+ More product and allergy information
All product information
Nutrition Details & Allergens
Ingredients
An infusion of water, cane sugar, turmeric, ginger, cinnamon, black pepper.
Product Information
Description
No bulky equipment needed - simply high quality turmeric and spices and brewing expertise packed into a convinent 32 ounce tea concentrate.Easy-to-use concentrates create delicious beverages as easy as 1. 2. 3 with a simple shake, pour and mix. This lightly sweetened turmeric tea concentrate is a rich herbal blend of savory turmeric, cinnamon and ginger. We've heard chefs sneak this into butternut squash soups and some yummy baked desserts, but we won't tell if you don't! Our TAZO® Latte and Iced Tea concentrates allows you to easily expand your beverage offerings to include creative drinks like iced tea lattes, lemonade-and-tea coolers, tea cocktails, spritzers, and more. Whether you're a seasoned mixologist, catering manager, menu creator or restaurant owner in search of a deliciously unique flavor offering, brewing the unexpected with this TAZO® concentrate is sure to please any and every guest.
Usage Information
Preparation
Make a delicious latte, hot or iced. Shake the carton and mix equal parts of Latte concentrate with milk or any milk substitute. Heat on the stove or in the microwave. Or simply pour over ice.