TAZO® Iced Tea Concentrate 5:1 Zen 6 x 32 oz
TAZO® Iced Tea Concentrate 5:1 Zen 6 x 32 oz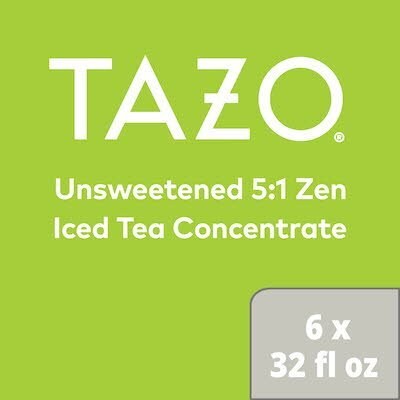 TAZO® Iced Tea Concentrate 5:1 Zen 6 x 32 oz
Concentrates are easy as 1,2,3 (Shake, Pour, Mix)
1 part concentrate to 5 parts water or lemonade – mix in any flavors you'd like or serve as is!
Perfect as a summer drink or for year round meal and dessert pairings
Brew the unexpected with an energizing green tea blend with bright lemongrass and spearmint flavors
Handpicked and responsibly sourced around the world
+ More product and allergy information
All product information
Nutrition Details & Allergens
Ingredients
An infusion of (water, green tea, lemon verbena, spearmint leaves, lemongrass, natural flavour), ascorbic acid.
Product Information
Description
A foodservice exclusive - Empower your adventurous guests with a boundary-breaking taste adventure with TAZO® 5 to 1 Iced Tea Concentrate. With harmonious flavor and aroma, TAZO® Fresh Brewed Tazo Zen Green Iced Tea Concentrate creates an exquisite beverage that invites your guests to sip, contemplate, and engage. Requiring no brewing, this premium iced green tea mix combines refreshing green tea with a twist of bright spearmint and zingy lemongrass for a blend that awakens the senses. This delicious tea concentrate also allows you to easily expand your beverage offerings to include creative drinks like green tea lattes, tea cocktails, spritzers, and more.
Usage Information
Preparation
Shake the carton. Mix 1 part of iced concentrate with 5 parts cold water. Serve individual beverages over ice.
Storage
Before opening

Check the "Best Before" date on top of the carton.



After opening

Store the unused portion of this product in a refrigerator and use within seven days.