Legout® Pork Flavor Instant Gravy Mix - 10037500750071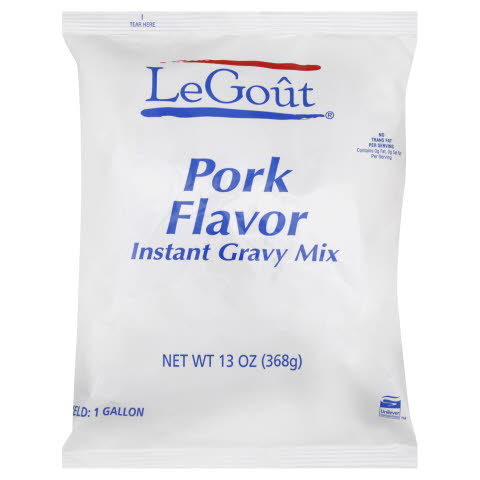 Preparation
1. Blend contents of package with 1 gallon warm tap water until smooth. 2. Bring to a boil stirring frequently. 3. Reduce heat and simmer 3 to 5 minutes. Yield: 1 gallon. QUICK METHOD: 1. Bring 3 quarts of water to a rolling boil. 2. In a separate container, blend contents of package with one quart cold tap water. 3. Add mixture to boiling water stirring briskly. Remove from heat and let stand one minute.
Tips
This product can accompany your favorite meat and side dish.
Benefits
Classic Gravies deliver superior quality that foodservice professional can rely on to perform every day. These products have convenient, labor-saving formats, a broad selection of classic flavors along with specialty and regional favorites, and easy preparation that takes only minutes.
Description
The old-fashioned flavor in this gravy accents, but never overpowers, pork dishes.