Knorr® Professional 095 Chicken Base 1 x 40 lb
Knorr® Professional 095 Chicken Base 1 x 40 lb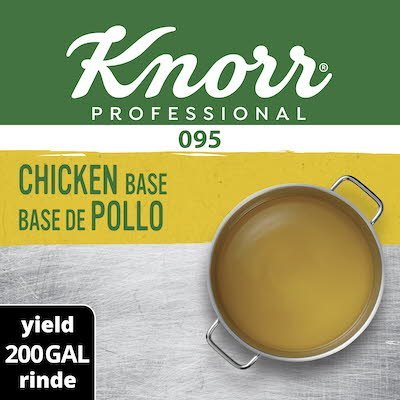 Knorr® Professional 095 Chicken Base 1 x 40 lb
All product information
Nutrition Details & Allergens
Ingredients
Cooked chicken, salt, monosodium glutamate, chicken fat, sugar, maltodextrin, autolyzed yeast extract, natural flavors, turmeric.
Product Information
Description
Convenient and versatile, made from natural chicken flavors and fully seasoned. Consistent performance and exceptional value.
Usage Information
Preparation
Chicken soup: Add 1 lb to 5 gallons of boiling water and serve. For smaller quantities, add 4 ounces or 1/3 measuring cup to 5 quarts of boiling water. Add other ingredients as desired. Other soups: To soup prepared as above, add desired amount of well drained, cooked egg noodles or cooked rice. To prepare cream of chicken soup, add desired amount of LeGout 095 chicken base to hot medium white sauce.
Yield
3040 average servings per case